Recognizing Commitment to Children
Alamo Heights ISD joined public school districts across the state in celebration of School Board Recognition Month in January 2017 to thank local leaders for their dedication and willingness to serve as advocates for children and public schools. As elected officials, board members are the voice of their communities, serving first and foremost in the best interest of Texas schoolchildren.
Board members shoulder critical responsibilities and often make difficult choices. Their ultimate goal is always focused on the future success of the children in the district. It's more important than ever before that today's students are prepared to be productive citizens and the leaders of tomorrow. Our board members provide vision and leadership in their roles as advocates, and will continue to stand up for public education.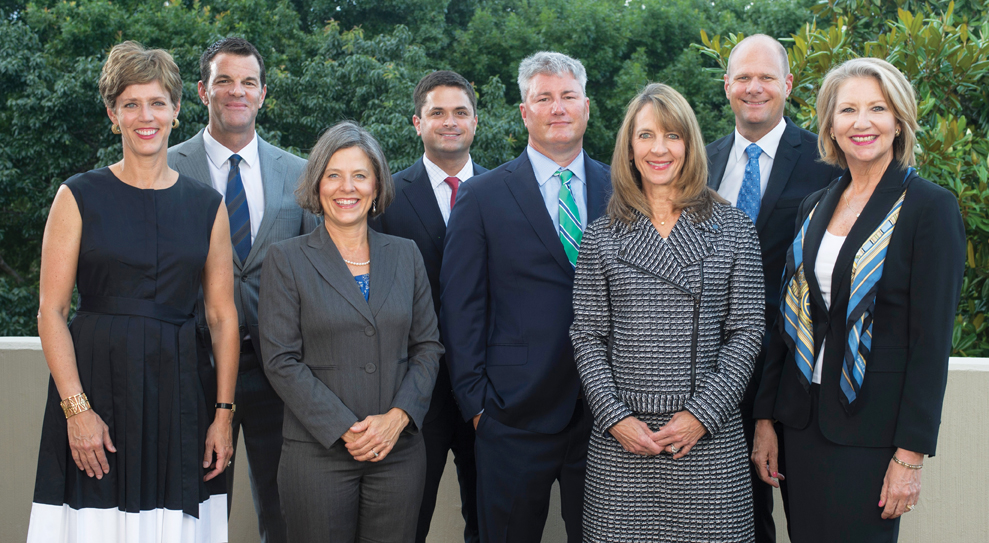 Board members serving Alamo Heights ISD are pictured above (front row) : Margaret Judson, secretary; Bonnie Giddens, president; Lisa Krenger, assistant secretary; and Lynn S. Thompson, trustee. (back row): John Tippit, vice president; David Hornberger, trustee; Perry Shankle, trustee; and Dr. Kevin Brown, Superintendent of AHISD.
Our district benefits from the tireless work and countless hours contributed by these local citizens who work without pay. We are grateful to these dedicated volunteers for their efforts to make a difference and their unfailing commitment to the continued success of our students.
Boggess Heads to Hall of Fame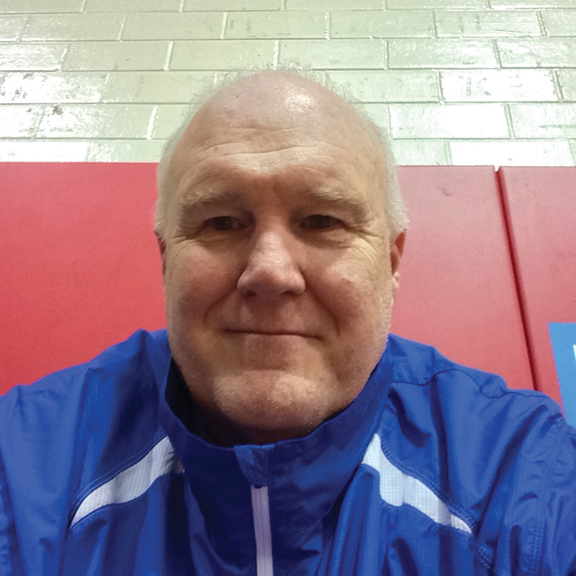 The Texas Association of Basketball Coaches (TABC) has named former Alamo Heights High School basketball coach, Charlie Boggess as an inductee to the 2017 TABC Hall of Fame.
Boggess has been a coach for 38 years, 33 of those spent at Alamo Heights High School, leading the Mules varsity basketball team to 916 wins, the most ever in San Antonio high school basketball coaching history. Boggess led the Mules to the state tournament in 1988 and 1991.
Boggess, along with seven additional "Texas Legends," will be inducted into the Hall of Fame on May 20, during the TABC annual conference.
Scribbick Named One of Top Three Sportswomen of the YearAlamo Heights High School's Sine Scribbick finished in third place for the Greater San Antonio Sportswoman of the Year. Scribbick captured two gold medals and one silver medal in Girls 1-Meter Diving at the UIL State Meet over the past three years.  In addition, Scribbick competed in the United States Olympic Diving Trials for 3-meter diving this past June.
AHHS Cheer Tops at State
Alamo Heights High School's cheerleaders earned the gold medal during the UIL Spirit State Championships.
The Texas University Interscholastic League (UIL) supports spirit as an extracurricular activity that focuses on the traditional game day role cheerleaders play on the sidelines supporting athletic teams. The UIL Spirit State Championships, implemented for the first time in 2016, use three categories to select the top teams in the state: fight song performances, time-out band dance routines, and time-out cheer performances.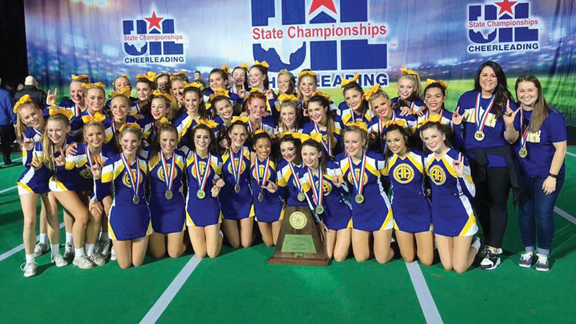 The Alamo Heights High School squad took the gold in class 5-A, earning the top honor in all three categories for the second consecutive year.
The squad is preparing for national competition set for late February.
Korean Children's Choir Builds Friendship through Song
Cambridge Elementary students were invited to build friendship with students from Mokpo, Korea, during a beautiful concert provided by the Mokpo Children's Choir at their recent visit to the United States.
Sponsored by the Far East Broadcasting Company (FEBC) of Korea, the elementary – and junior school-aged children presented a short but moving concert to their peers at Cambridge. Dressed in traditional costumes, singing music traditional to America, the children shared their culture through dance.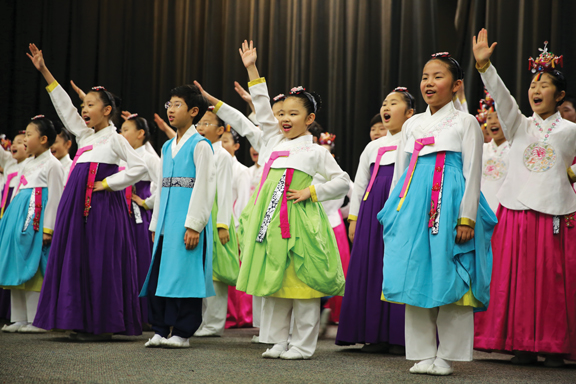 The performance was very moving, with students sharing their appreciation with cheers, applause and even some "ooh's and ahh's" during the choreography. The tears began to flow at the end of the performance when members of the Korean Children's Choir joined Cambridge students in the audience, embracing each and every child in a hug.
The event was part of a seven city tour across the nation with Cambridge Elementary in Alamo Heights and Fort Sam Houston Elementary in Fort Sam Houston ISD the only schools on the tour. The once-in-a-lifetime event was coordinated for the Cambridge students by fine arts teachers Elizabeth Cantu and Bari Wenglein.
IWHS Madrigal Alumnae Perform Final Concert to a Full House
The Incarnate Word High School (IWHS) Madrigal Alumnae, under direction of Mary Ann de la Garza, '69 held their 15th annual and final concert in front of a sold-out crowd on Dec. 22,  in the Chapel of the Incarnate Word. Eighty-five alumnae traveled from all over the country as well as London and Japan to perform in this final event.
The brainchild of Madrigal Alumnae, the concerts began in 2001 to raise money and awareness of the IWHS: chorale program. Monsignor Michael O'Gorman hosted the first concerts at St. Gregory the Great Catholic Church until Sr. Walter Maher, CCVI, offered to host the event at the Chapel of the Incarnate Word.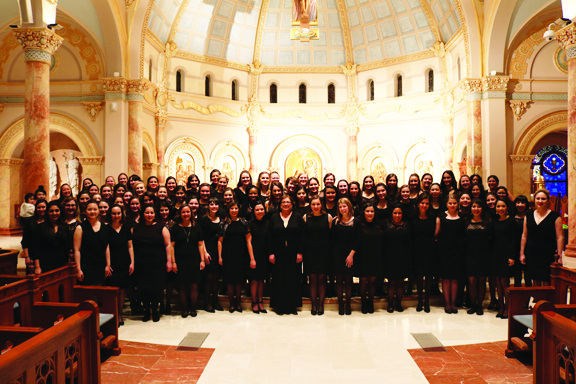 To date, the concerts have raised over $100,000 and have fully endowed, and established four scholarships at IWHS:. The Roger J. Labat Scholarship, the Mary Ann De la Garza Scholarship, the Mary Ninfa Ozuna Scholarship and the Madrigal Alumnae scholarship, which recognize the outstanding young women who lent their beautiful voices to this effort over the last 15 years. The scholarships will provide needed financial assistance to Incarnate Word students for years to come.
Director Mary Ann de la Garza, an alumna of IWHS and the University of the Incarnate Word, was recognized for her continued dedication and guidance during her tenure at Incarnate Word.
"It is because of Dela, her dedication, her guidance to us and to this effort that have made these concerts such a great success over the years.  We can never truly thank her for all she has done over the years," said Punam Kaji. 2005 IWHS Glee Club president and madrigal alumna.
The Incarnate Word High School PTO graciously hosted a reception for guests following the concert.
Apollo 16 Astronaut Charlie Duke Visits Saint Mary's Hall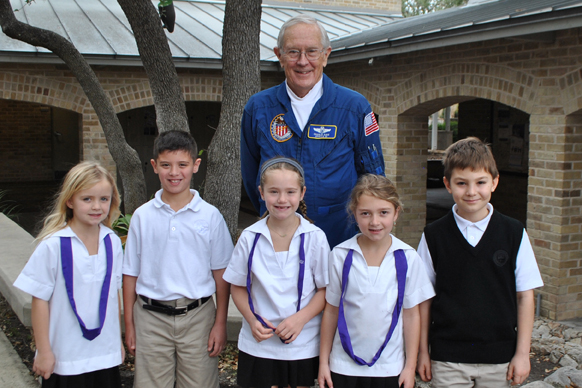 Lower School students at Saint Mary's Hall recently had the rare opportunity to "go to the moon" with Astronaut Charlie Duke.  In a special presentation to students in Forms 1, 3 and 5, Duke talked about his experience going to the moon as part of the 1972 Apollo 16 mission, including preparing for the launch, experiencing zero gravity and walking on the moon. He shared video footage of his extraordinary voyage, encouraged students to "dream big," and answered students' questions.  Astronaut Duke is one of just 12  men who walked on the moon during six Apollo missions between 1969 and 1972, six of whom are still living.
By providing opportunities to interact with legendary American heroes like Charlie Duke, Saint Mary's Hall Lower School brings history to life and inspires young learners.
MacArthur High School's Clothes Closet
As part of the Northeast Independent School District (NEISD), students of MacArthur High School can benefit from the new Clothes Closet Facility. It is the first-of-its-kind, district-wide facility to provide new and gently used clothing for needy students from Pre-K through 12th grade.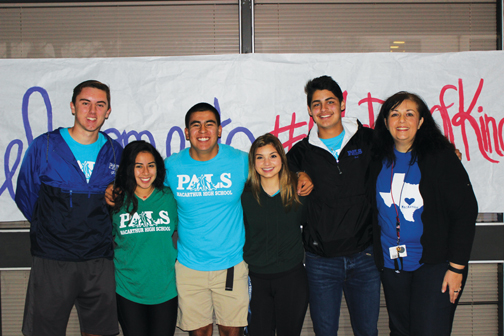 The facility opened on Jan. 25 at 8758 Tesoro Drive, 78217. Students who are referred by a counselor will receive a voucher for free clothing items to include tops, bottoms, socks, underwear and jackets.  The facility is open every Wednesday from 10 a.m. to 1 p.m.during the school year and is run entirely by PTA volunteers.
MacArthur Promotes A Culture Of Positivity And Encouragement
The MacArthur High School Unity Club and PALS (Peer Assisted Leadership and Service) teamed up on Jan 17 to host the first ever MAC Day of Kindness. On MLK Day, the students wrote positive and encouraging messages on paper to place on every locker in the school. In addition, the students created and placed posters throughout the school to encourage unity, positivity, and kindness. The Day of Kindness welcomed students as they returned from the MLK holiday.  MacArthur High School is a "No Place for Hate" school, a designation earned from the Anti-Defamation League. The Day of Kindess is designed to focus students on a solution to bullying and conflict through the promotion of caring for  and supporting one another.
UIW Celebrates Asian New Year "Year of the Rooster"
Students at the University of the Incarnate Word (UIW)  celebrated the Asian New Year "Year of the Rooster", Jan. 31, at the McCombs Center Rosenberg Sky Room.
Guests sampled Asian cuisine and enjoyed  Asian music, traditional  dances, and authentic drum performances. The highlight of the event was the traditional Lion Dance performed by UIW's Institute of World Cultures Lion Dance Team.
The UIW Institute of World Cultures sponsors the university's Asian New Year celebration each year. This annual celebration provides a feeling of home to the diverse Asian population attending the university while highlighting Asian culture for the local community.
The 5th Annual STEM FEST
An Award Winning Local Charter School is set to present student driven solutions to real world problems at the 5th annual STEM FEST!
The School of Science and Technology is a Science, Technology, Engineering, and Mathematics (STEM) designated public charter school that believes in a hands on learning methodology called Project Based Learning. SST also believes it is important to give back to one's community through acts of public service.
The most exciting outcomes happen when those two values are put together. The result is student created projects designed to remedy real world issues. These are the types of projects that will be on display on Saturday February 4, 2017 from 9:30am to 12:00pm at 1450 NE Loop 410 in addition to demonstrations of amazing scientific principles that could be part of the solution to current and future real world problems.
There will be several opportunities for those in attendance to engage in hands-on demonstrations of various student created projects. Among the projects being displayed will be information on a student conceived "Smart Horseshoe" which will utilize telemetry to track the vital signs of a horse. This was inspired when students saw a news story about a race horse that had died during a race due to overexertion. Students put their heads together to work out a solution so racing could be more humane toward the horses involved. Another project utilizes a brain-computer-interface to operate physical machinery. The goal is to have students create a mind controlled wheel chair by the end of the school year. Participants at the STEM fest will be invited to use the brain-computer-interface to perform various tasks.
There will also be food and beverages for sale as well as live performances by the SST Rock band and SST Folk Dance Troupe.
Come to School of Science and Technology (1450 NE Loop 410, San Antonio TX 78209) Saturday February 4, 2017 from 9:30 am to 12:00 pm.  Admission to this event is free to the public, bring the whole family.
Four Saint Mary's Hall Students Named Eagle Scouts
Earlier this year, four Boy Scouts from Saint Mary's Hall Troop 496 earned the rank of Eagle Scout and were celebrated in an Eagle Court of Honor at the Alamo. Juniors Andrew Allen, Philip Clement, JT Garcia, and sophomore Bryce Harris each earned the rank of Eagle after many years of service, earning at least 21 merit badges in wilderness survival, camping, cooking, archery, citizenship, emergency preparedness, photography, robotics, art and more.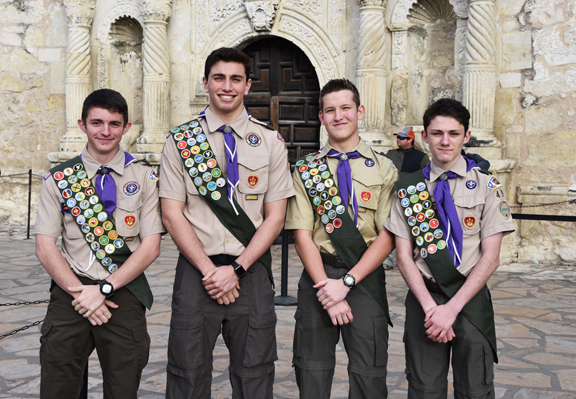 In addition to earning merit badges, a Scout must advance through several levels of leadership within the Troop by participating in campouts, weekly meetings and completing community service.
At the Eagle Court of Honor (presided over by Scoutmaster Fernando Trujillo), the Scouts were officially recognized for their advancement to Eagle Scout. They took the Eagle Scout promise and accepted the charge. Keynote speaker and Saint Mary's Hall Head of School Jonathan Eades recognized the young men for their work as Scouts and encouraged them to use what they have learned through Scouts as they move forward.
Fostering a love of leadership and community service is an integral part of the Saint Mary's Hall student experience, and just one way Saint Mary's Hall builds lives of curiosity, self-confidence and achievement.