St. Anthony Catholic School Student Dresses as Spiderman and Brings Joy to Survivors of Sutherland Springs Church Shooting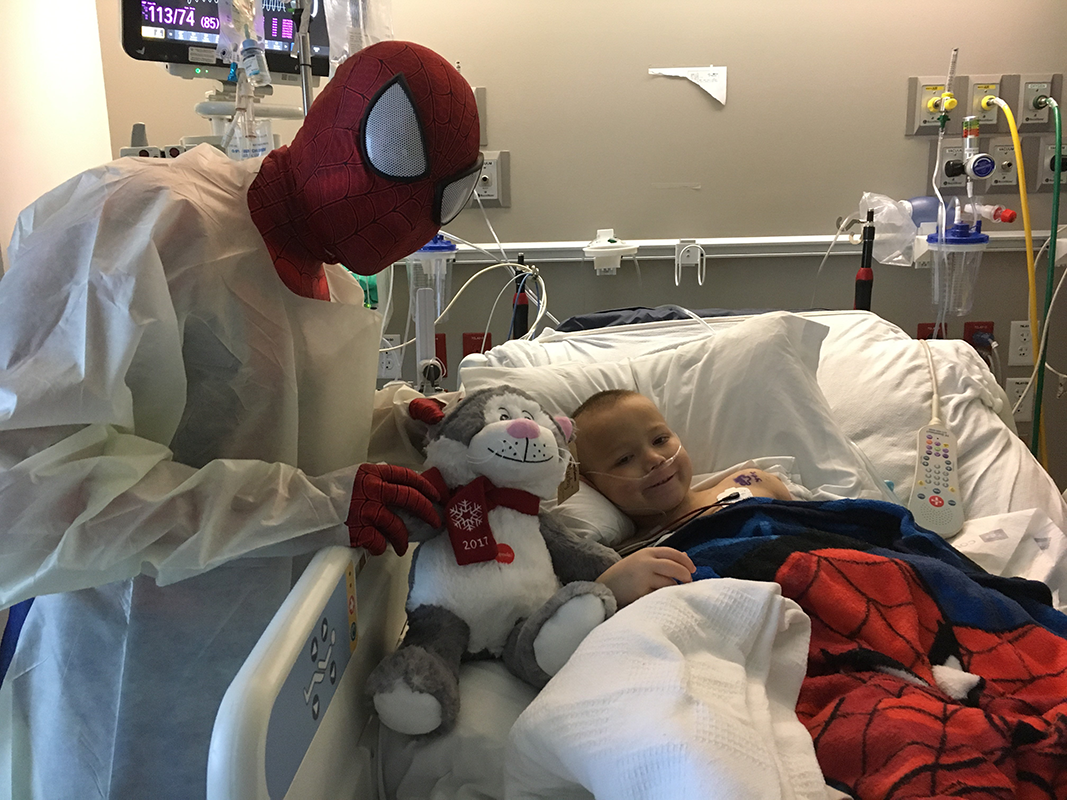 St. Anthony Catholic High School (SACHS) student Kyle Davila, has one of the greatest after-school jobs around: superhero. Davila, a SACHS senior, dons a Spidey suit and becomes Spider-Man for Teacups and Tiaras, a local business that helps make kids' dreams come true by sending princesses and superheroes to birthday parties and special events. After the recent tragedy in Sutherland Springs, Teacups and Tiaras received a very special request – Spider-Man was urgently needed to brighten the spirits of 5-year-old survivor, Ryland Ward.
In mid-November, Davila made his first visit as Spider-Man and met Ryland. "He has the purest, most loveable heart I have ever seen," he said. After their meeting, Davila knew he wanted to do more to help Rylan and his family members, who were also dealing with the loss of Rylan's stepmother and two sisters, all victims of the shooting. Davila approached his high school principal, Dr. Kristina Vidaurri who enthusiastically agreed to help.
"Giving back is part of the culture at SACHS," Vidaurri said. "Our students love helping in the community and carrying on the mission of our school."
SACHS has since partnered with Teacups and Tiaras to organize a fundraiser for Ryland and another young survivor, Zoe Braden. Together, the two organizations are collecting gift cards from grocery stores and gas stations to help the families with grocery and travel expenses.
Davila, AKA Spiderman, has made several other visits to see Ryland, who was recently released from intensive care, while Queen Elsa has visited and played dress-up with Zoe. The entire lot of gift cards will be delivered to the families.
Topped with Love: IWHS Students Knit Hats for CHRISTUS Babies
Babies and medically fragile children were a little warmer over the holidays thanks to caring students at Incarnate Word High School (IWHS). As part of IWHS' Crafts in Service project, students spent months hand-making more than 300 loom-knit hats for babies, children and teens.
The hats, which students began working on in October, were donated to the Children's Hospital of San Antonio for children spending the holidays in the hospital battling childhood diseases and illnesses such as cancer, leukemia and genetic diseases.
"This project, which upholds the IWHS core values of compassion and service, is our way of reminding these families that they are not alone, that we're praying for them," said Diana Lisenbee, IWHS library assistant and advisor for the project. "The students are exceptionally gifted! They've made some beautiful hats in all types of designs and colors."
Students were taught to loom-knit over two days in October, and a looming frenzy has since taken over the campus. Armed with their new skill and a deep desire to make a positive impact, they've prayerfully made hundreds of hats. Each hat also includes a gift tag with the name of the Shamrock who handmade, and prayed over, their special gift.
Even as finals approached, dedicated students were still knitting. The IWHS students, faculty and staff delivered over 300 knitted hats by the end of December.
St. Luke's Episcopal School Students Give Thanks in Giving Back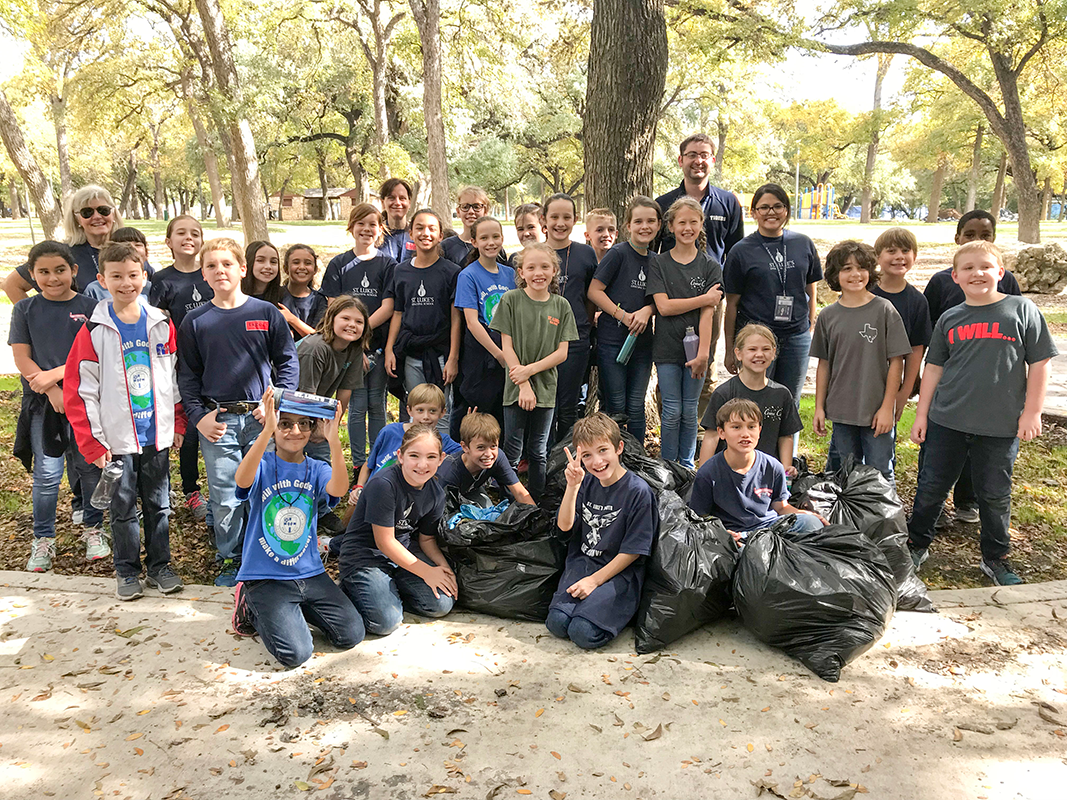 Students on the hilltop are reminded daily in chapel to be servant-minded as they recite the St. Luke's Mission "to be dedicated to academic and personal excellence, lifelong learning and service to others."
On Nov. 17th, the students participated through several learning experiences.
Elementary students assembled "blessing bags" for Church Under the Bridge ministry. Seventy Christmas cards were created for Jacob Thompson, a boy battling cancer whose wish is for Christmas cards from around the world. Many homemade table decorations were created for S.A.F.I.R.E. center's annual Thanksgiving dinner. All first, second and third-graders participated in a full day of service. Each room focused on a different charitable organization or good deed. Students read children's books related to the causes to help them better understand their service.
Middle School and Intermediate SLES students literally dug into community service as they pulled weeds and picked up trash around the campus area and Olmos Park. Following this morning of labor-intensive service, the students then turned their focus to SAMMinistries as they made child-sized scarves.  This day of service was completed by both levels discussing service-learning, and they participated in solving a service-related problem.
St. Luke's Episcopal School Partners with the Magik Theatre to Implement Drama
Education in Prekindergarten
St. Luke's Episcopal School has added a new and innovative educational offering to their Early Childhood program. The school has partnered with local actress Brittney Thorne of The Magik Theatre to implement drama education with 3- and 4-year-olds. Thorne began working with St. Luke's Middle School students in the 2014-2015 school year. She has taught children's theater for nine years. "I have had a love of theater and have been involved in a production every year of my life since I was in second grade," says the veteran actress. In addition to teaching St. Luke's students, Thorne also teaches 3- to 5-year-olds at The Magik Theatre.
The new class is not just entertaining but also serves developmentally appropriate purposes. "Drama education helps young students develop their oral communication skills as they project their voice and speak in front of others," explains Sherrye Macha, St. Luke's director of Early Childhood. "Acting also helps children expand their imagination and model different emotions." Thorne has witnessed many benefits of teaching theater to children at such a young age as well. "The children get a better sense of self-awareness and gain confidence. Through participation in theater, young learners improve their speaking skills and coordination," she says.
The Alamo High School Choir Sings for Their Supper
Photos courtesy of to Debra Diperi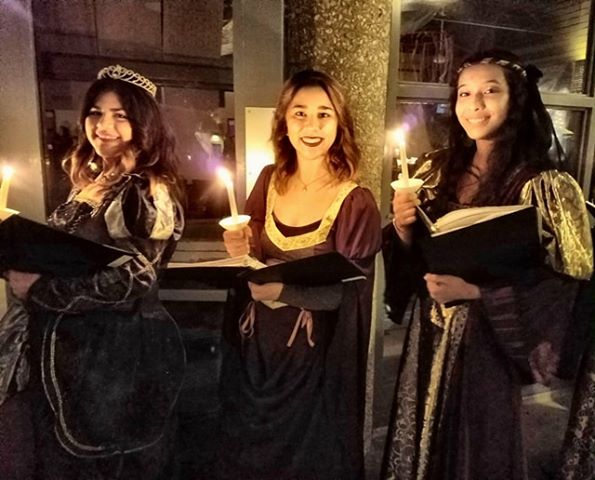 The Alamo Heights High School Choir embraced the traditions of the holiday season with the Madrigal Dinner, an annual event that features a meal divided into courses, each heralded in song. The music, traditionally from the medieval and renaissance periods, and students dressed in period costumes, provided the perfect setting to celebrate the season. Parents volunteered their time to transform the school cafeteria into a magical castle. The event is a long-standing favorite tradition of students and audiences alike.
Alamo Heights Pool Sharks New Coach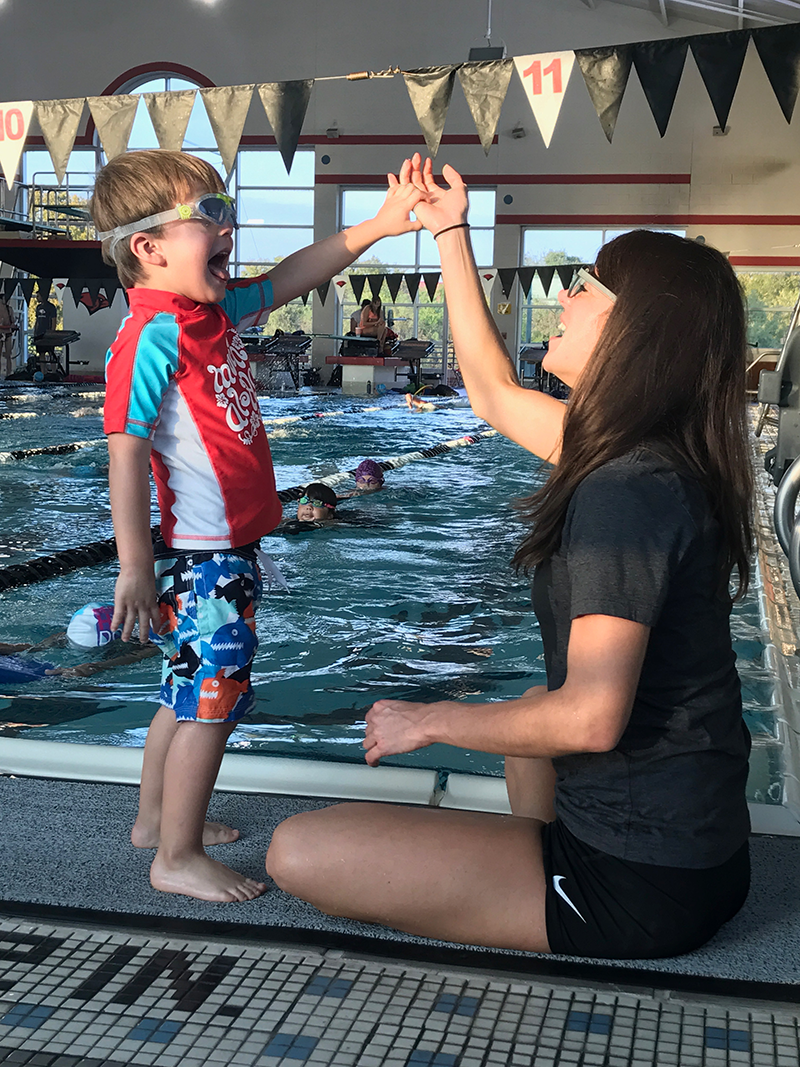 Georgette Lockwood is a USA Swimming certified competitive coach who offers a positive and creative approach to learning in the water by encouraging a growth mindset. Swimming is a lifelong skill everyone should learn for both fitness and safety. But it also helps nourish the mind, body, and soul. Through setting achievable goals, practicing perseverance, and facing our fears in swimming, we condition ourselves to become better — not only in the pool but in our day-to-day lives.
Aside from individual skills and development, Georgette believes the summer league programs are an excellent way to introduce young swimmers to the concepts of team and competition. Camaraderie and team culture always come first; success will follow.
She began her coaching career in 2006 as an assistant coach of a summer league swim team, and took head coach the subsequent year. Since then she has been teaching and coaching both in San Antonio and in California. She had the pleasure of designing the curriculum for the learn-to-swim program at Alpine Hills in Portola Valley, where she also coached the summer league team. Currently, she is the novice age group coach for Streamline Aquatics, and offers private instruction for swimmers of all ages. She attended the international American Swimming Coaches Association Conference for the first time this past September.
In 2010, she graduated from Boston University with her B.F.A. in theater arts/acting. Her background in performance allows her to improvise and make practices fun and engaging. She believes that a "growth mindset" must be encouraged at the earliest stages of swimming, instilling a strong focus on the process and not the end result.Fostering a safe environment for children to learn new skills and find the fun in accepting new challenges is paramount to their success, not only as athletes, but also as young adults. Georgette is ecstatic to be coaching the Alamo Heights Pool Sharks this summer, and is looking forward to a fun and successful season.
Culture Night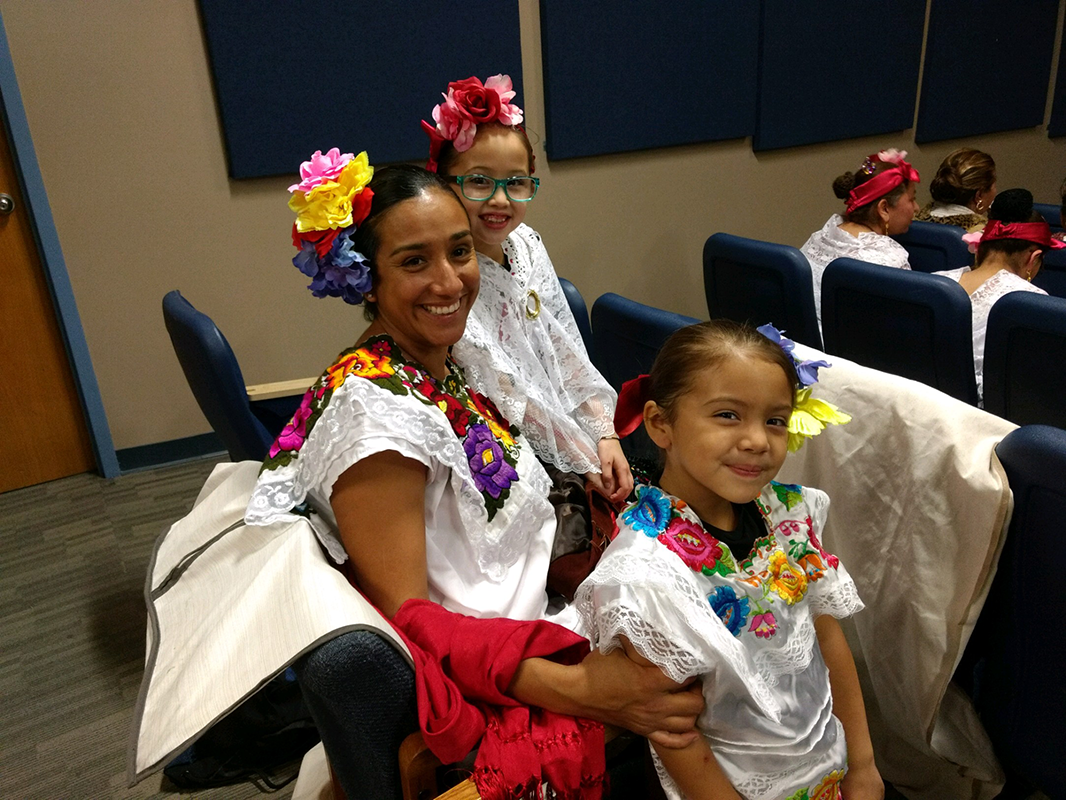 Families from across Alamo Heights came together to share and celebrate the cultural variety that makes our community unique and strong. At Alamo Heights Junior School, students, parents and teachers conversed in differing languages, shared favorite family dishes, showcased traditions and feasted on fellowship. Each individual contribution provided a diverse learning experience for all. The event was capped with a rare weather occurrence-SNOW! (Sincere thanks to Ruth Bujanda-Moore for sharing her photos of Culture Night.)
Alamo Heights Boys Basketball
The Mules pick up a big road win at Akins, 61-53, with Andrew Reichert leading the Mules with 22 points and 10 rebounds. The Mules won the Somerset Coach Z Classic!
Alamo Heights Swimming and Diving
The Alamo Heights girl swimmers scored a major upset, beating 6 A powerhouse Johnson High School 142 to 140. The Lady Mules also defeated Clemens High School 187 to 79. The Alamo Heights boy swimmers beat Johnson High School 147 to 133. Individual winners for the Mules included Lauren Raike, 200 individual medley and 100 breaststroke; Bella Stash, 50 freestyle and 100 butterfly; Remington Black, 500 freestyle; and Macy Helmer, 100 back. Winners for Alamo Heights boys included: Aiden Atlas, 200 individual medley and 100 back; Andrew Crosley, 100 butterfly and 100 breaststroke; and, Justin Dickey 50 freestyle. Go Mules!
Alamo Heights Volleyball
Congratulations to Emily Nanez of the Alamo Heights girls volleyball team for being named to the Express-News All-Area 5A team!
SNOW!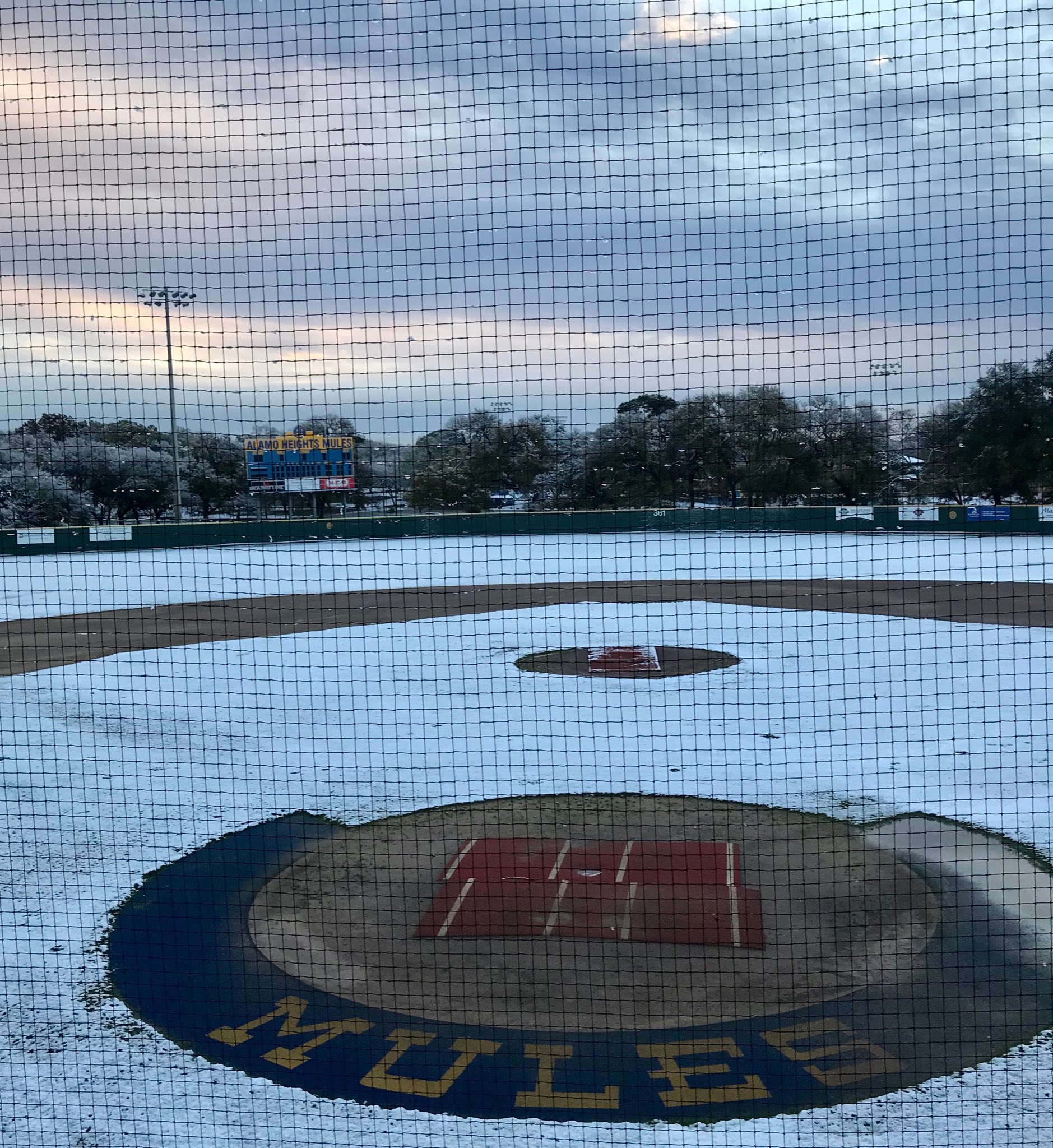 The words of the popular song from Frozen came to mind in December as snow covered and coated most of South Texas! Across San Antonio, families celebrated the rare weather event, as it arrived on a Thursday evening. As Friday morning dawned, school was in session and there was still plenty of snow on the ground. Teachers and students took advantage of the opportunity, forgoing planned lessons to embark on new snow experiences with students from kindergarten to high school! AHISD students, teachers, families and community answered with a hearty "Yes!" to the question of the day, "Do you wanna build a snowman?"