A Showcase of Engaged Learning
Sharing their enthusiasm for the work they enjoy during the traditional school day, Alamo Heights ISD students returned to school after hours to showcase their work during the district's annual Showcase of Engaged Learning.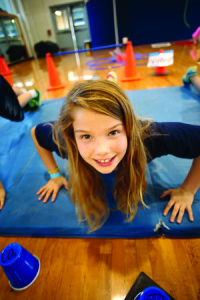 The evening gave students an opportunity to share a "day in the life" through a variety of presentations that included demonstrations of classroom projects, displays, a gallery walk, a video film festival, various theatrical and musical performances and an educational playground that provided visitors hands-on exploration in the classroom.
   Students and parents alike put on their sneakers and got their hearts pumping as they "moved" through an obstacle course of the human circulatory system presented by Cambridge Elementary physical education instructors Beth Murguia and Kevin Criss. Students had to maneuver their bodies through the obstacles while engaging their minds on how the circulatory system works in their own bodies.
   Just down the hall, kindergarteners were chatting it up over surveys, data and graphs. Our youngest learners conducted surveys of their parents and presentation guests and then created a graph on an iPad, illustrating their survey results. Data gathered included the attendee's favorite fruit, ice cream, sport and even a favorite Disney princess. Important topics for the tiny techies!
   From science to strings, technology to theater, all subjects and interests were presented to share the ultimate lesson: When students are engaged, learning is more profound.