School News
All-Star Student Claire Walton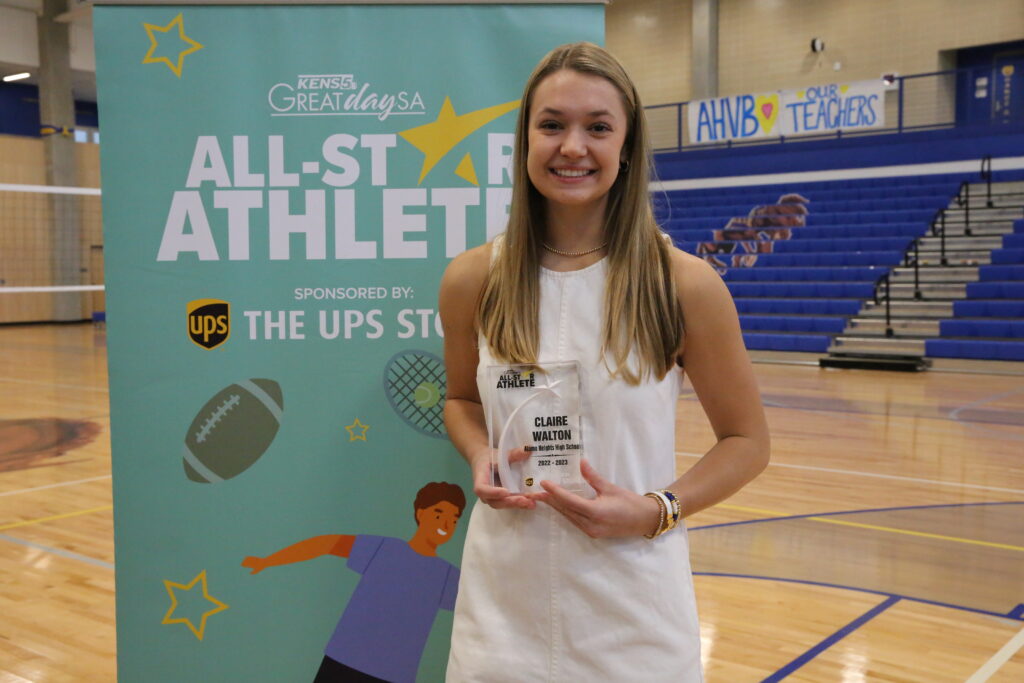 Claire Walton shines on the volleyball court, on the track, in the classroom, and the community, and that's why she was honored as the KENS 5/UPS Store All-Star Athlete for Alamo Heights ISD.
Walton was presented the honor during a live broadcast on the Great Day SA morning show. She was surrounded by her volleyball and track teammates, AHHS cheerleaders, and the Mighty Mule Band in the Muledome.
She was nominated for the honor by Principal Cory Smith and head volleyball coach Alex Bothe.
The senior has been on the varsity volleyball team for three years. She's also entering her fourth year on the varsity track team and serves as anchor of the 4 x 100-meter relay. She earned Academic All-District honors her sophomore and junior year and All-District honorable mention her sophomore and junior year.
Walton is ranked in the Top Ten of her class academically and is a member of the National Honor Society.
She has completed more than 100 hours of service as a National Charity League (NCL) volunteer and served as president of her NCL chapter last year.
Incubator Cutline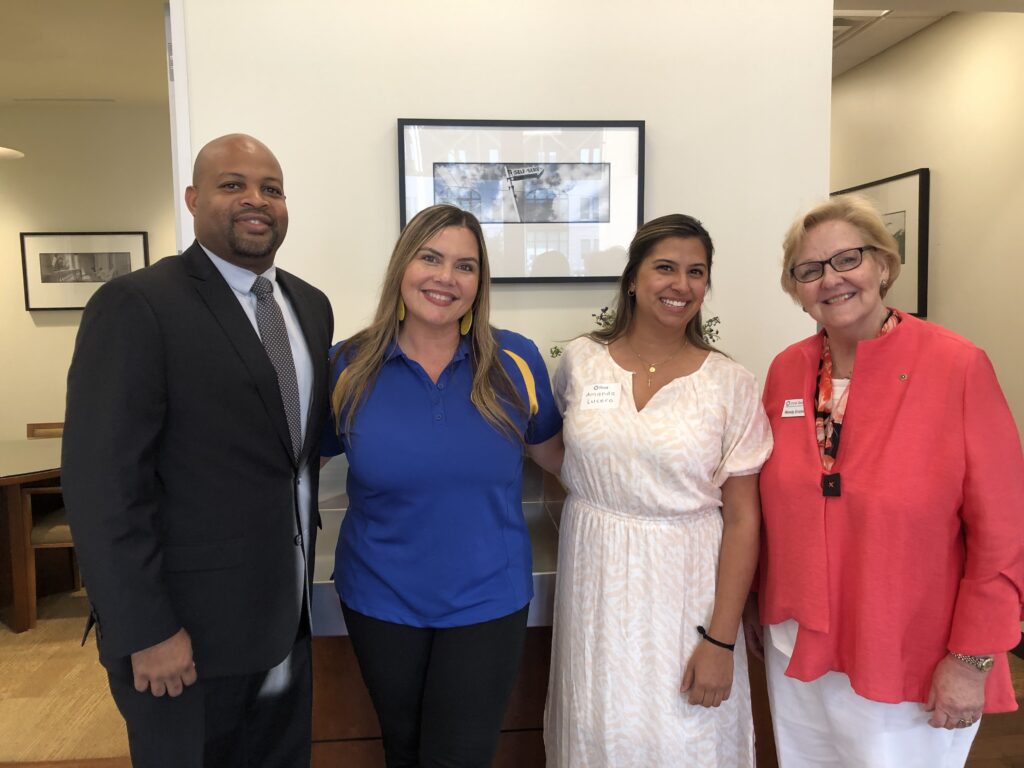 The Heights Business Incubator Program is kicking off year five with the addition of two new teachers – La Rhon Fields and Amanda Lucero.
Frost Bank hosted a mix-and-mingle event to introduce them to the community.
If you're interested in learning more about serving as a mentor or coach for the Business Incubator program, email La Rhon Fields at lfields@ahisd.net.
Pictured are Fields, High School Principal Cory Smith, Lucero, and Wendy Erickson, Executive Vice President at Frost Bank.
EXCEL Award Winner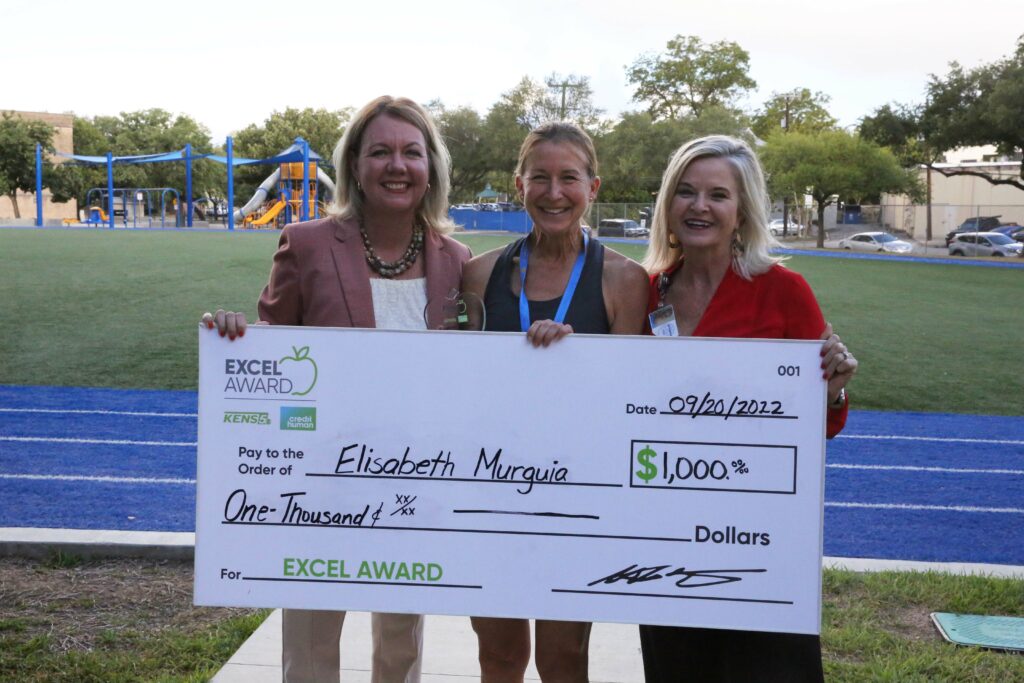 Cambridge Elementary School physical education teacher Elisabeth Murguia is the 2022-23 EXCEL Award winner for Alamo Heights ISD.
Murguia was in the gym with second graders when she was presented with the apple trophy and a $1,000 check earlier this fall. She has been an educator for 17 years, 13 of those years as a physical education teacher.
"I love teaching and love working with children," Murguia said. "Being a PE teacher has been so much fun for me. I was not into sports as a child, and in fact, I have a great story that I tell my students about my basketball career that ended in 3rd grade. I share this story because many students are like me and don't necessarily like the competitiveness of sports. You don't have to be athletic and a sports star to be fit and healthy. I love teaching students how to take care of themselves and love setting a good example for them."
In addition to seeing students weekly for hour-long classes focusing on health and wellness, Murguia leads after-school activities like the Outdoor Kids Club, Mule Milers running club, and archery club. She also teaches fitness classes at Gold's Gym in the evenings and some Friday afternoon classes for her colleagues.
The EXCEL Award is sponsored by KENS 5 and Credit Human, and representatives from both organizations came to celebrate Coach Murguia along with Cambridge Principal Jana Hawkins and AHISD Superintendent Dr. Dana Bashara.  
MacArthur gets creative with High-Tech Healing.

When you peek into the athletic training facility at MacArthur High School, you will see exam tables, athletic tape, and whirlpools. You will see students running on treadmills, throwing balls against trampolines, and stretching. You will also see students tapping brightly colored, quickly-changing lights on discs, and rehabbing in virtual reality.
"Kids can get bored if we just hand them a worksheet and tell them to do a group of exercises," said MacArthur Head Athletic Trainer Chad Sutherland. "The same is true in the classroom. But Math and English teachers get to create creative lesson plans. We are trying to do the same thing with this technology."
Pulling a player off the field or court for an injury is never fun. Putting in the work to properly heal from that injury isn't always fun either, but with the new high-tech tools at their disposal, students can actually look forward to healing. And it almost happens by accident.
"I think they are more motivated to come in and try something if we can make the workouts fun for them," said MacArthur Assistant Athletic Trainer Amanda Boyd. "They look forward to coming in and hitting a high score or beating their teammate's high score. It's innovative, and it's fun for us too. Plus, the kids see this technology we get for them, and they feel appreciated and know we care about them and their healing."
One more thing you will notice in the athletic training facility: lots of student trainers. This year, nearly 20 students are taking advantage of the hands-on training available to them. They get the opportunity to get CPR certified and learn basic first aid, a small step toward a potentially big dream of working in a health career.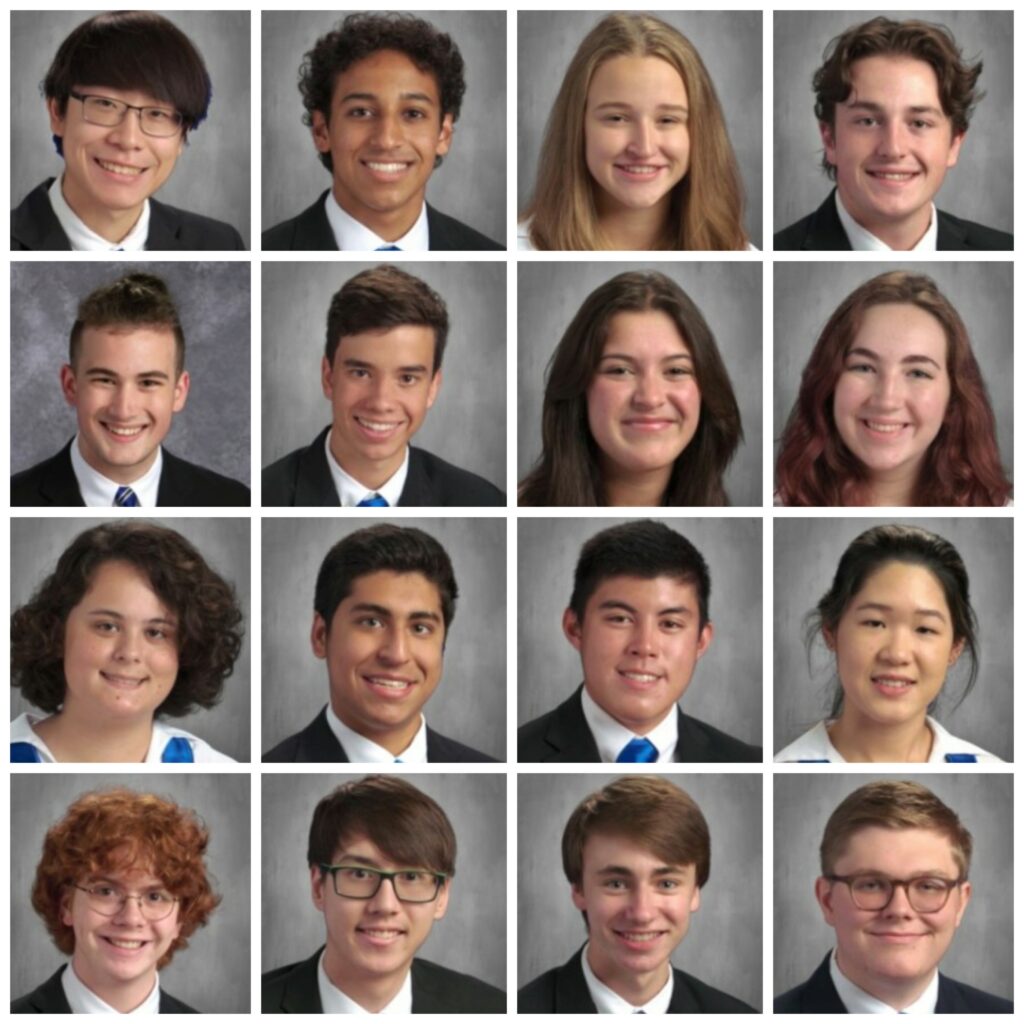 Saint Mary's Hall is delighted to celebrate 16 National Merit Semifinalists and Commended Scholars recognized by the National Merit Scholarship Corporation for their outstanding performance on the PSAT taken during their junior year at Saint Mary's Hall. We are so proud of our students for this recognition, as well as their many other accomplishments.
Congratulations to the following Saint Mary's Hall Students:
Semifinalists
Leo Cheong
Bailen Ganeshappa
Grace Ogden
Jack Rykert
Parker Thill
Jonathan Tubb
Commended Scholars
Anna Albrecht
Alison Dunn
Allyson Gibbs
Aly Khanmohamed
Jonathan Largoza
Catherine Mao
Alex Riebe
Dylan Rybacki
Elliot Strauch
Henry Zachry