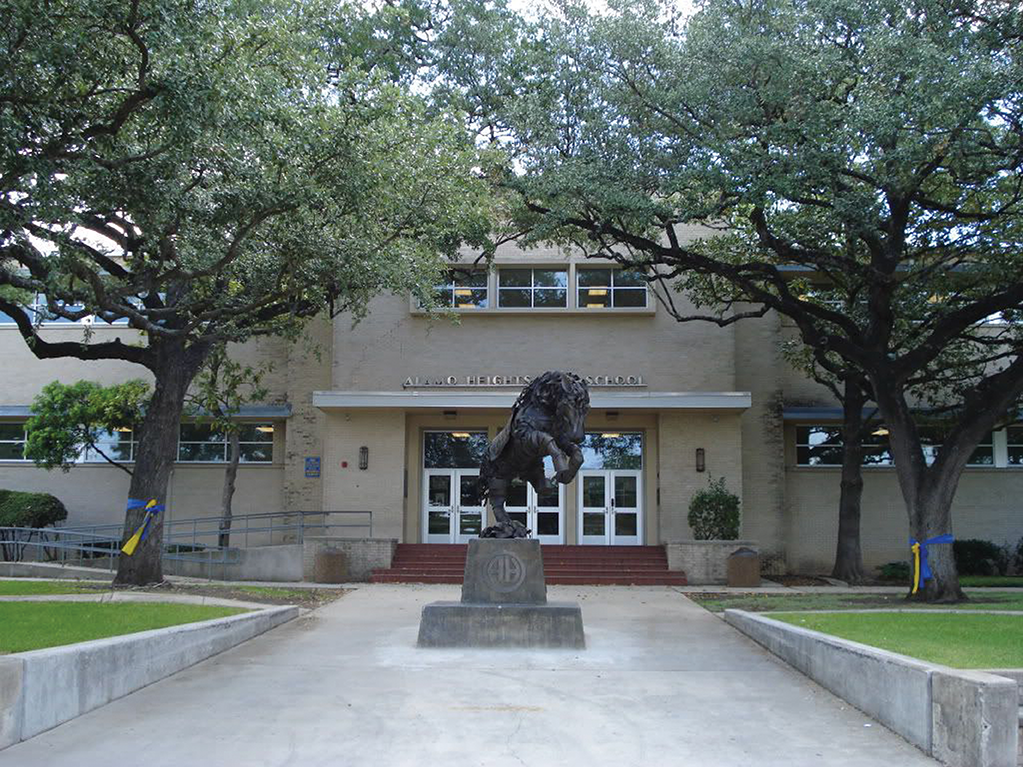 Alamo Heights Provides School District with Resource Officer
The city of Alamo Heights is now officially helping to provide a school resource officer to help back-up security in the Alamo Heights Independent School District (AHISD).
The City Council unanimously voted Sept. 23 to approve a three-year interlocal agreement. The school district is responsible for 75 percent of the new officer's salary with the city handling the rest.
Before leaving his post of AHISD superintendent, Kevin Brown had written City Manager Mark Browne about officials' concern for the open design of Alamo Heights High School, and easy access to the campus from bordering roads.
Brown had written that a school resource officer (SRO) program would enhance security of the high school campus, and provide a greater sense of safety for district students, staff and community members.
Current Superintendent Dana Bashara echoed Brown's concerns and asked the city and district to advance an officer resource program. The AHISD board approved the agreement with Alamo Heights on Sept. 20.
Assistant Superintendent for Administrative Services Frank Alfaro said with a spate of mass shootings nationwide happening at high schools, it makes sense to launch the local program at Alamo Heights High School.
"It makes sense if we're going to think about starting an SRO program, we'd start it at the high school," he told the school board.
Alfaro explained the main thrust behind having a resource officer is to have him/her build working relationships with faculty and staff and protect the campus from outside intruders. The officer is not there to handle internal disciplinary issues, he added.
"It's not intended to be an arm for school administration on discipline and behavior," Alfaro also said.
The city and school district reviewed existing SRO programs elsewhere in Texas, and both decided that the SRO model in place between the city of Boerne and the Boerne Independent School District was the best one on which to base their program.
Now a 20-year-old program, the Boerne initiative currently has four officers, one each assent to BISD's two high schools, and North and South middle schools.
They are all veteran patrol officers who have received hundreds of additional hours of specialized training and, combined, possess more than 50 years of law enforcement experience.
The SROs in Boerne are also responsible for creating and maintaining youth projects and services citywide, including bicycle safety programs, and anti-alcohol and drug awareness efforts.
The AHISD superintendent's office, administrative staff and high school principal all will share oversight of the new program, along with city police administrative officers.
No extra equipment is needed for the time being, city Police Chief Rick Pruitt told the council Sept. 24. AHISD will be responsible for officer training and certification. The resource officer will work only school hours at AHHS.
In other recent actions, the Alamo Heights council:
Approved keeping the local property tax rate at 38.6 cents per $100 valuation in adopting a 2019 operating budget; was briefed about the planned demolition of a structure at 5410 Broadway, which would make way for a new one-story, 3,000-square-foot commercial building.
Coming up, the council plans in November to address a proposed expansion of parking space for employees of the Argyle Club.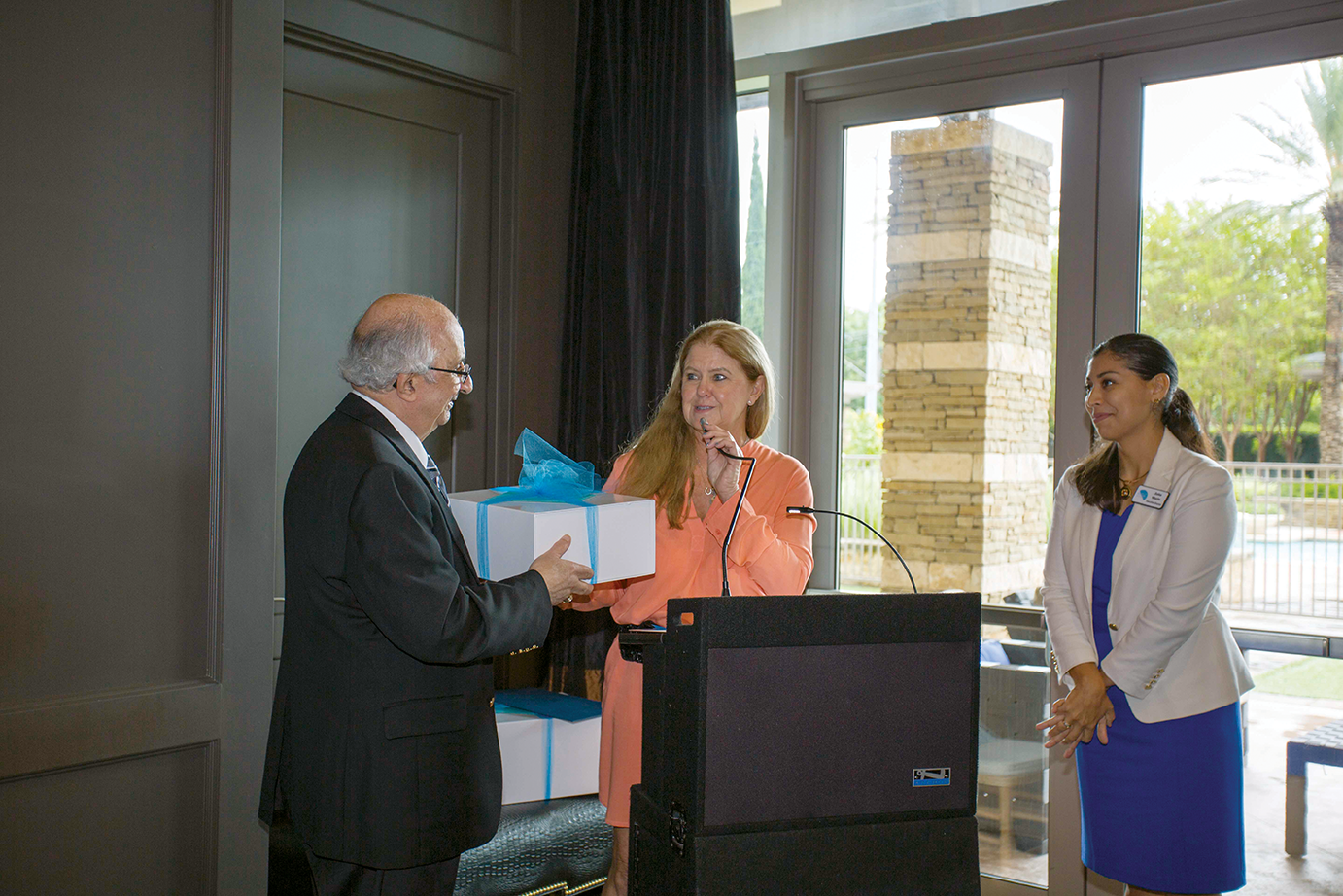 Susan Naylor Honors Late Son at Rise Recovery Benefit
Local businesswoman/philanthropist Susan Naylor honored her late son Charlie at a private luncheon at The Broadway in support of Rise Recovery's capital campaign on Oct. 9.
Charlie died of an opioid overdose nearly two years ago. Susan chose to honor her son through Rise Recovery as they focus on helping teenagers, young adults and families overcome the effects of drugs and alcohol and partnering with the community in education and prevention.
According to a press release, Rise Recovery was not a resource for Charlie in his battle with addiction, and Susan's hope is that by supporting their capital campaign she will help other families prevent the pain and tragedy she and her family have endured.
The luncheon was also an opportunity to honor businessman/philanthropist Harvey Najim, who has committed his support to this cause by donating the funds for Rise Recovery to purchase the land near Vance Jackson Road and Loop 410 where their new facility will reside. For more information visit www.RiseRecovery.org for details.
Heights Council Looks at Water, Wastewater Rates
The Alamo Heights City Council on Oct. 8 was briefed on increasing water and wastewater rates.
The city has not increased its water or wastewater rates since 2007.
However, rates are scheduled to go up due to inflation, rising cost of doing business, environmental and other regulations, and a need to repair and expand local water and wastewater infrastructure. The Alamo Heights' water and wastewater monthly charges are lower than many neighboring communities and below the state average.
Rates would be adjusted upward for all users, starting this fall, and continuing each year through 2022. Then, five percent annual adjustments would be required from 2023 through 2027.
According to city officials and consultants, the new rate plan would enable the city to fund $5.7 million in local capital projects over the next 10 years.
Historic Design Review Commission Approves Area Projects
The San Antonio Historic and Design Review Commission on Oct. 3 approved a handful of projects around the Alamo Heights/Midtown area.
The commission granted conceptual approval of a new parking garage to service the San Antonio Zoo, as well as visitors/event attendees for Brackenridge Park, Japanese Tea Gardens and Alamo Stadium. The five-story garage will be located at North St. Mary's Street and Tuleta Drive, just northwest of the zoo entrance, and will accommodate 600 cars with green screen walls.
Plans call for a new pedestrian path along Tuleta from the garage to the zoo entrance. Alamo Architects, a local firm, is designing the garage, which will be built by Guido Construction. The city's voter-approved 2017 bond issue is funding the project.
The HDRC approved installation of signage for Shake Shack, which will set up its second San Antonio location at 3003 Broadway and Mulberry Avenue.
The two illuminated, channel-letter signs will measure a total of 40 square feet each. One sign will be mounted to the building's façade on the south elevation; the other sign will be on the canopy facing the southeast.
The commission gave conceptual approval to addition and exterior modifications planned for the commercial structure at 7300 Jones-Maltsberger Road.
The building, which last housed Johnny Hernandez's El Machito restaurant, will be home to Ida Claire, the first San Antonio location for the Dallas-based eatery that focuses on Southern-inspired cuisine and cocktails.
Owners of Ida Claire would like to construct a raised patio on the west side of the existing structure, and build a rear addition. They also plan to install an Airstream on the landscaped area of the property.
HDRC also gave final approval for NRP Group to build a five-story, mixed-use apartment complex in the 1000 block of Broadway, across from Maverick Park.
According to local news reports, the complex will have more than 280 apartment units, and will feature a variety of amenities, and retail space facing Broadway and East Jones Avenue.
NRP hopes to clear out the vacant existing buildings on the property and break ground on new construction during the holidays or just after the new year.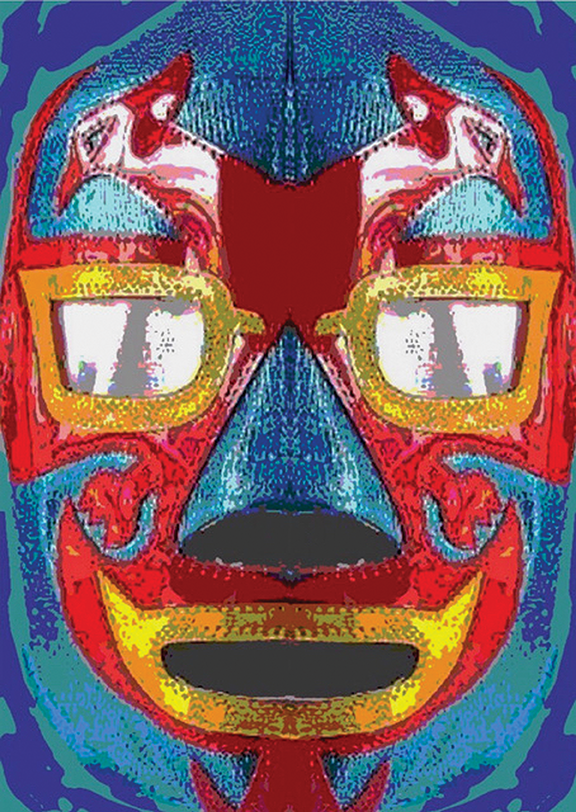 Terrell Hills Artist Unveils New Work
Artist Fabian Lainez, a Terrell Hills resident, has a new exhibition that portrays Latino workers as fighters, literally and figuratively.
The exhibit, "Luchadores," opened in late September at the Musical Bridges Around the World Gallery, 23705 Interstate 10 West, Suite 101.
According to a news release, San Antonians with Mexican and Latin American origins, whether recent arrivals or members of families here for generations, help life in San Antonio and beyond function in ways most take for granted.
Here, Lainez juxtaposes life-sized black and white portraits of San Antonians with colorful paintings of luchador wrestling masks. The portraits are of men and women restauranteurs, gardeners, contractors, and a former professional boxer.
Lainez, who moved from Spain to San Antonio in 2012, said in the release he observed "tribal fear of others who are different" in Europe, and is troubled that some people reject whole classes and races without actually knowing any of them individually.
His concern over the recent resurgence of prejudice and racism made him think of the mythic image of the luchador, the release stated.
"That's what these people are, whether contractors, lawyers or landscape workers," he said. "They are fighters who come here fighting for their futures and for their lives."
"Luchadores" will be on display through the end of this year.
By Edmond Ortiz