Conservancy Celebrates 'Spirit of Brackenridge Park'
The Brackenridge Park Conservancy presented its fourth annual Spirit of Brackenridge Park benefit on March 29. The fundraiser was held in Miraflores Park, a nearby sculpture garden, which the city of San Antonio has owned since 2006.
The event was a public revealing of a restoration of brick walkways and connection from Miraflores to Brackenridge. The once-private sculpture garden, created by Dr. Aureliano Urrutia in the 1920s as part of a 15-acre site, is listed on the National Register of Historic Places and is a State of Texas Archaeological Landmark.
According to the Brackenridge Park Conservancy, Urrutia created the garden as a reminder of his native Xochimilco, Mexico.
The conservancy now helps to promote and raise funds for conservation of Miraflores Park. The March 29 benefit included guided tours of the park, cocktails, mariachi music and a seated dinner. Honorees at the fundraiser included former San Antonio Mayor Lila Cockrell and Scotty and Patsy Pittman Light.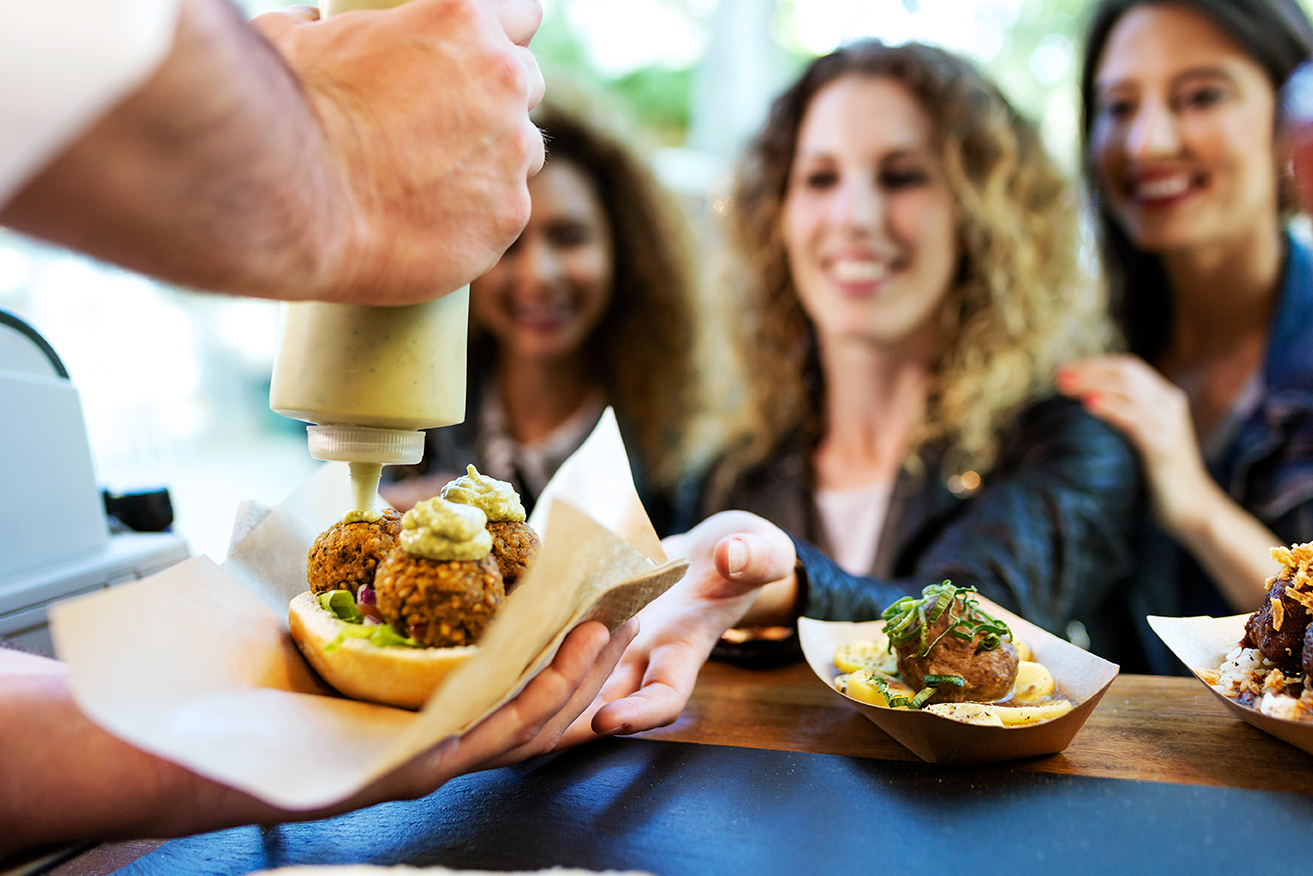 Food Truck Park Opening on Austin Highway
StreetFare SA, a mobile cuisine park, will open to the public at 1916 Austin Highway by mid-May. The area intersects with the Ira Lee/Holbrook/Salado Creek crossing.
Owner Dakota Day has been working with general manager Robbie Dunn to maintain a Facebook page, keeping people up-to-date about their project.
They say StreetFare will be friendly to families and pets and will include a variety of rotating food genres. But Dunn and Day have told local media outlets that StreetFare will not be like similar parks elsewhere in town where trucks simply arrive on a parking lot and open up for business. Rather, operators will be able to offer their menu items from small kitchens around the park.
Alamo Heights Council Repeals Open Carry Rule
Alamo Heights City Council voted April 4 to repeal the city's open carry ordinance. Now, anyone aside from peace officers is able to carry a loaded rifle or shotgun in city limits.
In March, Olmos Park City Council repealed its open carry ordinance following a series of confrontations between local police and open carry activists. Texas gun rights activists have recently questioned local gun ordinances that they say conflict with or exceed state laws that cover the possession of long firearms, which do not require a license, unlike handguns.
Open Carry Texas founder C.J. Grisham was arrested by Olmos Park police a few days before that city council's vote after he and fellow members were seen walking through the city with one person toting an AR-15-style rifle.
A video of the encounter went viral with many gun rights advocates criticizing the city of Olmos Park. Hollywood Park also repealed its local open carry ordinance. Groups such as Open Carry Texas applauded the moves made by Alamo Heights and Olmos Park City Councils.
Alamo Heights Police Chief Rick Pruitt tried to allay residents' concerns. "We will investigate all cases of individuals displaying rifles and shotguns," he said at the April 4 council meeting. "We're going to observe the behavior out there because it's not the possession or display of weapons. It's the conduct of the individual that's going to initiate police action."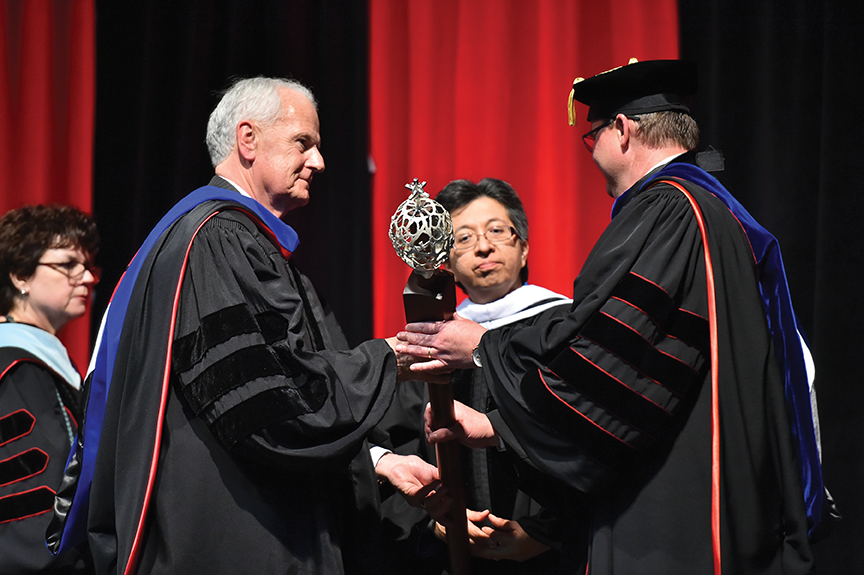 University of the Incarnate Word Community Welcomes New President
Students, faculty and supporters of the University of the Incarnate Word gathered March 22 to celebrate the inauguration of Thomas Evans as the university's 10th president.
Evans was first appointed president by the university's board of trustees and the Sisters of Charity of the Incarnate Word last June following the departure of longtime President Louis Agnese.
Prior to that, Evans spent five years as president of Carroll College in Helena, Mont., and 16 years in various high-profile positions at Austin's St. Edward's University.
In his inaugural address, Evans spoke about the private university's history, growth and impact on the San Antonio community. He promised to increase UIW's endowment over the next 10 years and announced the $1 million endowment of a new scholarship for low-income, high-performing students. It's the largest endowed scholarship commitment in Incarnate Word's history.
He also pledged to expand students' academic support, increase graduation rates, improve the way the university prepares students to enter the 21st century workforce and help decrease student debt. "I am confident that together, we will prepare our students for a life of advanced learning, greater purpose and unmistakable dignity that will sustain our legacy and tell our story," he added.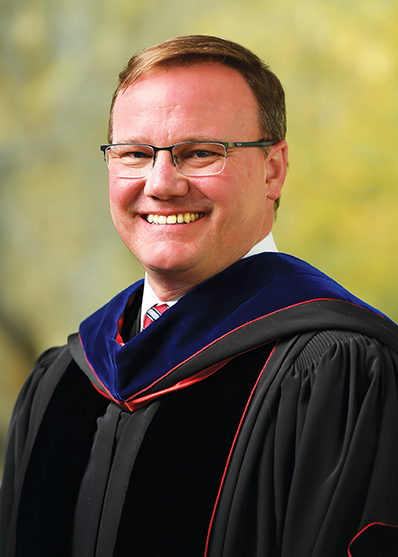 Evans' inauguration started with the Most Rev. Gustavo Garcia-Siller, Archbishop of San Antonio, presiding over Mass in the Chapel of the Incarnate Word. UIW Moody Professor Laura Munoz and the San Antonio Pipes and Drums then led an academic procession around campus. Several university presidents and their delegates from around the nation joined UIW faculty and officials for the ceremony.
Evans' inauguration was the second such event for a new local university president held in one week. Taylor Eighmy of the University of Texas at San Antonio was formally inaugurated, too.
The UIW inauguration ceremony was held at McDermott Center, where the university's wind ensemble performed a musical prelude, and the Cardinal Singers sang the national anthem.
The ceremony featured brief speakers, including Alamo Heights Mayor Bobby Rosenthal, who chaired the UIW presidential search committee; San Antonio City Councilwoman Rebecca Viagran, and Professor Mark Stringham, who shared greetings from the faculty.
UIW Board Chairman Charlie Lutz and Sisters of Charity of the Incarnate Word Congregational Leader Sr. Teresa Maya presented the inaugural symbols, the university mace and presidential medallion, to Evans.
Evans also took the opportunity to pledge the formation of a taskforce designed to increase diversity and inclusion of students, faculty and staff to further advance students' experience. He commented, "I envision this process as encouraging innovation and fostering collaboration across existing supporting lines. We will unite and identify our programs in ways that will make us ever more 'one word'."
By Edmond Ortiz