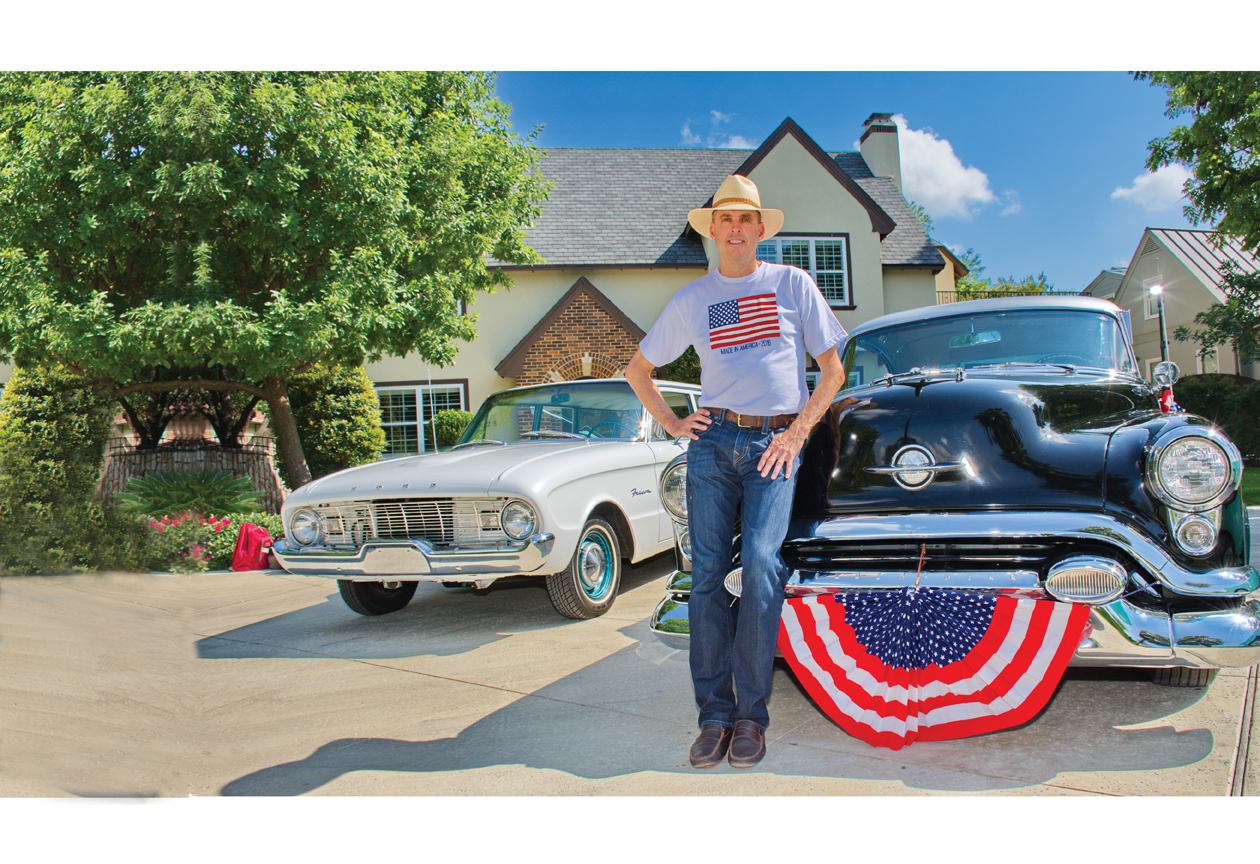 With each joyful Fourth of July's celebratory arrival, it's only natural for a deeply felt collective pride for all things American to come to the fore. Thoughts inevitably turn to the country's greatness as illustrated through its admirable freedom-fostered accomplishments within the arts, commerce and especially through innovation. One example that truly showcases our nation's "know-how" and "can-do" spirit across many spectrums and throughout much of  its history is the USA's unique, envied, beloved, emulated and very productive automobile industry.
As a result, the classic Chevys, Fords, Olds, Dodges and other makes of irresistible rolling-stock with their red-white-and-blue pedigrees make for a perfect measure in gauging America's success. And no one understands that better than Kirk Mills, '09's car aficionado extraordinaire, whose amazing, decades-spanning collection of to-die-for domestics is a loving testament to an extraordinary country continually on the move and definitely still in the fast lane. Vroom, vroom!
Born in Kansas and raised on his transplanted Texas family's sprawling ranch, Kirk recalls, "I grew up driving all kinds of vehicles." These included tractors, trucks, motorbikes and wagons, but there was one in particular that started his unending love affair with automobiles. When he was 10 years old, his maternal grandfather decided to purchase a new "hunting vehicle" and retire his old one — a 1960 two-door Ford Falcon station wagon. His plan was to gift the Falcon to his two grandsons so they could have something to drive when they came of age.  Kirk's parents and his brother weren't too excited about the offer, but Kirk was delighted.
The little wagon was brought to the ranch, where it immediately went into a four-year storage. When Kirk acquired his driver's license at age 14, the Falcon was resurrected and put back into service, and as he admits, "I happily drove it all through high school." After his graduation, followed by six years of college where he ultimately earned a law degree, the Falcon was reluctantly put back into storage at the ranch and left untouched for many years. For Kirk, however, it might have been "out of sight" but definitely not "out of mind."
Initially practicing law in Kansas and Colorado, Kirk eventually moved to Texas, where most of his extended family still lived, and set up his practice on South Padre Island. It was on a work-related trip to Denver in 1993 where the busy lawyer found and purchased his first classic car. It was a 1966 front-wheel-drive Oldsmobile Toronado that, while "all there," needed a little restoration. Paying $1,800 to the owner, then arranging for the repairs, Kirk went back home, only to fly back a month later and take possession of his 28-year-old treasure. With that initial  acquisition, he was smitten with owning an old car, and it wasn't long before he found a second "must-have." This time is was a 1967 Oldsmobile Ninety-Eight that the island-vacationing owner, upon seeing Kirk cruising in his Toronado, suggested he just might like. And like it he did! (By the way, Kirk's mother loved Oldsmobiles and passed that affection on to her son.) With two classics as well as his daily driver, Kirk's garage on the island was maxed out, but time and a new home would  certainly take care of that.
It was in 2010 when Kirk relocated again, this time to an equally classic 1920s house in Terrell Hills. Along with the necessary updating to the venerable old structure, a new multi-bayed custom garage was constructed to Kirk's exacting specifications. It's there and at other property he owns in the Hill Country that his much expanded collection of showroom-perfect "rides" is housed.
It's an amazing assemblage that over the subsequent years has grown to include, as he proudly states, "something from every decade starting in the 1930s, except the 1940s," (see the sidebar). Each car has been meticulously restored to better-than-original condition. And while Kirk, who's always on the lookout for another new/old acquisition, tries to keep his bevy of steel beauties numbering around 15, sometimes he just can't resist adding to the collection — which usually requires selling something else, and that can be heart-wrenching. One favorite that won't ever be sold, however, is that 1960 Falcon station wagon. It was one of the first cars that merited a berth in the new Terrell Hills garage, and as Kirk sincerely attests, "There are just too many memories, and miles, associated with that old girl. I'll always keep her close."
Be sure to look for Kirk driving his patriotically decorated '53 Oldsmobile 98 in this year's Terrell Hills Fourth of July parade. It's a showstopper. Honk, honk!
By Ernie Altgelt
Photography by Martin Waddy