In the Loop – November 2022
By: Ron Aaron Eisenberg
Bee Nice, New Ice Cream Parlor Opens on Broadway in 78209
When Debra Hazle and her husband, Jeff, moved from Washington, D.C., to San Antonio, the great state of Texas was where she wanted to live.
She told me, "We were happy to leave the hectic pace of the D.C. metro area." Figuring out what to do once they relocated to the Alamo City took a little planning.
Her father was a sixth-generation Texan who grew up in San Antonio. His family had settled in the area as pioneers in the early 1830s. "Some of my earliest memories are sitting on his back-patio, hand churning his banana nut ice cream."
Those memories stuck with her. Why not open an ice cream shop featuring all freshly made ice cream?
And so, she did, at 8003 Broadway St., 78209. "We offer 20 flavors of ice cream and three dairy-free flavors at Bee Nice, all made on the premises using fresh fruit, real vanilla, pure cane sugar, and no high fructose corn syrup."
Bee Nice is open Wednesday through Saturday from noon to 8 pm. And Sundays from 1 pm to 5 pm.
The Hazles have four adult children and four grandchildren. She says they are all ice cream lovers.
Two Story Office Building Planned on Circle St.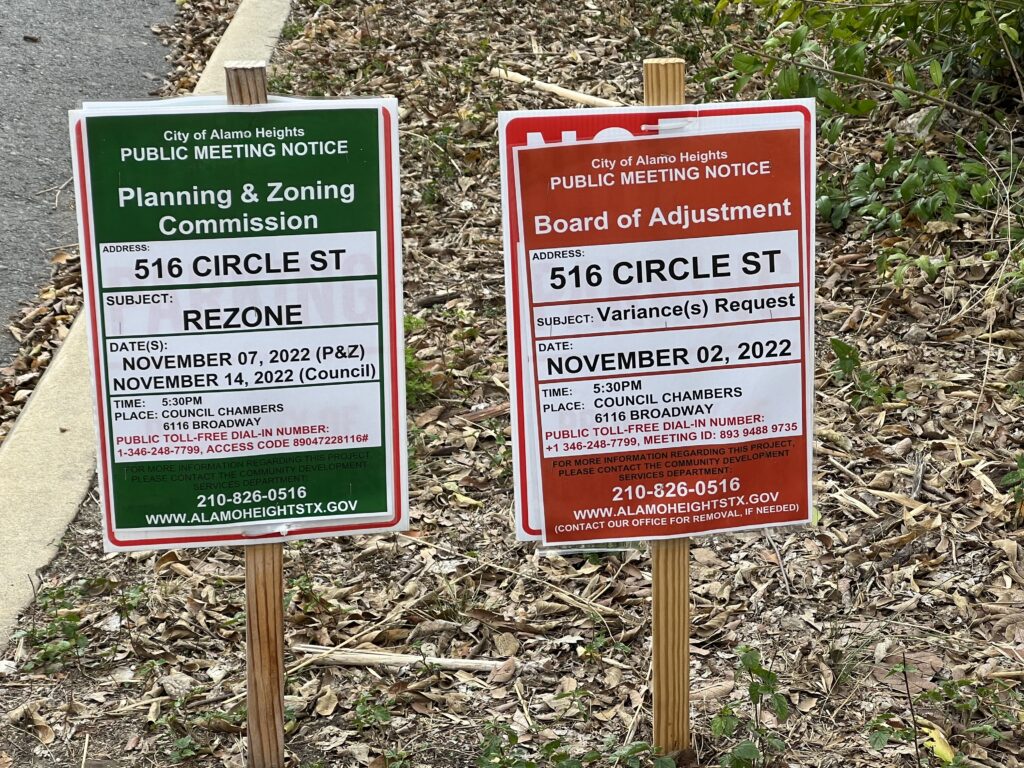 Unless you drive on Circle St. behind the Uptown Shopping Center on Broadway – think Bird Bakery – one would never know a vacant lot sits behind the center. But it does.
A developer is proposing to construct a 3,744 sq .ft. two-story office building on the site at 516 Circle St. The property had been listed for $340,000. There are no structures on the site at this time. The project will include 12 parking spaces. The building will be 26 feet tall. A zoning variance is required to complete the project. It will be considered by Alamo Heights City Council in November.
My daughter Reagan and I checked out the location on a recent Sunday afternoon. She said, "Look, dad, a squirrel lives there. What will happen to him if they build on this land?" I suggested Mr. Squirrel will move to a nearby tree.
Shop Local Event Planned in Olmos Park
The Olmos Park Shop Local Event promoting Olmos Park businesses is happening Saturday, December 10th, from 10 am-5 pm. On its website, the city urges folks to "Shop local for delicious food, one-of-a-kind finds, get your picture taken with Santa, and enjoy live music. 
Participating businesses include Cosmic Cakery, Bloom Salon + Studio, Pinky's, Feliz Modern, Gavin Metalsmith, Otra Vez Couture Consignment, Honest Soul Yoga, Lampcrafters, and Period Modern.
The Shop Local Event is sponsored by the Olmos Park Youth Commission and the Olmos Park Economic Development Corporation. For information on the day, visit shopolmospark.com.
Zoo Lights Coming Soon
San Antonio Zoo promises Zoo Lights will be "Bigger, brighter, and WILDER than ever before" as the holiday season approaches.
Acres of dazzling lights, festive holiday snacks, and drinks for adults and kids, plus larger-than-life displays and photo-ops across miles of trails throughout the zoo will be featured at this year's Zoo Lights, presented by CPS Energy. It will run from November 19 through January 1, 2023.
Enjoy Zoo Lights favorites and dazzling new displays:
Lakeside Light Show
124-Foot Light Tunnel
The Holiday Sing-a-long Express
IllumiLIFE Art Display
32-Foot LED Light Trees
Elaborate Holiday-Themed Displays
Santa Meet & Greet
Tickets to Zoo Lights are free for Members and included with Standard Admission to San Antonio Zoo.
Zoo Releases Horny Toads Into the Wild
One of the things I heard not long after moving to San Antonio in 1990 was how sad it is that the Horned Lizards – horny toads – are a vanishing species. People told me they used to see them everywhere. But no more.
There's some good news now for horny toad lovers. Recently, the Center for Conservation and Research (CCR) at San Antonio Zoo released 50 zoo-hatched Texas Horned Lizards (horny toads) into the wild. Lead veterinarian Dr. Rob Coke performed a health inspection before the young lizards were introduced to their new home.
While all the horny toads released hatched this summer, a clutch of them was born on June 18, Texas Horned Lizard Day. The release into the wild is a tremendous step forward for San Antonio Zoo's Texas Horned Lizard Reintroduction Project, which will bolster the survival of their species here in South Texas.
"This is our 3rd release, and we have seen evidence after each effort that lizards are alive and thriving on the landscape," said Dr. Andy Gluesenkamp, Director of the Center for Conservation & Research at San Antonio Zoo. The Texas Horned Lizard Reintroduction Project at San Antonio Zoo is funded mainly by zoo ticket sales, donations, grants, and Texas Parks and Wildlife. In addition to the Texas Horned Lizard Reintroduction Project, Fort Worth Zoo and Dallas Zoo are working with Texas Parks and Wildlife Department on releases in Wildlife Management Areas. All institutions involved share information and support one another through the Texas Horned Lizard Conservation Coalition.