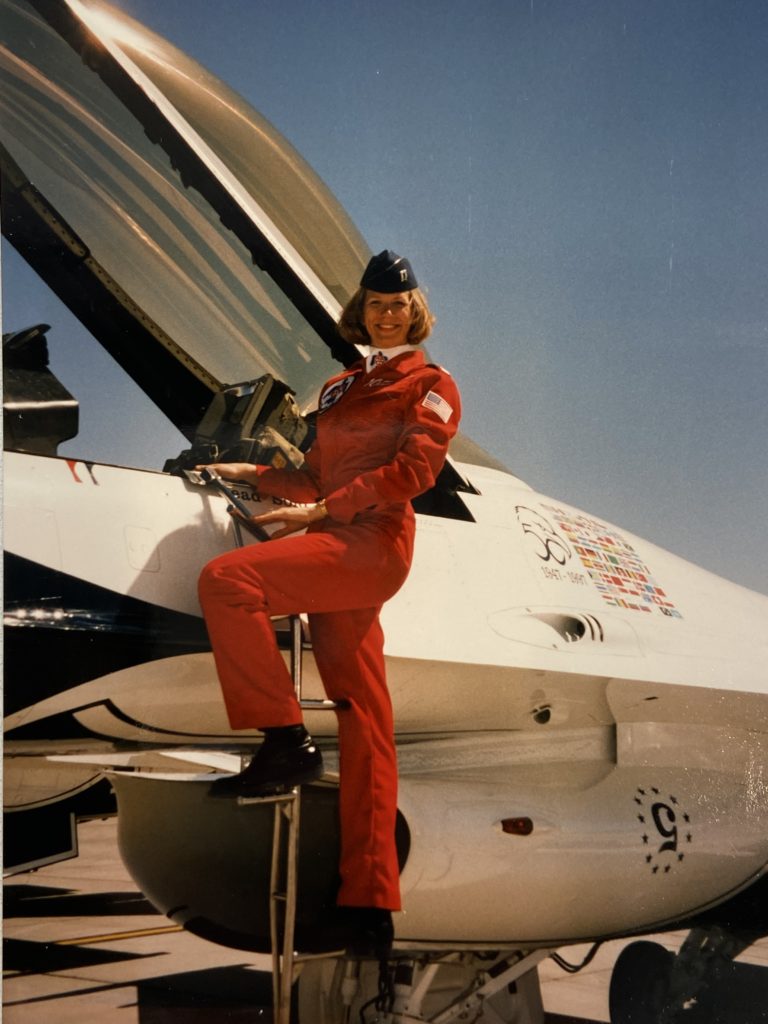 Anne Krause
Written By Ron Aaron Eisenberg
There aren't many people, especially women, who can say, "Flying a T-38 supersonic jet, especially when you hit the afterburners, is a real kick in the pants. It's the most fun I've ever had in my life."
That's Anne Krause. And she is not just any woman. Flying T-38 trainers is what she did after graduating from the U.S. Air Force Academy in 1990. She also earned a Master of Arts degree in Differential Psychology at The University of Texas at Austin, with a 4.0-grade point average.
Krause lives in Alamo Heights. Born in North Carolina, she was raised in Aurora, Illinois. She excelled in math and science in high school but had no idea about college. "My guidance counselor was familiar with the service academies and encouraged me to apply."
The U.S. Air Force Academy was a logical choice. Her grandfather and great uncle were pilots in WWII, and she grew up listening to their stories. Plus, she lived near O'Hare International Airport, so airplanes were a part of her every day. Krause completed pilot training at Reese Air Force Base (now closed) near Lubbock, Texas.
In 1995, she went to Guantanamo Bay, Cuba, on a Special Duty Assignment, at the height of the migrant crisis. "I was the officer in charge of linguist operations and had 180 linguists reporting to me." Thousands of people were seeking asylum in the U.S.; most were Spanish speakers.
In 1996, Krause was named executive officer of the Thunderbirds, the USAF elite fighter aircraft squadron. That was Krause's last assignment in the military. She separated from the Air Force in 1999 as a Captain.
Krause is president & executive director of the Hemisfair Conservancy in San Antonio, an agency she co-founded in 2014. She has also served as president of the Alamo Heights School Foundation.
Anne, and her husband, Paul Krause, Lt. Col. (Ret), married in November 2003. He's a former Thunderbirds' pilot. She calls him PK, his call sign.
They have two sons who graduated from Alamo Heights High School in 2019 and a third son who will graduate in 2023. "And I have two wonderful stepdaughters, ages 25 and 21. The elder lives in Austin, and the younger attends Colorado State." She adds, "PK and I refer to our blended family as 'his, hers, ours and a bonus". The "bonus" is a young man they took into their home after both of his parents were killed in an auto accident. A crash he survived.
When I asked her if she and Paul still fly airplanes, she laughed and said, "That's an empty nester goal for PK and me! Our youngest graduates from AHHS next year." Look for a couple of jet jockeys to take to the skies once again.