New Business Cleans Residential & Commercial Trash Bins in '09
Many of us rarely think about our trash bins. But if we take the time to peer inside and take a whiff or two, it quickly becomes clear they are disgusting, smelly, dirty breeding grounds for viruses, bacteria, and maggots.
Cleaning our own trash cans is a gross and very unpleasant chore.
Now comes Clean My Bins, a local company that will clean residential trash and recycle bins on a monthly or quarterly basis in Alamo Heights, Terrell Hills, and Olmos Park. The company says it uses "state-of-the-art and eco-friendly technology, to clean bins, using a hydraulic lifter, high pressured spinning heads and 220º plus water. It is a chemical-free process."
Most of the water used is captured in the truck.
Alan Williams, 39, runs the company. He told 78209 Magazine, "My wife and I saw a bin cleaning truck during a recent vacation, and we were intrigued. We had never heard about the service and had never been contacted about using it for our home or business."
They purchased a bin cleaning truck and started the business in Tyler, Texas, with a population of 100,000. "Our first hire was Jack Heydenreich, a 2016 graduate of Alamo Heights High School and a 2020 graduate from The University of Oklahoma."
He added, "It's been meaningful to put a 23-year-old in a position of leadership where his role matters every day. We're writing the playbook together for a business that doesn't have a lot of precedent."
Williams said, "After we recognized that Tyler was going to be successful, we bought the second truck and started the business in Alamo Heights."
Williams and his family have been in the food business for many years. BCW Food Products supplies baking mixes to U.S. food operators across 42 states.
The bin cleaning operation has a monthly charge of $16 per bin and $8 for each additional bin.A quarterly service costs $35 per bin and $8 for each additional bin. There are no contracts and no cancellation fees.
What does Heydenreich think about the work? "I never thought I would ever be cleaning trash bins for a living. I love to be outside and interact with everyone, but I also wanted to learn from Alan and to help grow something that everyone involved can be proud of."
Williams pointed out, "We're living in a time when disinfecting really matters."
Trendy Seafood Restaurant Coming to Broadway
Popular Southeast Asian Seafood Restaurant Pinch Bowl House is planning to open a second location in the Stewart Center at 5120 Broadway.
A Pinch Bowl manager told 78209 Magazine, the company plans to keep the downtown location at 124 N. Main Ave.
The business says it "started from pop-up crawfish boils in San Antonio to support the idea of creating a fun environment for families & communities to enjoy food deeply rooted in our Asian culture. Today, nothing's changed, and we hope to continue telling our story and providing you with an unforgettable experience."
"Ultimately, Pinch Boil House 'boils down' to three things."
Culture — All of our food, experiences & stories are inspired from our rich Asian culture.
Community — We believe that communities are meant to be empowered, well-fed, and never underserved.
Damn Good Food — We like to eat well. You will too.
There's no date, yet, on when the eatery will open on Broadway. "Our owners are still negotiating the final paper work for the store," the manager told 78209 Magazine.
Another Restaurant Opening in '09 on Austin Highway at Mt. Calvary Dr.
As we reported in February 2020, La Taqueria Austin Hwy, which had opened in 2017, closed its doors.
The site, at 1208 Austin Highway, near Mt. Calvary Drive, originally sported a Burger King. But they abandoned the site in 2015.
Now, Las Palapas will become the third restaurant to open at that location. On its website, the company says it has 13 locations in the San Antonio area. The Acosta family runs the business. They opened their first Las Palapas in 1981. The Acosta children, Aaron, Matthew, Joshua, and Ashlyn, join their dad, Ron, in carrying on the Las Palapas tradition.
While no official opening date has been announced, the company teased on its website, "Austin Highway is almost finished! Keep an eye out for an official grand opening coming VERY SOON! Get excited."
According to the Bexar County Appraisal District, the property is appraised at nearly $2.5 million.  
Cappy's Named One of Nation's Best Brunch Restaurants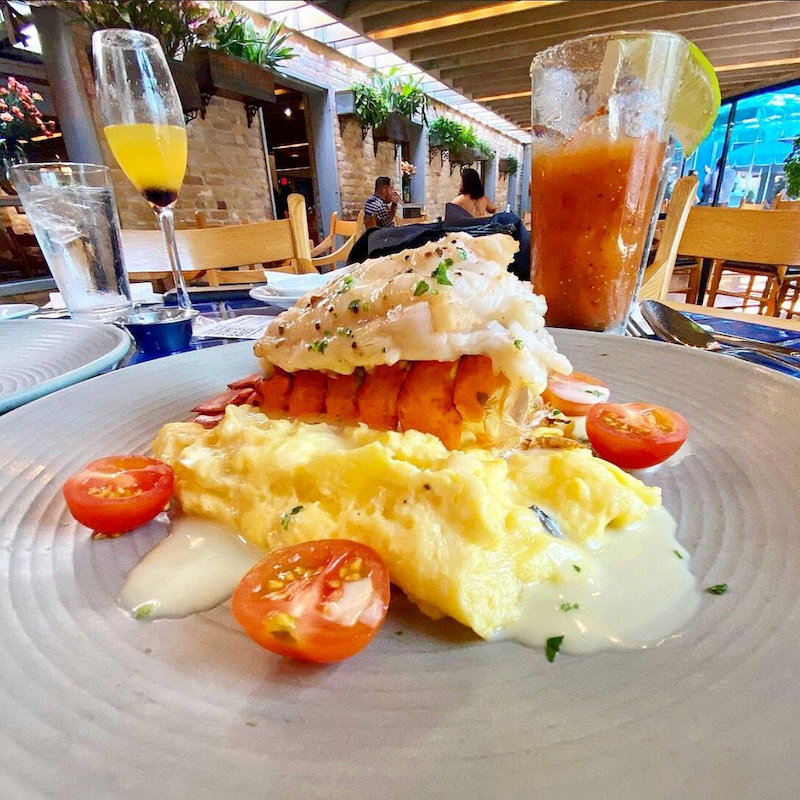 Open Table, an online restaurant reservation service, has named Cappy's Restaurant one of the nation's top 100 Best Brunch Restaurants.
Cappy Lawton, owner of Cappy's and several other restaurants in the area, told 78209 Magazine, he doesn't know how his restaurant made the list, but he is "pleased and honored to be on it."
Lawton noted, "Cappy's is 44 years old this year. When we opened, our staff suggested we close on Sundays because there was so little business. Today, Sundays are our busiest days, far exceeding Friday and Saturday nights.
"You might ask how did we start our Sunday brunch? Here's the back story. Shortly after we opened Cappy's in 1977, a friend told me about something called "brunch" in New Orleans. So, I went there. I spent three days at Brennan's, a New Orleans restaurant tradition since 1946. The Brennan family was so nice to me and so willing to share what their brunch was all about. I brought it back to Cappy's a year after we opened."
It took off from there. Due to COVID-19 and CDC guidelines, Cappy's can accommodate about half the number of patrons in its dining room than in pre-coronavirus days. Yet, on Mother's Day this year, Lawton told me, they fed just under 1,000 people.
He added, "Our guests tell us more by their feet than their words. People will usually tell you dinner or lunch was great, whether they feel that way or not. But they vote with their feet. When they come back to the restaurant, I know we are doing things right."
Cowork Space Opens at Pearl
The Pearl district recently launched "Pearl Cowork," a community-oriented workspace located in Pearl's Full Goods Building at 200 East Grayson, Suite 210. The new 10,416 square foot office space is described as ideal for professionals of all levels.
As workers have adapted throughout the COVID-19 pandemic, many are not returning to traditional office settings. Pearl Cowork is designed for flexibility to serve start-ups, small businesses, and visiting executives from across Texas and the country to meet the demand of modern professionals.
People can lease workspace for a day or more with access to private offices, plus a variety of amenities, including high-speed Wi-Fi, shared kitchen, high-tech meeting rooms, private phone booths, cleaning service, and more.
In announcing the new workspace, Pearl's Chief Marketing Officer Elizabeth Fauerso said, "Pearl is thrilled to debut San Antonio's newest cowork space, which is ideal for those seeking human connectivity and purposeful work. The space builds on Pearl's history as a place where ideas are brought to life–through ingenuity, creativity, and collaboration."
By: Ron Aaron Eisenberg