Passengers "Robbed" in 50th anniversary of "The Great (Little) Train Robbery"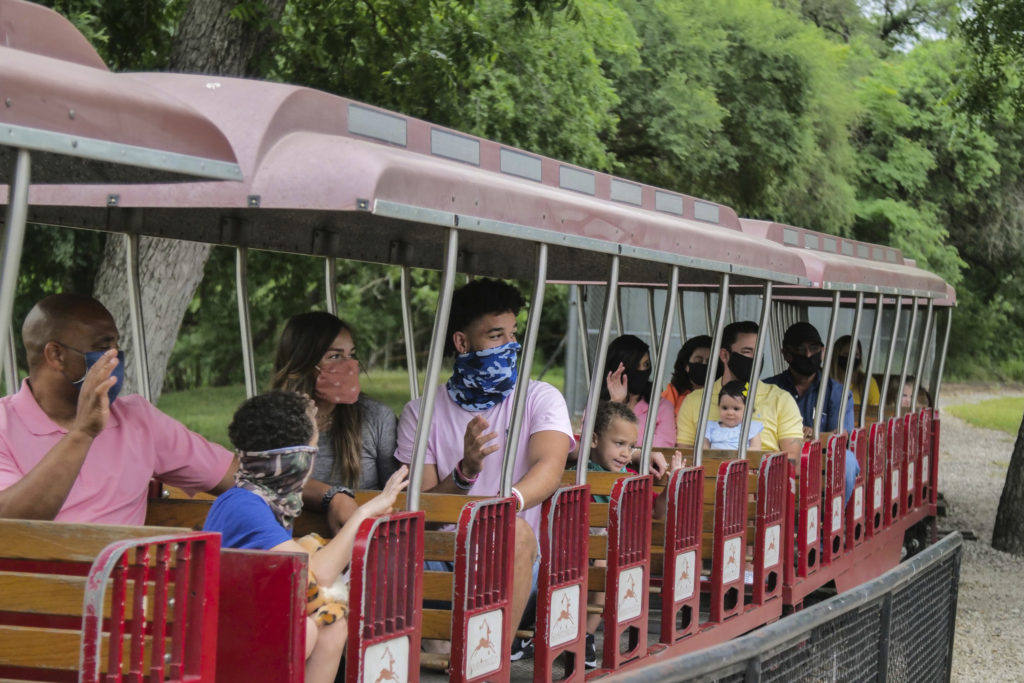 San Antonio Zoo celebrated the 50th anniversary of "The Great (Little) Train Robbery" on Saturday, July 18, 2020, exactly 50 years to the day the San Antonio Zoo train was robbed at gunpoint in Brackenridge Park.
Each Zoo Eagle Train ride hosted a re-enactment of the event. Passengers aboard the Brackenridge Eagle winded through the park and into history when the miniature train was looted at gunpoint by two masked robbers. "The Great (Little) Train Robbery" was the last known train robbery in Texas.
Passengers paid $10 each per ride as a fundraiser for the zoo, which is battling to remain in business amid the devastating COVID-19 coronavirus. As a 501(3) non-profit organization, San Antonio Zoo relies 100% on ticket sales, guest visits, grants, and donations.
---
Drive Through Zoo Returns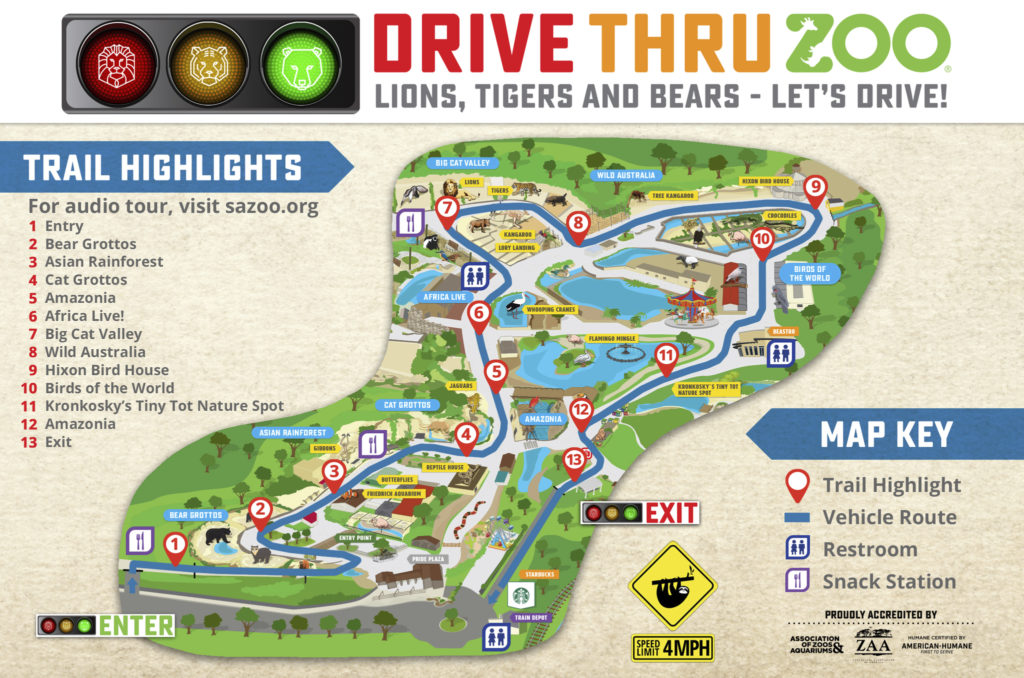 The San Antonio Zoo says it is all ears! "Our guests asked, and we listened!" San Antonio Zoo Drive-Thru Zoo, presented by Broadway Bank, is back, featuring Wild Connections the zoo's larger than life LEGO sculpture exhibition. The Drive-Thru Zoo will be opened on select days beginning July 12.
The zoo will even offer a special evening edition of Drive-Thru Zoo on select dates with convenient after work hours of 4 pm – 8 pm. Drive-Thru Zoo tickets are only available online, and a limited amount will be sold per day. The cost is $65.00 for non-annual pass holders/members per vehicle with an opening discount of $15 off using promo code: DRIVE. The cost for the zoo's loyal annual pass holders/members will remain just $32 per vehicle. Proceeds from Drive-Thru Zoo go directly towards the care of our animals. The traditional zoo experience of walking thru the zoo will also be available on select dates.
Guests can visit sazoo.org to purchase tickets. Drive-Thru Zoo offers driving at a sloth's pace and hearing about the zoo's history and animals. Guests will have the opportunity to buy and enjoy some of their favorite zoo snacks, beverages, and zoo gifts will be brought to vehicles giving guests the opportunity to purchase food and souvenirs along the route. The vehicle size will be limited to 224" long x 81" wide x 74" high (approximate size of a Chevy Suburban.)
---
New Restaurant with "Jewish Flavor" Coming to Broadway Corridor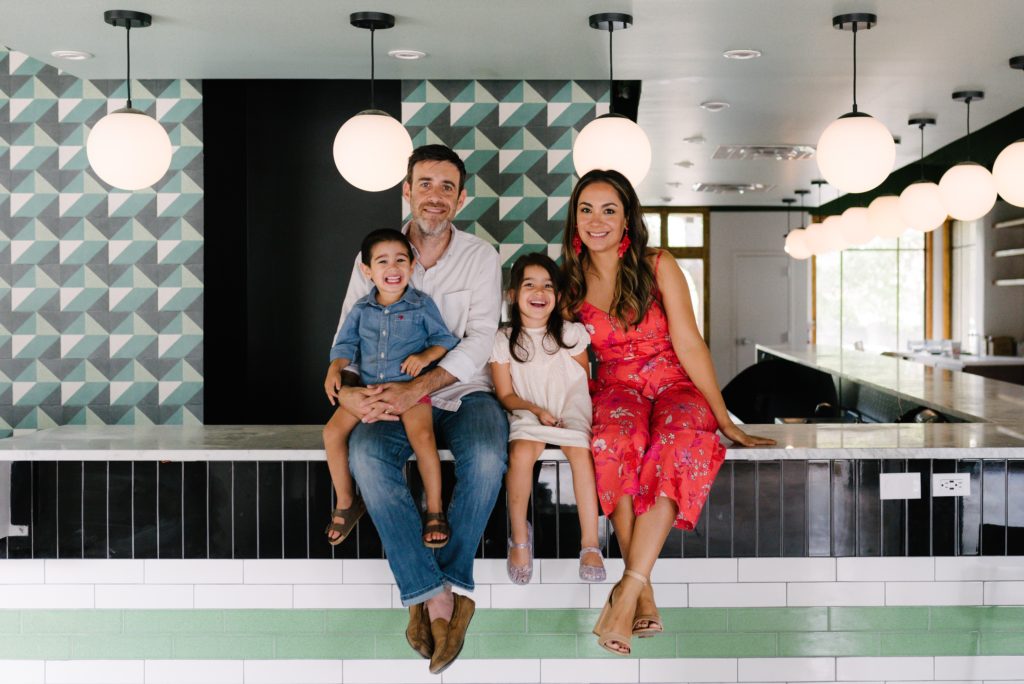 Adam Lampinstein, 40, and his wife, Perla, are opening a trendy new restaurant at 4025 Broadway, just south of Hildebrand. The couple had operated "Ripe," a successful restaurant in El Paso, for ten years before selling it and moving to San Antonio.
Lampinstein told 78209 Magazine, "I wanted to open a true neighborhood diner for the area with a Jewish flare. We're not opening a Jewish deli, but we will be offering several traditional deli items like smoked pastrami and smoked fish plus bagels and cream cheese." He suggests people think of The Hayden as a modern version of an old diner.
He picked his middle name for the restaurant's name – The Hayden. Initially, The Hayden will be open for breakfast and lunch, but plans call for adding dinner too.
The Lampinsteins live in 78209. Perla teaches Spanish immersion at Woodridge Elementary School. They have a five-year-old daughter and a two-year-old son.
They hope to open in September, or as soon as the state will permit at least 75% occupancy for restaurants, as Texas continues to battle the COVID-19 virus.
---
Ghost Bus Re-routed in Northwood Neighborhood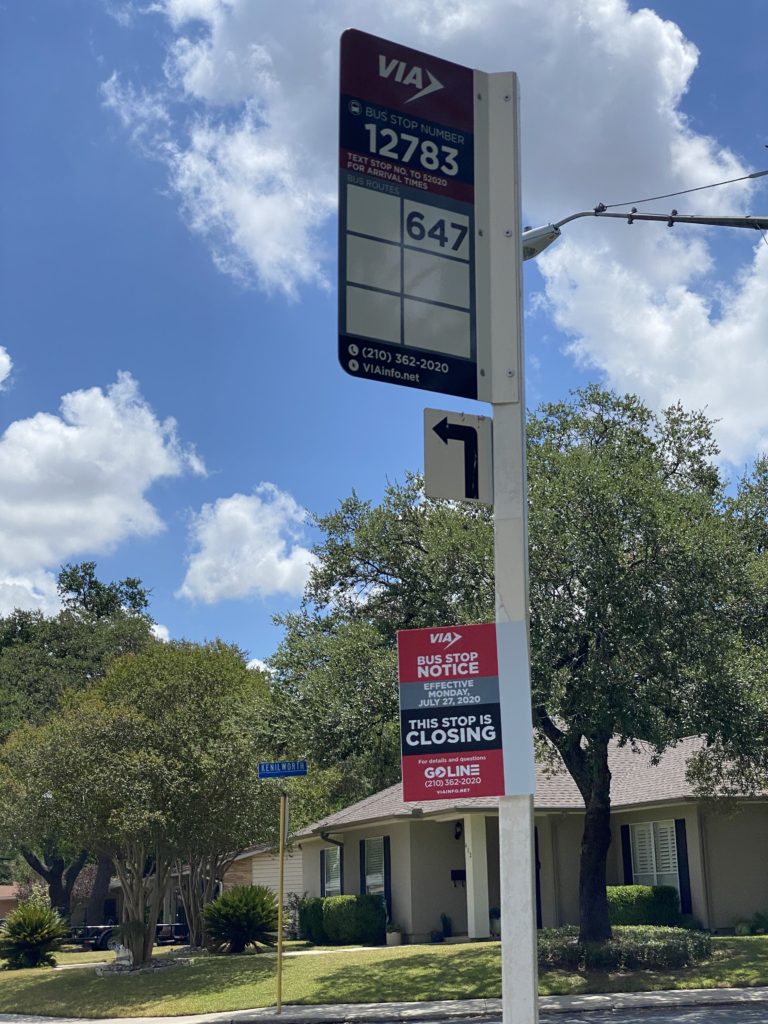 Folks living along several streets in the Northwood area are cheering a long-awaited decision by VIA Metropolitan Transit to change the route for a bus that snaked along streets in their neighborhood, but always seemed empty. In fact, some neighbors had dubbed it the Northwood Ghost Bus.
As one neighbor told 78209 Magazine, "We could not understand why an empty bus roamed our streets."
"For the longest time," she added, "complaints to VIA went unanswered. But now we see signs on several bus stops alerting passengers that Bus Route 647 is being rerouted. So, thank you, Via."
The bus will no longer travel though Northwood on Vandiver, Oak Glen, Kenilworth, and Northridge. Instead, it will use Eisenhauer and North New Braunfels.
By Ron Aaron Eisenberg