SPIRITED DUO GETS ALAMO HEIGHTS READY FOR ANY CELEBRATION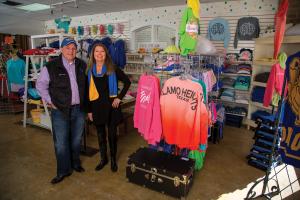 While 78209 is certainly home to myriad dogs, cats, coons and even the occasional coyote, it seems there are more "mules" than anything else. Just think about it for a second, because any and all who have ever sought and acquired knowledge within the hallowed halls that comprise our beloved Alamo Heights public school system (and that's a lot of us) are technically, forever and a day, mules – and darn proud of it!
And what better way to show this pride of alma mater than by wearing beautiful and quality apparel (often in blue and gold) adorned with the symbols of our cherished "muledom"? Fortunately, for active students, future students and alumni of all ages, the neighborhood's cool and quirky Spotted Mule has literally got us covered with a delightful assortment of wearable and more "muleorabilia." Since its opening in 2005, the Spotted Mule and its more formal adjunct, Heights Tuxedo, have just about everything for the well-dressed AHer – for attending the game, summer camp, the prom or just hanging around the 'hood. Go, mules!
Conceived, owned and operated by entrepreneurial husband-and-wife team Rob and Sandra Rogers (who are 78209 residents as well), the Spotted Mule and Heights Tuxedo have been outfitting the local populace in a fun and fancy manner for the past decade. And while the "Mule" with its unique themed inventory currently makes up a substantial portion of the Rogers' flourishing business model, it was tuxedos that actually pried this creative pair from their former Dallas digs and caused their relocation to SA. In Big D, Rob successfully managed several tuxedo stores, while Sandra worked as a buyer in the retail clothing business. However, in 2000, when an opportunity arose in the Alamo City that allowed the acquisition of a local tuxedo outlet, as Rob relates, "We eagerly headed south with our 3-year-old daughter in tow. We were very, very excited." And life was good for the new AH arrivals, but after five years, as the then stay-at-home-mom Sandra admits, "I felt the urge to get back into business." But get back into what?
The young mother was familiar with a Dallas-area retail establishment that catered to a "school" clientele and quickly recognized that there wasn't anything like it in '09. Feeling good about a similar store's viability here — especially in Alamo Heights — Sandra, who knew clothing and retail, decided this was what she was commercially looking for and decided to give it a go. Shortly thereafter, the Spotted Mule was born, named appropriately enough in honor of the district's adored mascot. After leasing the Broadway space that they still occupy today, Rob moved his mall-based tuxedo business and set up shop alongside Sandra's brand-new mule-themed enterprise. And, as both agree, "It's proved to be a perfect pairing, where our shoppers move easily from one side of the store to the other, often making purchases from both." Sandra and Rob share duties equally on either side of the aisle.
Today, Heights Tuxedo remains an exceptional resource for the rental and purchase of superior men's classical formal wear – from perfectly fitted tails to all of the essential accoutrements, such as ties, cuff links (including a "kicking mule" set), shoes, cummerbunds and other necessities needed for that "big occasion." The Spotted Mule, conversely, continues to evolve as its inventory has grown to include, not just the always popular sweats, T-shirts and ball caps but other "mulish" items such as stadium blankets (which are great for home and sofa use), scarves, pajamas, AH logo-adorned beverage containers, socks, rain boots, decals, baby clothing, stadium seats, coffee mugs "and lots of other fun Heights-oriented merchandise." Beyond the walk-in trade, many of the district schools also rely on the Spotted Mule to provide T-shirts and other gear for special events. As Sandra states, "We give generous discounts to the schools in support of their fundraising efforts."
While always a savvy buyer when it comes to recognizing her customers' needs, Sandra has expanded the Mule's offerings to include an assortment of wonderful and practical summer camp items. The enterprise stocks complete sanctioned logo-adorned uniforms (caps, T-shirts, shorts, etc.) for many of the Hill Country's most popular camp destinations. Additional camp-specific blankets, stationery, towels and other required items are available as well. And everything, whether for Heights fans and/or campers, can be expertly personalized with monogramming. With the addition of lots of other amusing and useful but perhaps more generic merchandise, the Spotted Mule and Heights Tuxedo have truly become a shoppers' dream stop, where the perfect, often unusual, gift can be had on short notice. When considering their new lives in '09, Rob honestly volunteers, "We love our home, business, schools and especially all of the wonderful 'mules' that have 'stubbornly' supported us over the years. We're so happy to be here. Thanks, Alamo Heights, and go team go!"
By ERNIE ALTGELT
Photography by CASEY HOWELL