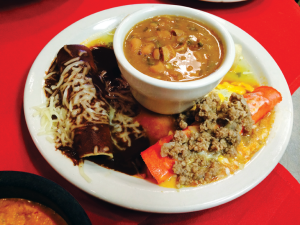 With the explosion of great new restaurants opening in the hot spots around San Antonio, it is exciting to report on one located right here in 78209. Opened since just after Thanksgiving, Salsita's on Broadway, located in the Stewart Center, is a perfect addition to the restaurant community in Alamo Heights. Owner Paul Martinez is excited about the move from his former location on East Basse, where the restaurant operated since 1999. Specializing in Tex-Mex cuisine and with a name like Salsita's, this eatery offers above-average salsas. The two salsas we tasted were both delicious, made with fresh ingredients and offering a slight caliente punch to a much more potent reaction. They are served with fresh tostada chips, so you may want to use some self-control in consuming these pre-meal delights, or you may have no room left for the authentic feast still to arrive.
The restaurant offers three styles of enchiladas common in most restaurants, but cooked and prepared to perfection at Salsita's. The enchiladas verdes were mildly spiced, lightly accented with a green tangy salsa and served with a scoop of sour cream on top. Enchiladas molé must be put together very carefully to retain the different flavors in the mix. Thankfully, one can notice the care put into preparing the enchilada blanket and the incredibly rich molé sauce on top. Salsita's cooked a perfectly balanced poblano chili just bold enough to offset the Mexican chocolate, making the offering truly a taste bud's paradise. With both, the chicken meat was slowly cooked and delicately cut, adding to a juicier bite. The equally excellent cheese enchiladas were also a flavorsome choice. Served with a cup of borracho beans, lightly seasoned with pieces of bacon, onion, tomato and jalapéno, the side dish made a substantial counterpart to the succulent enchiladas.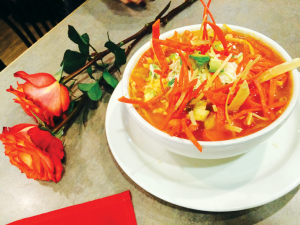 Another pleasant surprise was the restaurant's tortilla soup. Slowly simmered chicken is served in a scrumptious broth with smidgens of guacamole, tomato and freshly made tostada strips. It's a perfect low calorie lunch and especially mouthwatering on a cold winter day. Salsita's On Broadway also offers an array of breakfast tacos. My favorite is chilaquiles with cheese, having tasted many in San Antonio and other cities. Their version includes the necessary eggs, tostada chips, jalapeño chilies, onion, tomato and cheese, but presented in an overly large, thick flour tortilla. What makes Salsita's different is their attention to details, taking everything a step above other restaurants, such as their hand-pressed corn and flour tortillas made with generous proportions of ingredients. They reminded me how my aunt used to cook them, good enough to eat with just a little butter.
The atmosphere is bright, with an intimate number of tables and booths, serving at most 60 people. One entire wall is covered with a hand-painted mural and there are mirrors on the opposite side. Salsita's on Broadway is open from 7am to 3pm. Tuesday through Sunday and available for parties and catering functions. The menu is moderately priced.
By Mark Richter