In a world where a growing number of people want their information condensed and presented to them in 140 characters or less, delivering an attention-grabbing, thought-provoking theological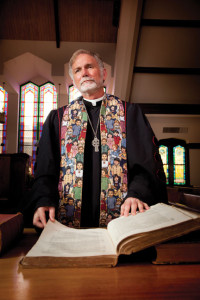 message every Sunday can be a challenge.
The Rev. Dr. Richard Knott Jr., senior pastor at Alamo Heights Presbyterian Church, doesn't let that fact deter him. In fact, this devoted spiritual leader not only accepts the challenge, but rises to it 24 hours a day, seven days a week, bringing his highly regarded intellect, thoughtful insight and straightforward approach to the approximately 350 members of a church that has graced Alamo Heights for more than a century.
So how does a man who has been leading his congregation for the past 30 years keep it fresh every week? "It is difficult over 30 years not to be redundant," he admits, adding that he has had to shorten his messages over time from "manuscripts" to "notes." "People want easy answers to complex questions, so I study a lot."
His other secret to success? "I pray a lot too," he says with a smile.
FINDING HIS CALLING
You can tell a lot about a person by his surroundings. The Rev. Knott is no exception. One of the first things you notice upon entering his office is the selection of books that fill the shelves. Historical fiction, theology, science and biographies are just a few of the genres that make up his impressive library and offer a glimpse into this self-described bibliophile's passions. "I read about 50 novels a year just for fun," he says. "That's in addition to the books I read for work."
It is that quest for knowledge that eventually led Richard to the ministry, although admittedly it wasn't his first choice. Born in California, the son of a Presbyterian minister says that it was never his intention to follow in his father's footsteps. On the contrary, after attending Belhaven College, he decided to pursue a career in the legal profession, enrolling in law school at the University of Mississippi in Oxford.
"Growing up, going into the ministry was the last thing I wanted to do," confesses Richard, who took time off from college to serve in the U.S. Navy. "But when I was in law school, I became intrigued more with the theory behind law. I want to know 'why' rather than 'what.' I realized that theology attempts to study 'the great why.'"
After extensively researching his options, the future pastor found a fit with the Austin Presbyterian Theological Seminary in 1978 (his father's own alma mater). He was impressed with the academically rigorous curriculum. "It was much harder than law school," he says, adding that only 11 of the 33 students in his class graduated from the program.
Richard went on to earn his doctorate from that same seminary in 2002, spending a grueling seven years trying to balance school, his responsibilities as a husband and father and his duties as pastor. It wasn't always easy, but he managed to juggle it all successfully, even spending two long years writing his dissertation while working full time. "This congregation has put up with a lot of my growth," he acknowledges gratefully. "They are very tolerant and compassionate."
Many members of the congregation first met the man who would later become their senior pastor when he was still a seminary student interning at Alamo Heights Presbyterian. At the end of the 15-month term, Richard accepted a position with a church in Dallas, but returned to San Antonio two-and-a-half years later to assume his current position as senior pastor to the congregation that he warmly describes as a unique and welcoming group of people.
"This is a multigenerational, multicultural, theologically diverse congregation," he says of his flock. "They come from many different walks of life, but most of the people I've met here would give you the shirt off their backs if you were in need," he adds fondly.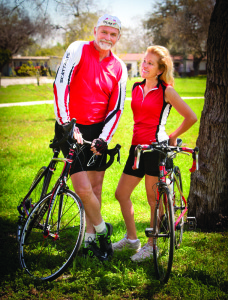 FINDING HIS BALANCE
Overseeing a congregation like Alamo Heights Presbyterian involves more than simply standing in the pulpit on Sundays. In addition to working on his sermon all week long, Richard has a myriad of additional responsibilities that go along with the title of senior pastor, including counselor, moderator, performer of ceremonies and businessman. Throw in husband, father and grandfather, and you begin to wonder if he relies on divine intervention to find the time to pursue his various hobbies and interests. "Let's just say I don't leave many gaps in my schedule," he laughs.
The evidence of Richard's many extracurricular activities is scattered throughout his office. A collection of Samurai swords, hapkido canes and Asian art and décor pays homage to his interest in that culture, specifically the martial arts.
"I started practicing martial arts as a way of managing stress, but I discovered I really like the discipline," he explains, pointing out that it isn't completely unrelated to his day job. "Martial arts began within the context of religion, specifically the Buddhist monasteries."
Perhaps one of the only pastors in town who holds both a seventh-degree black belt in tae kwon do and a fifth-degree black belt in hapkido, Richard established the American Tae Kwon Do Schools (ACTS) in 1992 as a way to share the benefits of martial arts with students ranging in age from 4 to 70 years old. The program has grown from 10 students in 1992 to more than 145 today, and classes are held at various churches around town.
When he's not keeping his martial arts skills sharp, Richard and his wife of 32 years, Ginia, (a native San Antonian) hit the bike trails. The couple, who met while Richard was working as a bouncer at her UT sorority house, are avid cyclists, and now that their three daughters are grown, they log 60 to 80 miles per week, riding the hills outside of Comfort and Fredericksburg on the weekends and taking advantage of San Antonio's greenway trails during the week.
When Richard isn't riding a bike, he's building a bike. Ordering frames off the Internet and securing parts at a discount, the pastor taught himself to build racing bikes from the ground up. He estimates that he has built at least a dozen bikes over the years and has sold several of them to fellow cycle enthusiasts.
In the summer, the Knotts escape the oppressive heat of San Antonio in favor of cooler Colorado temperatures. There, they spend their days alternating between scenic bike rides and another of the pastor's favorite pastimes, fly-fishing.
Whether it's drafting an educational and uplifting message for his congregation, practicing his martial arts, cycling or perfecting his fly-tying techniques, the Rev. Knott is a dedicated student of life. He pursues his pastimes and his profession with equal amounts of passion and is constantly looking for new challenges. For him, the key to life is to never stop questioning, seeking and learning.
"You always have to be learning," he says, with years of wisdom and experience to back him up. "People get bored with life if they stop."