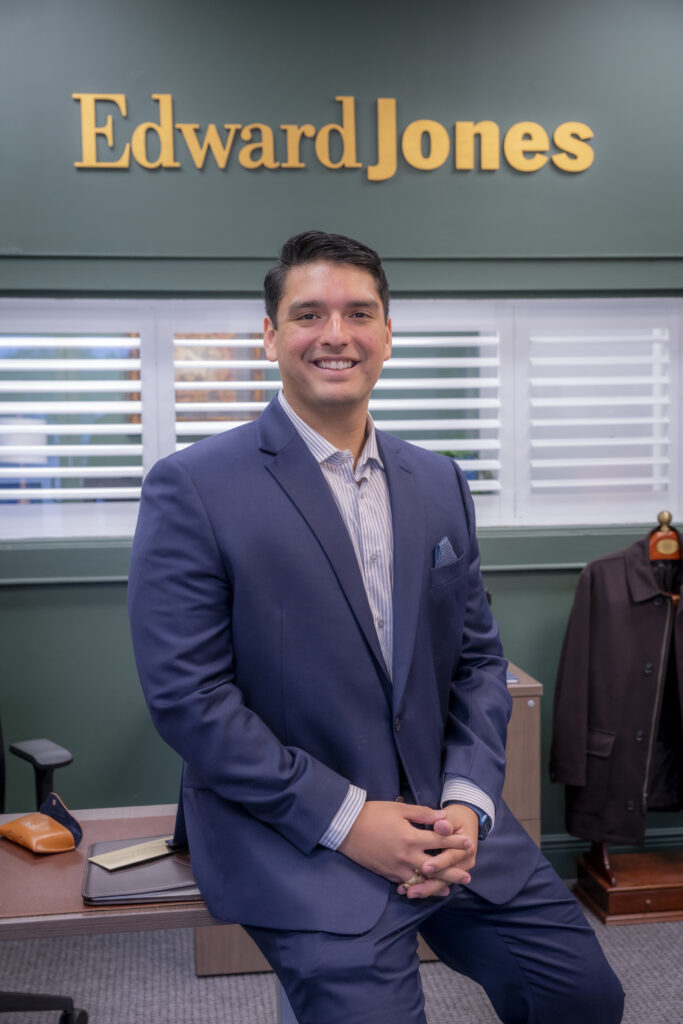 Treating Others Like Family Starts With a Passion to Help
Edward Jones – Christian Rivera
By Meredith Kay | Photography by Al Rendon
Choosing someone to handle your family's financial plan is not something that most of us take lightly. It's important to know who you trust and to ensure that the financial advisor has your family's best interests at heart. It can take years to build this trust, and the best advisors understand this and dedicate their careers to earning their clients' trust and respect.
Christian Rivera is a financial advisor with Edward Jones in Alamo Heights, and he has a passion for helping individuals in the community protect and grow their hard-earned money. Christian was born and raised in San Antonio. He graduated from O'Connor High School and earned his bachelor's degree in Business Management from Texas Tech University.
He loves being a part of the business community in Alamo Heights and working with local residents to help them manage their money, plan for retirement, and protect their investments. Christian says, "I really take the time to get to know someone on a personal level. It's important to establish that trust with my clients and to ask the big questions that will allow us to focus on what is important to them, what they want their family's lifestyle to be, and what retirement looks like for them personally."
Christian recently married Tatiana Ramirez in December, and although they haven't started their own family just yet, he considers family to be very important. They met at Texas Tech, even though Tatiana also attended O'Connor High School. She is currently teaching third grade at Potranco Elementary but is interested in possibly pursuing a second career in the events planning industry.
Rivera's interest in finance was ignited when his father introduced him to the teachings and educational programs of Dave Ramsey while attending college. In fact, by following his own aggressive plan, inspired by Ramsey's program, Christian was able to pay off his $36,000 student loan debt in just 18 months.
Edward Jones advisors are well-known for their community involvement, and Christian was drawn to the company by their non-competitive culture and volunteer programs that allow advisors to help out in the communities that they serve. He says, "Everyone with Edward Jones wants everyone else to succeed. We all help each other, and that's how life should be."
A self-proclaimed "foodie," Christian enjoys spending his free time with his family and his dog, Moochie, a Shih Tzu. He and Tatiana are enjoying life as newlyweds, and are excited about their honeymoon trip this summer, a 10-day European cruise. On the weekends, the couple like to go hiking around San Antonio and the Hill Country, and they are avid comedy fans and love to catch the shows at local comedy clubs. Christian has even made it a goal to eventually do a stand-up comedy open mic event. 
Christian has a friendly and welcoming demeanor that immediately puts you at ease, and enjoys what he does because it allows him to really connect with his clients. He strives to serve his clients as a partner, helping people to reach their financial goals and life milestones successfully. He says, "When someone chooses me to work with them, it's like becoming a part of their family, and I will work very hard to make sure that their hard work pays off and that their family is taken care of."