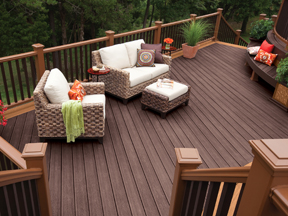 Looking to revamp your outdoor space to accommodate entertaining? Or are you longing to design a quaint retreat where you can bask in the sun and enjoy nature? Consider building a deck. With its intricate and beautiful woodwork and endless design options, a deck can be a valuable addition for your home and easily flow with the inside of the home to create an additional family room or outdoor kitchen. Our expert, Mariano Molina, president of Alamo Deck & Fence, weighs in on design, refinishing and repair options for existing and new deck builds.
Whether you're planning a deck installation for the first time or need to spruce up an aged deck, knowing the different materials, finishes, deck types and costs can be beneficial when preparing your deck plans.

WOOD DECKING – PRESSURE-TREATED
"The standard deck most commonly used is the pressure-treated pine," says Molina. "It is affordable, and when a clear-coat finish is applied, it helps preserve the wood from turning gray." Although pressure-treated wood requires yearly washing and sealing, it can last nearly 30 years if maintained properly. "The average cost per square foot for a standard pressure-treated pine or cedar installation, including labor, would be $19-25," says Molina.

NATURAL HARDWOODS
Tropical hardwoods, such as ipe and ironwood, are beautiful and rich in color and not only last 20-30 years, but repel bugs and resist decaying. On the downside, this wood is prone to showing dents and scuffles. "Exotic woods like ipe are more expensive, ranging from $40 to $45 per square foot to install," says Molina. "There are many options; it just depends on what will work best for the homeowner."

WOOD ALTERNATIVES – COMPOSITE DECKING
Made with recycled materials like wood fibers and plastic, composite decking reflects the beauty of natural and exotic woods without the cost and heavy maintenance. No need to worry about splinters or sanding or painting with composite decking. This wood alternative might require fasteners to help with scratching and stains. "Composite decking is more expensive than the pressure-treated wood," says Molina. "In the long run, it lasts longer and comes in a variety of colors and styles, and it ranges from $28 to $40 per square foot to be installed."

SYNTHETIC LUMBER
"There has been a huge advancement with decking," says Molina. "There is PVC decking that looks like wood, and it doesn't stain or leave spots." This material is made from polystyrene, vinyl or cellular polyvinyl chloride (PVC) that includes options for slip-resistant designs, as well as drainage systems, so that it repels water and keeps your deck dry.
DECKING FINISHES
To prevent damaged, stripped-down wood, sealing a wood deck with a finish can help extend the life span of your deck and provide water-resistant and UV-protective characteristics to the existing wood.

SOLID COLOR
"For older decks, I recommend using a solid stain because over time the wood will start to show spots in different places, and a full solid color will help," says Molina. The solid color finish will hide the wood grain and provide the highest level of protection by guarding against UV light.

CLEAR
If the deck is using cedar, redwood or pine, generally a clear-coated finish will provide protection without color, letting the natural wood glisten through. "On the pressure-treated pine, I recommend putting a clear coat to help preserve the wood to keep it looking new," explains Molina.

TONER
If you are hoping to achieve a certain wood look, toner can be used to create a cedar or redwood appearance and highlight the wood grain. It adds a mild color to the wood, while providing more protection than a clear coat finish.
Decks can be transformed into multifunctional outdoor living spaces to reflect the outdoors and lifestyles of the homeowners. There is an almost limitless number of options for making your backyard deck into something as personal and special as the interior of your home.

DIFFERENT LEVELS
"There are so many design options," says Molina. "You can create different levels or shapes and add staircases." There are many reasons to tier your deck. Whether it's to break up a large flat space, utilize terrain slopes or even create different levels to serve as rooms, such as entertaining, kitchen and lounging, creating a tiered deck can allow multiple vantage points and make a stunning view and addition to your outdoor space.

IT'S ALL IN THE DETAILS
Add personality to your deck with custom railing for style, design, efficiency and safety. Many contemporary railings are available that will not block a gorgeous view. This aesthetic component can contribute to the style and congruity of the deck. "If a deck reaches 36 inches or higher, it is code to add railings," says Molina. "Many homeowners might not know there are certain codes and compliances that need to be addressed when they are designing their decks."
BY KRISTIN MEARS