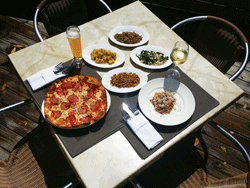 The space that houses Tre Trattoria on Broadway could easily serve as a kind of chronicle of San Antonio culinary history, so many and varied have been its occupants over the years. (Who remembers Arthur's, then Mary Martin's Arthur's, for example?) But if present success is any indication, historians may have to wait awhile for the next installment—unless chef/owner Jason Dady decides to investigate a new cuisine, that is.
Meanwhile, take comfort in the golden beets made sweet by roasting, the challengingly chewy Tuscan faro salad, the made-in-house mozzarella in any of its creamy manifestations. House-cured meats such as the lean and lusty pastrami are outstanding; just a few slices will do nicely.
And don't shy away from pizza just because this is not a place featuring an Old World oven; Dady overcomes any presumed limitations with the "cast iron" griddled pizzas. They flaunt a crust so crisp it almost crackles and, in the case of the version with tomato, soppresetta and spicy pepperoncini, spunky flavors that are all the more appealing for being simple and straightforward. (For a fancier take, try the rendition with smoked mozzarella di bufala, corn, pancetta and basil.) With your pizza, also take advantage of well-priced Italian wines by the quartino  (a "glass and a half"); neither the Soave nor the Valpolicella is to be ignored.
It has been a while since we've had Tre's linguini and clams; in the past it was always a wake-up call reminding us that less is more. A recent serving of fettuccini with duck confit, corn and breadcrumbs featured good flavors but a less-convincing texture. We are always suckers for the pappardelle Bolognese—another instance of knowing just where to stop with a classic sauce. Could be that the cauliflower ravioli with Meyer lemon, green onion, golden raisins and bottarga (the salty dried roe of a mullet) is a bridge too far, but it's on the bucket list for future investigation.
Returning to things simple and satisfying, there's nothing more comforting, when prepared with care, than a roasted chicken—free-range, in the case of Tre, and so moist and tender that it needs nothing more than a side of caramelized Brussels sprouts or some creamy parmigiano polenta to take advantage of any errant juices. Polenta is served with a fried egg to accompany braised pork shoulder in Monday's family-style special. Wagyu meatballs occupy the spotlight on Friday.
We do wish that chefs would get over Nutella—or at least retire it for a while. But if you have a hankering for hazelnut, Dady's three-way Nutella is the one to have.  We would more likely opt for a ricotta cake with mascarpone and a glass of vin santo to end an evening spent trying to remember the names of all those previous restaurants whose ghosts must surely survive in the walls around us.