Put these events on your calendar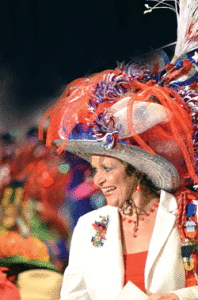 "It's Party Time in '09" may be the slogan of the popular Alamo Heights Night, but it could just as easily be the theme of the city of Alamo Heights as '09 residents bring their own special brand of fun to the Fiesta® celebration. From April 10 to 27, the hip zip is home to events ranging from special art exhibits to fashion shows and even a parade that some might say has "gone to the dogs." Make sure to mark a few of these on your calendar and enjoy some neighborhood Fiesta® fun!
The campus of the University of the Incarnate Word is the place to be during Fiesta® for both education and entertainment. First, on Saturday, April 5, from 9 a.m to-1:30 p.m., learn how to navigate the challenging, mysterious world of teenage girls during the annual "Growing-Up Female Workshop." Presented by the San Antonio Alumnae Chapter of Delta Theta Sigma Sorority, this enriching and informative workshop is aimed at girls in grades 6 through 12, and features motivational speakers, engaging activities, and plenty of "girl talk" that addresses topics relevant to the issues facing today's young women. Attendees of this free event will enjoy a continental breakfast and lunch, but the seating is limited. Pre-registration and parental consent are required to attend, and forms can be obtained at www.dstsanantonio.org.
The following Friday, April 11, the campus is turned into the biggest block party in town with the 28th annual Alamo Heights® Night festivities. Sponsored by the Alamo Heights Rotary Club, this wildly popular event is always a night to remember. Guests can nosh on delicious food from some of the city's leading restaurants and caterers as they enjoy the family-friendly atmosphere that features multiple stages of live entertainment. A carnival-style midway offers the young (and young at heart) a way to enjoy all kinds of activities that include laser tag, rock climbing, face painting and much more.  Admission is $10 for adults, $5 for ages 12-17, and free for children under the age of 12. For more information visit www.alamoheightsnight.org.
Finally, the feather in the UIW Fiesta® cap is the annual Cutting-Edge Fiesta®Fashion Show. Created and presented entirely by the UIW fashion design students, this production offers a glimpse of new talent in a NewYork-style runway show. This year's show will take place on Wednesday, April 16, at the Marriott Rivercenter Hotel on Bowie Street. All proceeds from the event fund scholarships for UIW students in the fashion management program. Registration begins at 10:30 a.m., followed by the fashion show at 11:30 a.m. and lunch at noon. Admission is $75 per person. Tables can be purchased for $1,500, $1,000 and $750.
UIW is not the only place to find Fiesta® fun. Beginning April 17, the Witte Museum will present the Fairytale Fiesta® Exhibition. This fantasy-inspired theme will feature Fiesta® gowns inspired by fairy tales, myths and magic. Get up close and personal with these elaborate gowns worn by Fiesta® royalty, including this year's featured pin dress, the 1941 Queen of the Court of Legends. This gold lamé dress and train was worn by Margaret Walker and features the underwater kingdom of Atlantis complete with coral, starfish, and seahorses created with coral velvet and rhinestones. This unique exhibit will run through Aug. 24, and admission is $7-$10. For more information visit www.wittemusuem.org.
In addition to the Witte, the McNay Art Museum, in partnership with Fiesta® San Antonio Commission, is currently showing the exhibition Robert Indiana: The Mother of Us All. This fascinating collection features both a selection of Robert Indiana's cut-paper costume and scene designs and six felt costumes for The Mother of Us All, Gertrude Stein and Virgil Thomson's pioneering American opera inspired by the life of Susan B. Anthony. It combines art, literature, music, history and politics and introduces an entirely new generation to this musical drama of women's suffrage battles. The exhibition will remain at the McNay until May 25. Admission is $10-$15. Visit www.mcnayart.org for more information.
The Alamo Heights Swimming Pool is your stop for the fourth annual "Evening in 09" sponsored by the Alamo Heights Optimist Club. Food, fun and live music from four-time Grammy winner Michael Morales and special guests The Zots are what you can expect to find at this family-friendly neighborhood bash. Rides, games, libations and more complete what is growing into one of the hottest nights in town. Gates open at 5 p.m. and admission is $10 for adults and $5 for ages 13-17. Children 12 and under are free. For more information visit www.ahoptimist.com.
Finally, if too much partying has left your dogs barkin', kick back, relax, and watch the 16th annual Fiesta® Pooch Parade, taking place on Saturday, April 26. Dogs (and owners too) will be wearing their Fiesta® finery and winding their way from the Alamo Heights Swimming Pool through the tree-lined streets of Alamo Heights in a 3-mile route. Registration begins at 8 a.m., followed by a Canine Costume Contest at 8:15 a.m., and the walk kicks off at 9:15 a.m.  Obedience demonstrations, photo booths with free photos, and plenty of dog information and products will be on site.
The event is sponsored by Therapy Animals of San Antonio, and all proceeds from the parade will remain in the local area to support the organization's programs.  Dress up your dog, decorate your bikes and wagons, and come out to support a good cause and show your Fiesta® spirit. Pre-registration is $20 per one human and pooch, or $25 per family and all family dogs, and must be paid by April 19. Registration at the event is $25 and $30. Whether you are walking or watching, sitting or staying, this event promises to be a "howl" lot of fun!