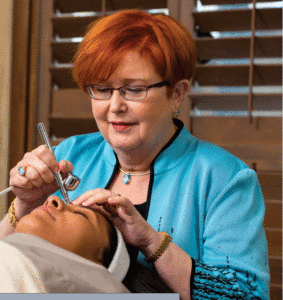 She provides Alamo Heights women with aesthetically pleasing results.
If it seems as though the women of Alamo Heights are aging backwards, Nancy Hill may be to blame. Hill, a nurse practitioner, is the owner of Aesthetic Options Medical Spa, a boutique and medical-grade skin care facility located in the Boardwalk on Broadway shopping center. It is a place where women from all over the city (but primarily Alamo Heights) come to slow down the hands of time without undergoing invasive treatments.
"My clients tell me that people ask them who their surgeon is," laughs Hill. "I love hearing that!"
Medical-grade skin care
Hill says she has always had the desire to own her own business. The opportunity presented itself when she and her husband moved to San Antonio from Seadrift, TX, in 1993 in order to assist in the care of her Alamo Heights in-laws.  A longtime sufferer of rosacea, Hill had seen many dermatologists over the years, but none could provide her with satisfactory results, so this determined businesswoman decided to take matters into her own hands.
" I became intrigued with healing myself and realized that it could be done through the use of the IPL laser and the appropriate medical-grade skin care," she says.
Aesthetic Options Medical Spa opened in 2005 in the Village on the Green shopping center. Hill chose the Alamo Heights location based on the fact that she needed to be in close proximity to her in-laws. It soon became clear that she was in the right neighborhood for the services she was offering. Hill passed her vast knowledge, research and training along to her growing clientele, and business boomed.
Before she knew it, Hill was expanding her 500-square-foot space to 1,300 square feet, offering customers her popular three-part laser skin rejuvenation that includes evening out the complexion, tightening the skin and reducing wrinkles, all in one treatment and with no downtime.
Her services became so much in demand that last year Hill realized it was time to find a larger space and expand her services. While convenience was what led her to choose the Alamo Heights neighborhood to start her business, her customers are what led her to stay in the 'hood when it came time to relocate to her current location.
"Alamo Heights folks are loyal, and they like to support local businesses," she says, adding that they are also a discerning group.  "These women recognize value and understand that you get what you pay for."
And they do pay. The three-part laser skin rejuvenation runs $500 to $750 per treatment every three weeks, while the super popular intraceuticals oxygen facial (the same one used by celebrities prior to awards shows) will set you back $200. But as Hill points out, medical-grade facials are not an area in which you want to skimp. A laser in the wrong hands can cause irreparable damage.
"I see clients who come in after using one of the popular 'discount club' offers for a laser service without researching the facility or the practitioners," she says. "You really have to be careful."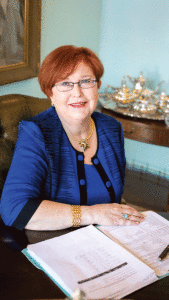 Boutique-style beauty
Not all of the services Hill offers are medical-grade, or come with a medical-grade price tag. Esthetician Elena Fletcher provides more traditional spa services, which include eyebrow waxing and tinting, airbrush tanning and classic facials. Fletcher is also a professional makeup artist who studied at the famous Make-up Designory  (MUD) in New York and can work magic with a makeup brush.
While Hill admits that it would be more lucrative to allow Fletcher to perform the laser and medical-grade treatments too, for her, it isn't about the bottom line. "I want what is right for the client," she explains. ""What sets me apart is that I am a nurse practitioner with eight years of experience, and I am the one performing the medical treatments."
In addition to offering a wide menu of services, Hill has expanded Aesthetic Options to include a boutique where she carries DoTerra Essential Oils, Colorescience Mineral Makeup, an assortment of gift items and UPF 50, a line of clothing and hats that block both UVA and UVB rays stylishly. "The incidence of skin cancer is increasing," says Hill. "We wanted to offer something cute that women of all ages will actually wear and use."
Bringing it home
While Hill's services successfully allow women to thumb their poreless noses at Father Time, no service is going to be as effective without a good at-home regimen. Hill offers several lines of medical-grade skin care for clients to continue to pamper their skin between appointments and ensure longer-lasting results. Intraceuticals,  iS Clinical by Innovative Skincare and Biopelle are just a few of the lines that fly off the shelves.
"Medical-grade products treat the skin at the cellular level," Hill explains. "You can completely change a person's skin with the appropriate skin care."
With her porcelain, wrinkle-free skin, Hill is a testament to her trade. It is no wonder that she boasts such a loyal following. "The ideal customer is one who understands the value of coming to someone who understands the skin and how to get it to look the way you want it to," she says. "My Alamo Heights clients get it."