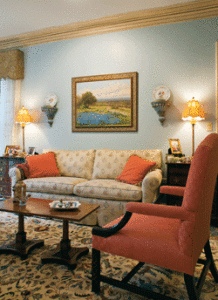 Antiques and UT memorabilia share the stage
A Terrell Hills native, Anne Ballantyne has lived in five different homes in the enclave that has nurtured her from birth to raising a family of her own with husband Steve Ballantyne.
"We feel rooted," says Anne. "Terrell Hills is where my family has lived for some 65 years, and it is where our first grandchild will be born."
As a member of the Terrell Hills City Council for 12 years, having served on both the city's Board of Adjustments and the Planning and Zoning committee, Anne knows her city well. She is also part of the bigger community, serving this year as president of the Battle of Flowers Association. Parades and politics bode well for a family that cherishes the traditions that bond a community.
Home is where the Ballantynes nurture traditions both large and small. One family formality carefully observed by their three children — Patrick, Katy and Brian – was the No No Room. When they were small children, the formal living room, where family heirlooms are beautifully displayed, was given that moniker. It is still called that by family and friends today.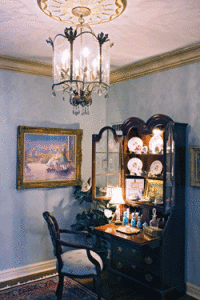 A collection of blue milk glass adorns shelves in the living room, part of a larger collection belonging to Anne's grandmother. A baby grand piano anchors a corner of the room with a cut-crystal chandelier hanging over a display of family photographs. Both pieces were from Anne's grandmother. Family artwork lines the walls, including a painting of Anne's mother over the fireplace mantel.
Displayed on her mother's Duncan Phyfe dining room table, a collection of Fiesta medals, miniature Battle of Flowers floats and Mexican folk art dolls inform guests that Fiesta traditions are celebrated here. It is also the heart of the home, where the holiday turkey is served from a massive antique silver meat server and dome. "We use it at Christmas," says Anne. "It is quite a production, filling it with hot water, then putting the turkey on for presentation. It gets pretty heavy."
An antique hunt table that belonged to Anne's mother holds silver and crystal wedding gifts flanked by a pair of silver champagne buckets, also from her mother. "Basically, I recreated my mother's dining room," quips Anne.
University of Texas traditions run deep in the Ballantyne family, and the den is where Steve's sense of style dominates. A past president of the Texas Exes, Steve had a hand in remodeling the den about the time that UT won the national championship in football.
A comfortable overstuffed leather sofa wraps around the room where a large flat- screen TV provides optimal viewing of Longhorn sporting events. A granite-clad bar equipped with built-in kegerator and wine fridge is adorned with Longhorn insignias.
Cowboy Corner, a display of family photos and University of Texas memorabilia, pays tribute to son Brian's days at UT, where he was a member of the Texas Cowboys, a men's organization dating back to 1922. Steve was a Texas Cowboy during his time at UT, too.
On a Battle of Flowers trip to visit a participating high school organization, Anne spotted a lamp in a vice principal's office that was a model of the University of Texas Tower. She exclaimed, "I've got to get one for my husband." Steve received a UT Tower lamp that Christmas.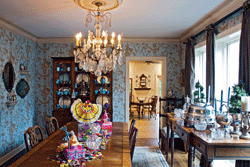 Having met as graduate students at UT Austin, they made sure the den pays homage to their alma mater. And it is the domain of yet another tradition and a pair of worthy causes. Susie and Jack, rescued Irish setters, are well-loved members of the family. "I have lived with Irish setters all of my life. I can't imagine life without one," says Anne.
Traditions are not formal or stuffy for this Terrell Hills family — they are just a way to live life to its fullest in a place they proudly call home.