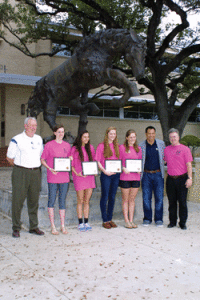 ESPN honored Alamo Heights High School Girls Swimming State Champs with Players of the Week Award, presented by Dat Nguyen, radio host and former NFL linebacker.
The Alamo Heights High School girls team captured their first swimming and diving championship since 1973, winning over Frisco by a score of 202 to 176, while the boys tied for seventh place with 113 points.
Sine Scribbick and Finn Scribbick both captured state titles in one meter diving. Sine and Finn were both named State Diver of the Year. Of special note, Finn is the first to capture four gold medals in the same event for four consecutive years. Congratulations to Sine and Finn on their gold medal and Diver of the Year awards!
The Girls State roster included Sine Scribbick, Anelise Diener, Ellery Parish, Lauren Cuda, Liz Ryan, Audrey Cleek, Grace Strash, Erin De Leon and Kate Russell.
The Boys State roster included Finn Scribbick, Spencer Adickes, Phil Goeken, Tim Hernandez, Cameron Young, Seth Ryherd, Colin Stone, Austin Lipscomb, Kaleb Korynta and Sam Lindsey (manager).
Thinking Like a Teenager
Alamo Heights wellness coordinator Michelli Ramon, LCSW, will present insight on how the adolescent brain works, using information from some of the most prestigious research institutions in the world, on April 14 at Alamo Heights Junior School. The program will begin at 5:30 p.m.
Parents may bring their teens, but Ramon warns she will be giving away trade secrets.
The wellness program is funded by the Alamo Heights School Foundation. RSVPs should be sent to Ramon at mramon@ahisd.