A Cure for Diabetes is their goal
---
by Courtney Burkholder
---
Ten years ago, when Melany and Dr. Garrett Andersen moved to San Antonio
with their growing family, life seemed full of promise and possibilities. Following
Garrett's medical school, residency and a fellowship in Boston, the
young couple looked forward to returning to Texas and embarking on their new
life in Alamo Heights.
Garrett joined STRIC, a respected radiology firm in San Antonio, and Melany
settled in to their new home with their two small children, anxious to make friends
and get involved in their new community. But their carefully scripted life veered
off course when their 6-year-old daughter, Emma, was diagnosed with Type 1 diabetes,
on the Andersens' 10th wedding anniversary, a mere month after moving
to San Antonio.
"We were completely overwhelmed," Melany recalls. "We felt uneducated,
devastated and panicked. It was complete loss of control. We immediately contacted
the local Juvenile Diabetes Research Foundation office as well as our pediatrician,
Dr. John Fitch of Heritage Pediatrics, who referred us to a pediatric
endocrinologist. It was like coming home with a newborn all over again, but with
all these new instructions to keep her alive."
Type 1 diabetes occurs when the body's immune system attacks and destroys
the beta cells in the pancreas, which produce insulin, a hormone essential to turning
food into energy. Without insulin, glucose from food stays in the blood, where it
can cause serious damage to all of the body's organ systems. Type 1 diabetes strikes
both children and adults suddenly and lasts a lifetime. To stay alive, people with
Type 1 diabetes must take multiple insulin injections daily or continually infuse
insulin through a pump. While these injections or infusions allow a person with
Type 1 to stay alive, they do not cure diabetes.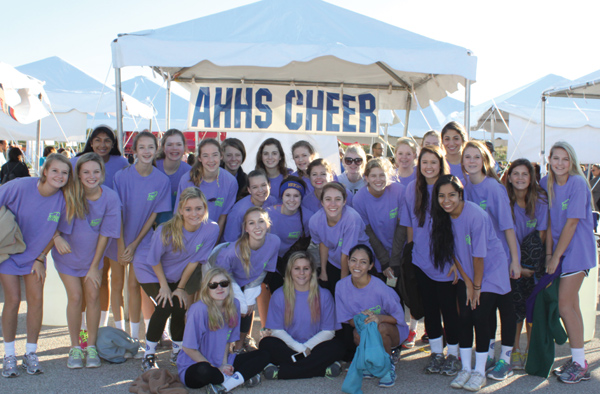 "A typical day for a person with T1D requires approximately eight blood sugar
checks throughout the day and night," Garrett explains. "If the blood sugar is high,
a dose of insulin is required to lower the blood sugar; if the blood sugar is low, a
source of glucose is required to raise the blood sugar to within normal limits. It's
a constant battle." Research shows that as many as 3 million Americans may have
Type 1 diabetes, with approximately 80 new diagnoses occurring each day in the
United States.
With Emma's diagnosis, the Andersens jumped right in to
their new role serving as Emma's pancreas. "Basically, we had
a new normal," Melany says. "We were so thankful for JDRF.
They offered us a huge support system of other families to connect
with so we didn't feel so isolated and alone. Within two
weeks, JDRF connected us with another Alamo Heights family
that had a daughter with Type 1 diabetes. Through this family,
I saw that we could function. I saw that this was doable. Life
could go on and be great."
The Andersens also found their calling of service through
JDRF. Over the past decade, they have served in a variety of
roles including chairing the Promise Ball in 2008, which raised
over 2 million dollars for diabetic research. Melany has also
acted as chairman for the annual JDRF Walk for the Cure, VP
of strategic planning, as well as serving on numerous other
committees. This year, she is president of JDRF, a responsibility
she takes on without hesitation.
"I would love for Emma to enjoy a day without interruption
for blood sugar tests," Melany states. "But she doesn't get a break; therefore, I don't
get a break. I want to do everything I can to help. We need a cure for this, and I
won't stop being involved until there is a cure. She can't quit, so we can't quit."
The Andersens are quick to praise the support they receive from numerous
families and businesses within the Alamo Heights community. "Within one month
of moving to Alamo Heights, we had a family crisis," Melany recalls. "The people
of this community really wrapped their arms around us and helped us. The schools
and doctors have been exceptional and very welcoming. Coming in as outsiders,
we were treated just as if we were born and raised here."
Today, the Andersens are firmly ensconced in Terrell Hills with their three children:
Emma, a junior at AHHS, is a varsity cheerleader; Reed, a seventh-grader
at AHJS, plays on the seventh-grade football team; and Rett, a third-grader at
Woodridge, is an avid basketball player. Last month, the family participated in
their 10th JDRF Walk to Cure Diabetes with the AHHS cheer team. "We've had
great community sponsors and lots of participation. We met our goal and raised
over $10,000 for diabetes research," Garrett says. "We will keep walking, raising
money and fighting until we find a cure."
To learn more about how you can help, visit the JDRF website at www.jdrf.org.