Nursery incorporates family treasures
---
By: John Bloodsworth
---
Nestled in a picturesque Craftsman bungalow shaded by a stately magnolia
tree facing Mahncke Park, talented architect Kristin Hefty and her construction
partner and husband, Clay Hefty, have been working on a new addition the
birth of their first child, Della Rose Hefty.
Partners with friend and fellow architect Tobin Smith in the Dado Group, the
young designers are known for their contemporary regional architectural style.
The Heftys, while embracing modernism, also have an affinity for incorporating
family possessions into the mix.
In selecting meaningful objects for living, Kristin says, "You have to have fun
with it and not worry about everything being 'of the period.'" For the nursery,
that philosophy rings true. Working with colorist Greg Mannino, who collaborated
with Kristin on color selections for the Dado Group's design/build of the
Pearl Brewery's globally inspired barbecue restaurant The Granary, a neutral gray
was chosen for Della's domicile.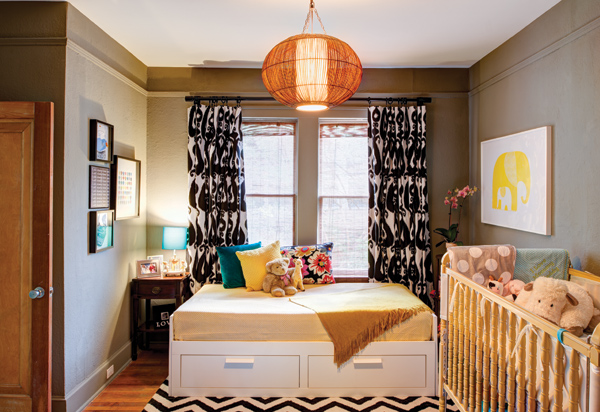 The vintage crib that once held mother Kristin was repurposed in glossy mustard.
"It probably is not up to today's codes, but I lived," says Kristin. Selecting
fabric for the curtains with her mother-in-law, Cherrie Hefty, Kristin chose a
chevron pattern in black and white that complements the area rug. Grandmother
Hefty sewed the draperies for her granddaughter's bedroom.
Mementos from Clay's youth were also incorporated into Della's nursery. A
table lamp with brightly painted wooden clowns held center ring in her daddy's
circus-themed room. Incorporating the vintage piece, Kristin chose a turquoise
fabric shade that she pulled into the color palate with gold tones, as well.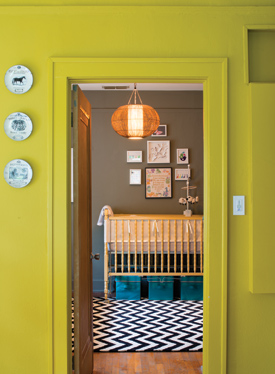 A stuffed giraffe and rabbit, once residing in Clay's nursery, now watch over baby  Della from a tall chest of drawers. On the nightstand is Clay's baby hairbrush that mother Cherrie remembers using to comb "his beautiful golden locks, when he had hair."
Craftsman meets midcentury in the spacious living and dining area. A Danish modern table seating eight is paired with Eames' Moller chairs and a 1950s credenza. An assemblage of black and white portraits of family and friends in white wooden frames anchors the room.A washstand with marble top belonging to Clay's grandmother now serves as the couple's bar. Kristin designed and made a matching liquor rack for Clay as a Christmas gift.Warm chocolate walls in the kitchen contrast with brushed copper counters on the drain board and serving bar.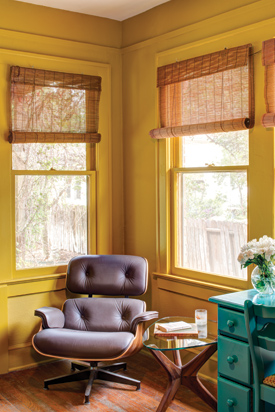 Three horizontal tiers of floating mahogany shelves hold crystal, serving pieces, wooden bowls and stainless cookware in contemporary open display. "The dark colors make the room feel bigger because there is no end to it," explains Kristin. In the master bedroom midcentury nightstands flank the bed with a white leather headboard enveloped in a creamy white down comforter. Above, a '60s sputnik chandelier keeps everything in harmonious orbit.