His wheat-based spirit is winning awards
---
by: Bonny Osterhage
---
78209 native Richard N. Azar III (Trey) admits to having alcohol in his blood — but it's not what you think. Azar, the man behind the award-winning Cinco Vodka brand, comes from a family of entrepreneurs who have tasted success in the liquor business, and it seems this 42-year-old is destined to follow in their footsteps.
From sales to stars
The grandson of the owner of the first Coors beer distributor in Texas, Azar got his first taste of the liquor business as a wine salesman for Block Distributors in Austin and San Antonio. He followed that by serving as the wine buyer for SeaZars, an upscale fine wine retailer owned in part by his father.
A Baylor graduate with a degree in entrepreneurship and marketing, Azar left the booze biz behind in 2000 and took a nine-year hiatus to form a medical staffing company and an oil and gas investments firm. But it was while sitting at a hotel bar in Oklahoma City during one of his oil and gas business trips that Azar struck it rich in the form of a great idea and an untapped market.
"I was watching these guys doing tequila shots and thinking about how much I missed the business," he recalls. "I started thinking that there had to be a niche. I started doodling on a cocktail napkin and came up with the name Cinco Five Star." Azar says that he chose Cinco to represent the five children that he and his wife, Kim, have between them. "I wasn't 100-percent sure what I was going to do with it, but I trademarked the name anyway."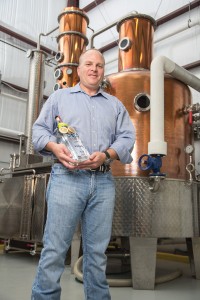 Elevating spirits
One out of every three bottles of spirits sold in the Unites States is vodka. "I began to wonder why there were so few high-end vodkas manufactured in the United States," he explains. Azar, an avid Grey Goose drinker himself, realized that this could be just the niche he was looking to fill. "I started researching what the Europeans were doing in terms of manufacturing and taste profile that made their vodkas so different."
That research turned up the fact that American vodkas are made almost exclusively from corn or a multipurpose corn-ethanol base. The European brands were made predominately from wheat. Azar decided to replicate that process and target the European vodka consumers, providing them with an American option at a level that had previously never existed. Based on his years in the wine business and the current mixology movement, he gambled on the fact that the consumer was ready. He was right.
"I watched the American consumer go through a wine enlightenment in the early '90s," Azar says. "Customers began asking for chardonnays rather than Chablis, for example, and educating themselves on varietals. The same thing is currently happening with the growing popularity of mixology and craft spirits. The consumer is becoming more educated. It's like history repeating itself but in the spirit world. The timing seemed right."
Five-star craftsmanship
With a great idea and a trademarked brand name, the next question Azar faced was how to actually create an American brand of vodka that could go head to head with its European competitors. The answer? Go directly to the source.
Azar did his homework, first building his own distillery here in San Antonio, and then flying in experts from Germany and Hungary to aid in the design, to build and install a copper kettle that Azar describes as "a piece of art" and, most importantly, to help him create the perfect recipe.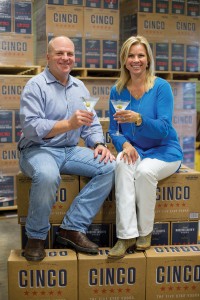 After nearly nine months of fine-tuning and tweaking, the first batch of Cinco Five Star Vodka was ready for consumption. The finished product is handmade using winter wheat from Southeast Idaho. This high-quality, cold-weather grain is custom produced specifically for Cinco Vodka and was selected for its high quality, taste profile, drinkability and cleanliness. It is distilled, blended and filtered in small batches in the copper kettle with no sugar or charcoal filter added to the process.
"The cleaner the distillate, the better you feel, because your body doesn't have to work so hard the next day to get all of the garbage out," explains Azar.Even the water used in the making of Cinco Vodka is naturally filtered through Cordova Cream limestone that lies deep beneath the surface of San Antonio. "Vodka is not just vodka. Ingredients matter," says Azar. "The first things you should ask before drinking any spirit are 'What's it made from?' and 'How's it made?'"
Here's to the future
Azar has deep roots in San Antonio. A member of the Order of the Alamo, the Texas Cavaliers and other philanthropic organizations, he was quick to sponsor local events and get Cinco Vodka flowing.
"This city has been good to me, and it is my way of giving back, helping people and creating brand awareness at the same time," he says. "Watching people attach themselves to a brand is fascinating to me."
Cinco Vodka just took top honors in two categories in the prestigious Los Angeles International Spirit Competition, where it was blind-tasted by experts. It is an honor that encourages Azar, whose goal is to see Cinco as a national, 200,000-case brand within the next 10 years. "I didn't get into this for a hobby, I got into it to build a brand," he says emphatically. "I want Cinco to be a given in the back bar of any restaurant in the United States."