Collections and curiosities lend their charm
---
By JOHN BLOODSWORTH
---
Neighbors talk about them constantly, a myriad of motorists cruise by daily for a better look, and guests never want to leave. But Ann and Mark Deeds don't mind, graciously acquiescing to the attention paid to the menagerie of marvelous collections and curiosities that make their Terrell Heights cottage the envy of the neighborhood.
Assembled in a large stone crock at the home's entry is a collection of carved walking sticks and canes. At one time, the entire hallway was hung with a collection numbering in the hundreds. Ann is the curator of all collections and orchestrates their display in the home.
A haven for hospitality, the Deeds' lushly landscaped backyard holds accumulations gathered over the years on visits to Ann's family home in upper New York state, jaunts to visit relatives in California and collecting excursions to Austin, Fredericksburg and Poteet.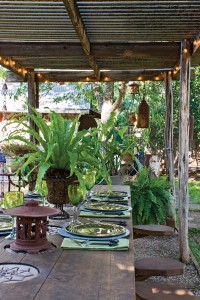 The passion for purchasing vintage finds started with Mark's love of marbles as a child growing up in the '50s, when his growing collection of immies, commies and aggies was in play at neighborhood sandbox tournaments.
The '70s brought a new assemblage of artifacts found in an old dairy barn near Poteet. "Glen Climer was in his late 70s when I first met him," remembers Mark. "He had a 4,000-square-foot barn packed to the rafters with everything imaginable. There were three or four aisles that ran the length of the building with cross paths in between. There were certainly treasures to be found if you were willing to dig through there."
That treasure trove included clocks, meat market scales, gas pumps and other wondrous finds. A large collection of pressure gauges – Mark has an artist's appreciation for items that are graphically embellished with numbers and typographical logos — adorn a small shed in the back of the yard.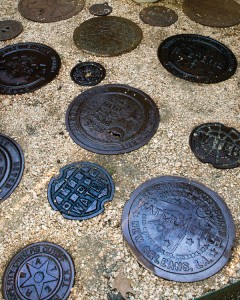 A rare find on a trip to California caught both Mark's and Ann's eye. Strolling through Los Alamos, they spotted a massive rustic table with industrial iron braces that supported sets of cast iron seating on swivel brackets. They agreed that $500 would be their limit for the purchase. "We conversed with a dapper gentleman with white hair and beard who spoke with a fine Irish brogue," says Mark. "The table had been used as a cobbler's assembly line, with boots being soled at the workstations and thrown onto the table for final handwork. We asked his price for the table, and he replied, 'I'll be taking $60 for the table.'"
They snatched it up, disassembled it and trucked it back to San Antonio. A rustic arbor built by Mark is now covered with Mexican flame vine, sheltering the treasured table for al fresco dinner parties and family gatherings. Large crockery urns, French metal containers and cement pots hold ferns, cast iron plants and night-blooming cereus near a handmade fountain. Ann's green thumb keeps them blooming.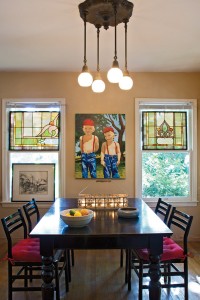 A crushed granite walkway leading to an outdoor deck is paved with vintage water meter covers from all parts of the country. " I fell into a hole in New Orleans and looked down to see a crushed cover," says Mark. "It was beautifully decorated with stars, crescent moons and stamped lettering. It led to a collection that now numbers about 100 meter covers."
More practical items also find a place in the compilation. Beginning with a collection of Esterbrook fountain pens that reminded Mark of his school days, the graphic designer and accomplished artist now boasts perfect penmanship with over 1,200 Parkers, Conklins, Sheaffers and Pelikans.
And he claims that he has never run out of ink — nor the connoisseur's appetite for collecting.