---
By Susan Yerkes
---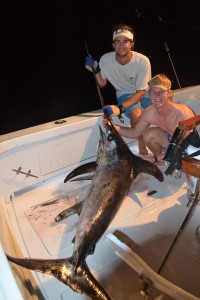 Fish story
Swordfish steaks were on the menu for several of John Hancock's lucky '09 neighbors in late July after Hancock's son, Matt, and his friend Scott Uhl landed a 175-pound swordfish on a fishing trip to Port Aransas. The young men, both incoming seniors at AHHS this fall, were fishing with Matt's dad, John, and his uncle, Patrick Hancock, on Patrick's boat, the Rattle and Hum, when Scott hooked the big fish.
Summer salutations!
At a recent lunch meeting of the Reagan Legacy Forum at the Argyle Club, I ran into long-time San Antonians Donna and Bob Bruni. Although they still maintain their place in S.A., they told me they spend the bulk of their time these days in Houston and Santa Fe, where they're as deeply involved in the arts and philanthropy as they once were here in town.
When the conversation turned to the nature of different Texas cities, Donna recalled one of Bob's favorite sayings: "Dallas is like a little L.A., Houston is like a little New York, and San Antonio — well, San Antonio is something like a big Cotulla."
While this city is big and getting bigger all the time, it's still a small world of interlocking social circles. And that's even truer inside 78209.
Reagan Legacy and Argyle alarm
The Brunis were among the lunch crowd at the Argyle for the monthly "third Thursday" gathering of the Reagan Legacy Forum, a new group organized earlier this year by Diana Denman, Marshall Miller and Jim McCutcheon to, as Denman puts it, "bring in speakers and events that uphold the cause of liberty in America and around the world."
July's speaker, international financial analyst Kevin Freeman, promised a fascinating talk based on his recent book Secret Weapon: How Economic Terrorism Brought Down the U.S. Stock Market and Why It Can Happen Again. The talk focused on past and future threats to Wall Street and the U.S. economy from China, Russia and a murky cornucopia of assorted groups with a common interest in undermining the U.S. and the free market system.
Toward the end of the talk, Freeman told about presenting one of his white papers on financial terrorism to highly placed national security honchos who threatened to classify the paper top secret and ordered him never to speak of it again, until other highly placed friends intervened to stop the move. But the experience was a shock, he said.
And just as he said it, the air was filled with screeching sirens, and an Argyle manager hurried into the dining room asking guests to immediately evacuate the building. "They're coming for you!" one guest yelled. The timing sure seemed right. So Freeman, Denman and guests including Ron Herrmann, Tres Klebeg, Dr. Gil Robinson, Helenita Groves, Ken Meyer, Cynthia and Wilson Parish and dozens more filed out to stand in the street in the midday sun as fire trucks converged to deal with what turned out to be an overheated motor in the Argyle kitchen. But it surely was exciting for a while.
High life
Former Spurs star David Robinson and his wife, Valerie, have reportedly sealed a deal on the posh penthouse of The Broadway, the 21-story Koontz McCombs development at Broadway and Hildebrand.
Some of The Broadway's new residents are longtime '09ers, relocating within the Zip code. Among them, Tripp and Chaney Stuart, who recently moved their family up six stories in order to downsize from their big place on Glendalough Court.
Island Summer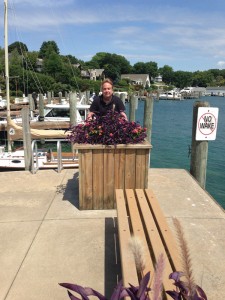 Mom and daughter Edith and Taddy McAllister have been hosting an impressive list of houseguests and visitors this summer at their coast house in Port Aransas.
Among the notables at recent Saturday night soirees: former Texas Lt. Gov. Bill Hobby and his wife, Diana; Texas Monthly publisher David Dunham; and distinguished marine scientist Dr. Robert Dickey, who takes over as new director of the University of Texas Marine Science Institute (UTMSI) in Port Aransas on Aug. 5. Renowned wildlife artist Kent Ullberg, whose magnificent sculpture Interdependence (a tarpon with a body composed of the forms of 52 different sea creatures) was unveiled at the Institute last year, and S.A.'s Jack and Valerie Guenther, who underwrote Ullberg's sculpture for the Institute, were on hand to help welcome Dickey.
Edith, who celebrated her 95th birthday by dancing the night away at a big bash this spring, is still the consummate hostess – although she finally stopped water-skiing a couple of years back. And Taddy, who celebrates a birthday of her own Aug. 2, reports they'll be heading home to Terrell Hills in early August.
Speaking of interconnections — on a recent weekend, Edith's granddaughter Roxana McAllister and her fiancé, Bruce Richardson, were staying at Nancy Negley's coast house, right next door to the McAllisters' place. (Negley is Roxana's other grandmother.) The happy couple didn't stay too long at the coast — they had to be in S.A. for their "very small, family wedding" July 31. Many happy returns all around!
News from up North
'09ers have a way of finding each other when they're summering in cooler climes. That's certainly the case with '09 resident and Realtor Jon Hess of Phyllis Browning Company, who made his annual summer trip to his family's place in Charlevoix, a picture-perfect harbor town in Northern Michigan, in July. Hess, a connoisseur of elegant homes, reported back recently about the fabulous summer places some of his '09 neighbors are building on Lake Michigan.
"Breathtaking" is Hess' word for the imposing French chateau S.A.'s Robert and Ann Tucker are building in Traverse City. He also filled me in on the place in Harbor Springs (where my own family has a summer home) that architect Chris Carson is working on for Brad Breuer and his wife, Peg Demmer. And down the road at Walloon Lake, architect Tobin Smith has designed a new place for Rich and Kitty Meyer Lange. It's cool the way '09ers keep track of each other.
Have a hot tip about anything, or anybody in '09? Email susanyerkes@78209magazine.com.