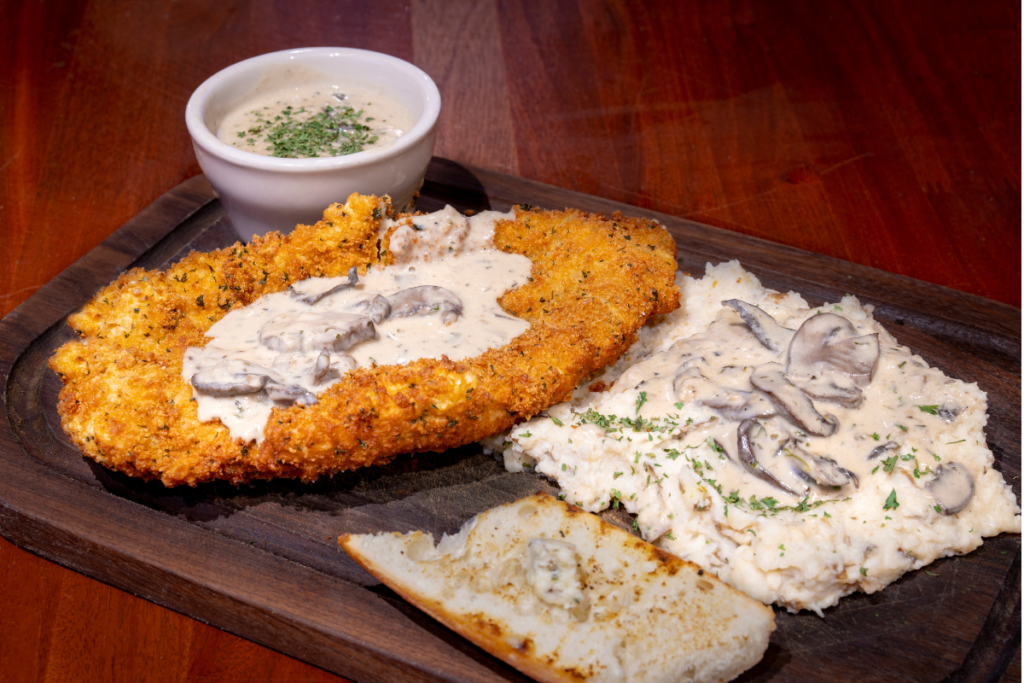 Eat in '09: The Winchester
The Winchester Scores for Great Pub Food
by Meredith Kay
Photography By Al Rendon
Imagine the roar of the crowd, the ice-cold beer, outstanding pub food, and watching your favorite team score. This is what you'll find at The Winchester, the only British-style neighborhood pub in Alamo Heights.
The pub has an intimate and old-school vibe featuring several different rooms so you and your friends and family can spread out to watch your favorite international soccer club take on their rivals. The Winchester has the ability to tune into just about any match taking place. Just tell the bartender or any server which match you want to watch, and you'll be cheering along as if you are in the stadium. The Winchester also subscribes to The NFL Ticket package, so you can watch your favorite NFL teams battle it out on the gridiron.
Greg Ploch bought The Winchester in 2017 and completely cleaned up the space and added new life to the interior by adding even more televisions, a game room, and an outstanding pub fare menu. Greg grew up in San Antonio with ten brothers and sisters and spent most of his career working for his family's asphalt and paving company. He has four children of his own, and when he isn't working with his team at the pub, you can find him out on his ranch, just outside of town.
The Winchester features an incredibly impressive pub menu and caters to families and business meetings during the day, and they offer a great happy hour from 3:00 to 7:00 every day. In the evenings and late into the night, the crowds may get a little rowdier as the sports fans pour in to cheer on their favorite teams. The menu is a fusion of American, British, and Tex-Mex favorites, and there is definitely something for everyone.
Of course, no proper British pub would be complete without a plate of iconic Fish & Chips, and The Winchester delivers brilliantly with tender filets and crispy chips served with a tangy tartar sauce. However, you will definitely want to start the party with their delicious Chorizo Mexi-Scotch Eggs. These tasty bites feature soft-boiled eggs wrapped with house-made chorizo sausage, and they are served with a jalapeño ranch dipping sauce. They have just the right amount of spice to wash down with a cold pint of beer.
Another menu favorite is the Chicken Schnitzel featuring an enormous, breaded chicken breast slathered with mushroom brandy gravy and served with garlic mashed potatoes. This is the ideal meal to have on your diet cheat day and goes great with a stout, dark Guinness on draft. For those trying to eat healthily, don't miss the King's Salmon, a hearty cut of pan-seared salmon sautéed with a Bulleit Bourbon Whiskey glaze and served with rice and grilled vegetables.
For the true carnivores, pubgoers will not want to miss The Winchester Meat & Potatoes platter featuring a perfectly grilled 10 oz. Ribeye steak topped with whiskey butter and served with garlic mashers or fries. The steak platters have become so popular that The Winchester is the place to be on Monday nights for Steak Night. Bring the entire family out and enjoy a delicious New York Strip steak served with mashed potatoes or fries for only $17.95.
The Winchester is a great place to host a private party, and there is something fun going on every night of the week, like Trivia Tuesdays and karaoke on Sundays, and you can even get your groove on with their live cover band on Friday nights, featuring the best dance songs of the '90s and 2000's. The pub serves brunch on Saturdays and Sundays as well. So regardless of what the word "football" means to you, gather your crew and head over to The Winchester for great food and a great time anytime.
The Winchester
5418 Broadway (in the Stewart Center)
(210) 721-7762
thewinchesterpubsa.com
Hours:
Monday-Friday 11:00A to 2:00A
Saturday & Sunday 10:00A to 2:00A