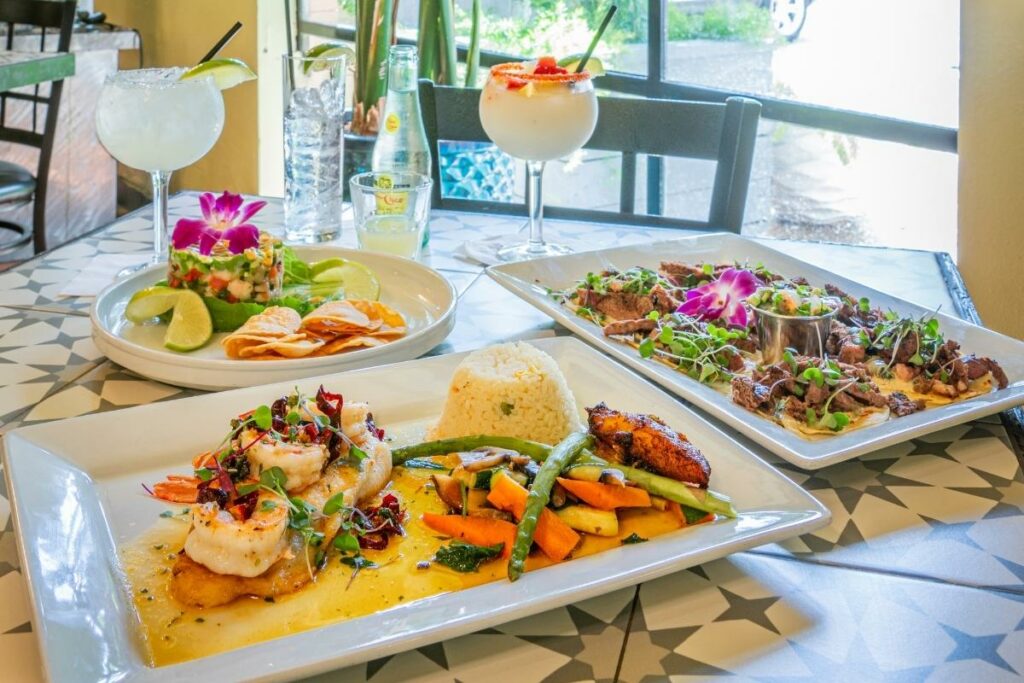 Eat in '09: Soluna
Authentic Mexican Food Day or Night in '09
by Meredith Kay
Photography By Al Rendon
It's often dangerous to use the word "authentic" when describing a restaurant and its cuisine. People may interpret authenticity differently depending on their experiences and backgrounds, but one local Mexican restaurant has stayed true to its roots throughout the years, serving up family recipes with consistency and earning rave reviews from diners for nearly 20 years.
Soluna has become an Alamo Heights icon for its vivacious atmosphere and its outstanding Mexican cuisine. Gerardo Calvillo is one of the sons carrying on the family restaurant legacy that his father, Jesse Calvillo, began in 1978 when he opened La Fogata on Vance Jackson. Soluna opened in 2003 on the corner of Broadway and Sunset, and it quickly became a neighborhood favorite introducing locals to the nuanced and elevated flavors of traditional and authentic Mexican dishes that go beyond the boundaries of Tex-Mex.
It was Gerardo's grandmother who passed down the delicious recipes for the signature dishes featured on the menu at Soluna. She operated a catering company in Mexico City, and taught Jerry's mother, Maria del Carmen, how to cook. When Carmen Calvillo came to San Antonio, she decided to bring the flavors of Mexico to her American neighbors, and the Calvillo restaurant legacy began. Today, Gerardo and his energetic Soluna restaurant team continue to bring his grandmother's recipes to life. The restaurant is a welcoming and colorful tribute to the Mexican culture, and it is open seven days a week for lunch and dinner, and also serves weekend brunch on Saturdays and Sundays.
Everyone has a favorite dish at Soluna, and although it is hard to deviate from what you love, the detours of flavor that you can experience at Soluna are worth the wander. One recent visit featured the incredibly fresh Ceviche Soluna with tender chunks of red snapper marinated with onions, serrano peppers, fresh herbs, and lime juice, topped with a delicate fan of thinly sliced avocado and drizzled with crema.
Also outstanding was the Lump Crab and Avocado Ensalada with sweet lump crab meat blended with crema and fine herbs and flanked on one side with sliced tomatoes dressed in a basil mayo aioli and sliced avocado drizzled with a tomato mayo dressing on the other. The flavors were so fresh and delicious that you'll want to use every last bite of the accompanying toasted bread to mop up the remaining dressing as you devour this salad.
The highlight was most definitely the Huachinango Soluna al ajillo. This decadent dish featured a generous filet of red snapper lightly dusted in flour and sautéed in butter, garlic, and white wine. The intense aroma of the sautéed garlic assaulted the senses as soon as it hit the table, and it is served with sautéed vegetables, white rice, and plantains as well. It was truly one of the most wonderful and crave-worthy seafood dishes that I've ever had.
Soluna has a beautiful bar serving some of the best margaritas in town, but the Calvillo family's claim to fame is by far their chispas. The chispa was created by Gerardo's father, Jesse, at their sister restaurant, El Mirasol, one day while hanging out with friends. It is an incredibly simple, but powerful, cocktail that features high-end tequila, fresh lime and orange juice, and organic agave syrup. A chispa, which translates to "spark" in Spanish, is not as sweet as a traditional margarita that uses Triple Sec or sweet and sour syrup, so it is light and refreshing while packing a proverbial spark to the tastebuds.
Soluna's menu is expansive and eclectic, and you'll find a few familiar Mexican dishes along with their outstanding interior and coastal Mexican fare. Gerardo Calvillo is proud of this team and strives to provide his guests with the ultimate Mexican dining experience. He says, "Our quality and our presentation are superior, and we value our guests and treat them like family, the way that our neighbors have welcomed our family business for years."
Soluna
7959 Broadway #204 (@ Sunset)
(210) 930-8070
solunasa.com