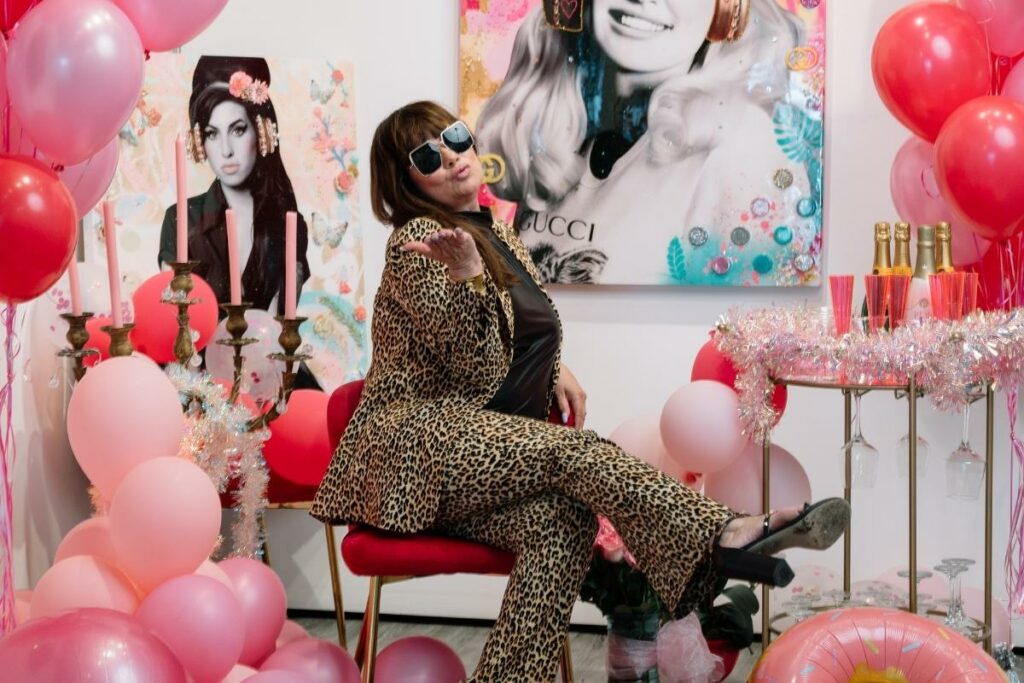 AnArte Gallery & Studio
Where Art and Passion Collide
By Meredith Kay
Photography by David Teran
Most of us have dreamt about starting a business that caters to our passion, but very few get the opportunity to pursue that dream, or just never take the leap of faith. It is a daunting idea, and only the bravest of souls will dare to step out of their security and venture into the unknown. This is the story of one dynamic lady who dared to follow her dream to bring art to the people of '09 and beyond. 
Ana Montoya was working as a successful professional in the cosmetics industry for 20 years when she started to take her dream of owning an art gallery seriously. Ana was born in Nuevo Laredo and moved across the border with her family at the age of four. She grew up inspired by her hard-working grandmother who made a living as a beauty stylist and a seamstress, and her interest in beauty, fashion, and art only grew as she became a young adult, moving to San Antonio to pursue her education and a career in her mid-20's.
It was only in her late-30's that Ana began to seriously contemplate her desire to open an art gallery to feature local artists. Her first gallery was a small space on Hildebrand, and she began AnArte 21 years with a handful of artists and zero experience. Luckily, Ana's energy and enthusiasm moved her forward as she made a name for herself within the art community while introducing and promoting local artists. After 15 years at The Collection shopping center on Broadway, Ana expanded her gallery space in 2021 and now represents over 50 artists from San Antonio and around the country. She even features a few international artists she met through other artists and a few who discovered on social media.
Ana's bubbly personality and zest for life are evident when you meet her. She absolutely loves what she does and truly enjoys connecting with people through the beauty and expression of art. Featured artists include Bibbi Anderson, Jennifer Balkan, Eric Breish, Alex Brochon, Jessica Collins, Steven Daluz, Analy Diego, Adrian Falcon, Ana Hernández, Isabelle Kotara-Lopez, Sandra Mack-Valencia, Laura Mijangos, Lucy Peveto, Brook Rosser, Maricela Sanchex, Kathy Sosa, Lionel Sosa, Lilianna Story, Sam Wilson, and Anna Wypych.
The gallery hosts a monthly exhibition with rotating artists, specialty cocktails inspired by the artist, along with small bites and music, creating a unique event for art lovers regardless of experience.
Ana says, "When you walk into AnArte, you will encounter some of the most beautiful art pieces you'll ever see. The art is happy and colorful, and I guarantee that you will walk out smiling."
AnArte Gallery strives to be accessible to every art lover and offers pieces to fit any taste or budget. So, if you are just beginning your journey and your education as an art collector, you will feel comfortable as you are guided through collections and introduced to diverse artists and unique pieces.
Clients are welcomed with a warm smile and a glass of pink champagne by the knowledgeable ARTE family staff, director Sofia Ortega, residential and corporate art consultant Sofia Casso, and Ana's son, Louis Davila who executes the delivery and installation of art.
"AnArte is a family. We treat all of our clients equally. I wanted to create a gallery that is warm and inviting so that everyone feels welcome regardless of their socio-economic background."
Ana has recently secured the space next door to the gallery to create an additional concept called Casa AnArte which will house large format art pieces, sculptures, custom furniture, and one-of-a-kind home décor. This addition was prompted by the success of the gallery's summer art classes for kids and adults. Casa AnArte is set to open later this year and will have a full calendar of gallery exhibits, events, monthly classes for adults and kids orchestrated by Ana's sister, Cristal Galvan, and Miami based artist, Michelle Marra. 
AnArte Gallery
7959 Broadway, Suite #202 (@ Sunset)
(210) 826-5674
anartegallery09.com
Hours:
Monday & Tuesday 11:00A – 6:00P
Wednesday to Saturday 11:00A – 8:00P
Sunday 11:00A – 5:00P