Cappyccino's
Cappy's Casual Little Sister has Taste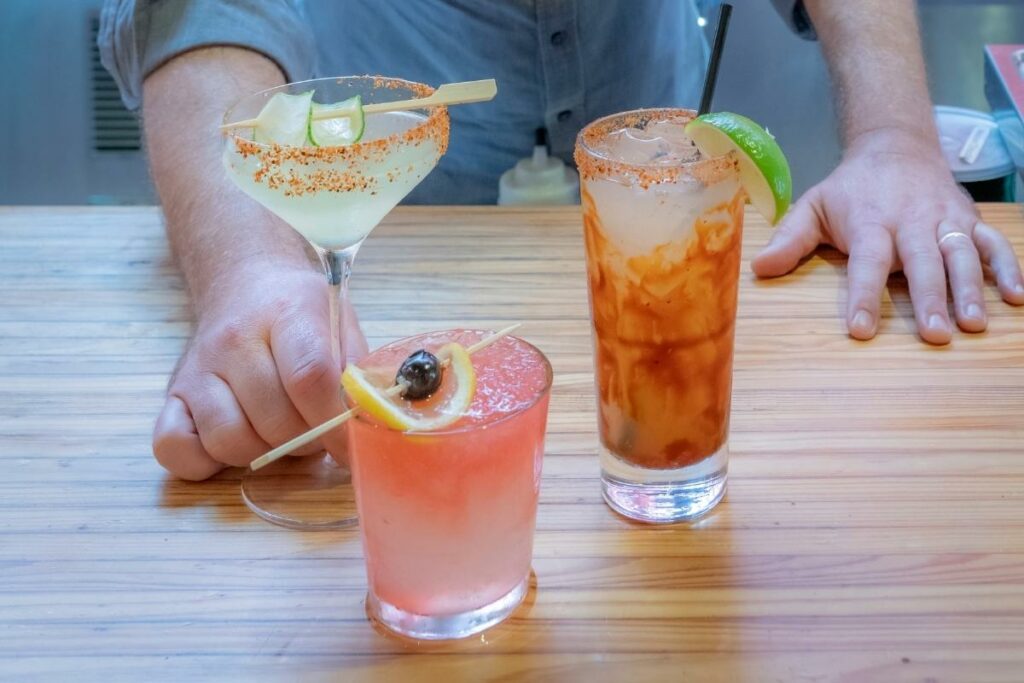 By Meredith Kay
Photography by Al Rendon
When creativity is borne out of necessity, interesting concepts and ideas take shape, and this is definitely the story behind one of 09's most successful restaurant groups. Cappy's restaurant opened in 1977 and still ranks today as one of the city's best restaurants. The restaurant space was once used as a lumber storage facility for Scrivener's Hardware Store, so the design of the space was a challenge when Cappy Lawton envisioned his namesake restaurant. In fact, the plumbing in the building had the restrooms located upstairs and this posed a dilemma for those patrons who were physically challenged. For years, Cappy's had an agreement with The Twig Bookstore, next door, to allow guests to use their facilities, but when the bookstore moved, they needed a more concrete solution. So, they took over the narrow vacant space and Cappyccino's was born.
Originally the space that now houses Cappyccino's was going to be used as an event venue, but the concept of Cappyccino's as a casual café with an outstanding bar program took off and nearly 30 years later, Cappy's little sister restaurant has developed quite a following. The restaurant is the perfect place for date night, or when everyone in the family can't decide on where they want to go for dinner. Cappyccino's has something for everyone.
The restaurant features unique wood-fired ovens that turn out delicious burgers and pizzas, and they also feature a diverse menu of sharable plates, soups, salads, quesadillas, sandwiches, and sweet crepes. One of their most popular items is the Poblano Shrimp Pizza. It features plump shrimp and sweet poblano peppers to add just a little kick to every bite. Their burgers are also some of the best in the city, and pair perfectly with their delicious house-made potato chips.
For those that appreciate fine whiskeys and craft cocktails, the bar at Cappyccino's will become your favorite hangout spot. Try their signature Jalapeño Hibiscus Margarita, sweetened slightly with orange hibiscus tea and agave nectar, or their tangy Cucumber Mint Martini finished with a Tajin rim. Whatever your poison of choice might be, Cappyccino's Whiskey offerings steal the show at the bar. Cappyccino's features one of the largest whiskey selections in town with several special and rare whiskey releases that cannot be found anywhere else in San Antonio. The best way to sample these luscious libations is with a whiskey tasting. There are three tiers to choose from and each flight includes three selections from a carefully curated menu. The flights go for $15, $25, and $35 depending on the whiskeys offered, and each tasting contains a ¾-ounce pour of the whiskeys selected.
Cappyccino's has a colorful, bohemian, and funky vibe that will make anyone feel at home, and their back patio makes the perfect place to unwind, have a delicious meal, and catch up with family and friends.
Trevor Lawton is proud of the special place that Cappyccino's has become and states, "Little Cappy's hasn't changed much over the years. It still represents classic, comfort dishes that people have grown up loving in Alamo Heights. It's comfortable and familiar and for those customers that have been coming here for years, it feels like home."
Cappyccino's
5003 Broadway
(210) 828-6860
cappyccinos.com