In the Loop
By Ron Aaron Eisenberg
More Change Coming to Broadway in 78209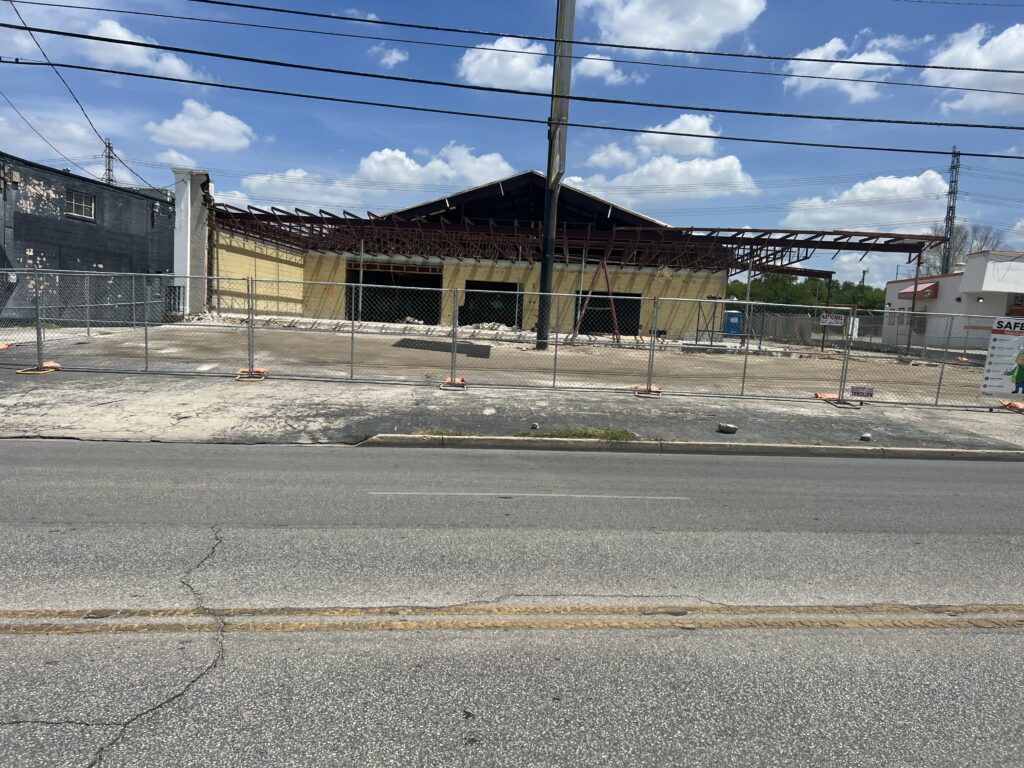 Just a few weeks after the old Viva Book Store, 8407 Broadway St. was demolished following a fire, Guido Construction is tearing down a part of the old Mooney Art Gallery at 8302 Broadway. The space has been vacant for several years.
The property is now owned by CNG Real Estate Investments LLC. The company confirmed to me their plans to build new corporate offices for CNG Engineering, with move-in slated for sometime in 2023. CNG is currently housed at 1917 N. New Braunfels Ave, near Ft. Sam Houston.
According to its website, CNG Engineering is a professional mechanical, electrical, and plumbing engineering design firm that provides master planning, design, and building commissioning services for public and private sector projects across the State of Texas. Since it was founded in 2004, CNG has worked on multi-million dollar municipal, higher education, health care, K-12, and commercial offices throughout Texas.
The 8302 Broadway property was appraised at $1.1 million dollars by the Bexar County Appraisal District.
Former Site of Liberty Bar Reborn as Carriqui 
An innovative, 380-seat, 11,000 square-foot restaurant named Carriqui is now open on the site of the old Liberty Bar, at 239 E. Grayson Street.
The restaurant is open for lunch and dinner seven days a week. It is named after a bird — the green jay of South Texas. The venue's owners say the flight path of the carriqui is the inspiration for the menu. Potluck Hospitality owns and operates the eatery.
It showcases South Texas foodways—from the Rio Grande Valley to the Texas coast and north to San Antonio. Menu items include fresh seafood from the Gulf, Rio Grande-inspired botana platters, pit-cooked barbacoa and brisket, a masa program, and a robust cocktail and beverage program.
For those who may not know, according to author Cyndy Bartelli, Botana platters begin with a layer of tortilla chips or quesadillas with added layers of refried beans, cheddar cheese, grilled vegetables, a hearty helping of tender beef or chicken fajitas, and random globs of guacamole and sour cream. Salsa is essential. Tortillas, beans, and rice are always present. Some say a botana platter is like nachos on steroids.
Led by Executive Chef Jaime Gonzales, Carriqui is located in the historic building formerly home to Boehler's Liberty Saloon and Liberty Bar. The restaurant features three different main dining spaces: The Carriqui House, The Rock House, and Courtyard & Back Porch. Private dining options for large groups and parties will also be available.
For more information about Carriqui visit carriquitx.com.
Alamo Heights Centennial 5K Fun Run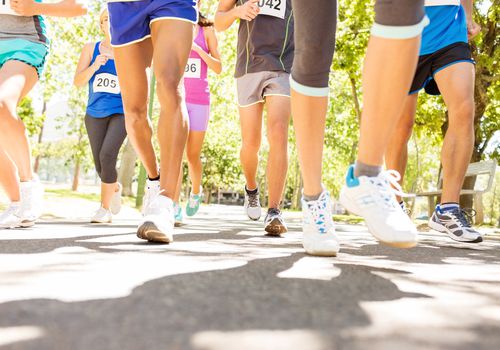 As part of its Centennial Celebration, the City of Alamo Heights is holding a 5K run on Saturday, October 1st. This will be one of the first events to celebrate the milestone. The race will begin at 8:00 a.m.
The run will be on a timed course, but all participants have the option to run or walk. Registrants will be given a centennial logo t-shirt and a finisher's medal!
The run begins and ends in the Alamo Heights City Hall parking lot, 6116 Broadway 78209
Registration fee:
$25 – until midnight September 18th
$30 – until midnight September 30th
Family/Team of 5 or more – $20 person – a $5 discount per person
No Race Day entries will be accepted. To register visit – https://tinyurl.com/2p9exzyx
Race day packets may be picked up on:
Thursday, September 29th, 2:00 p.m. – 6:45 p.m. @ City Hall, 6116 Broadway
Friday, September 30th, Noon to 5:00 p.m. @ City Hall, 6116 Broadway
Saturday, October 1st (Race Day) – Packet Pick-up (7:00 a.m.). 
OPNNA Sets Meet the Candidates Night & 2nd Annual NeighborFest
The Oak Park Northwood Neighborhood Association will hold a meet the candidates' night on Thursday, September 29, at 7 p.m. at St. Andrew's United Methodist Church, 722 Robinhood Pl., 78209.
Candidates for Bexar County Judge, Bexar County Commissioner's Court Precinct 3, and State Representative District 121 all were invited to participate in the event. They will be asked to give short introductory talks, followed by a question and answer session. Each candidate will then have an opportunity to deliver 1-minute closing remarks.
OPNNA president Gina Galaviz Eisenberg (my wife) will moderate the evening. The candidate forum is open to one and all.
The neighborhood association is also planning to hold its 2nd annual NeighborFest, from 2 p.m. to 4 p.m. on November 13, at the City of San Antonio's Northridge Park, 821 Chevy Chase Dr., 78209.
The event will feature fun and games for children, plus free cotton candy and food and drink for children and adults. A local band, Sonic, will provide live music.
Admission to NeighborFest is free and open to the public.
Zoo Welcomes Birth of Endangered Species
San Antonio Zoo recently saw the birth of several endangered species including the psychedelic rock gecko.
"We are excited to welcome these significant births to our community," said Tim Morrow, President and CEO of San Antonio Zoo. "This baby boom is a testament to the dedication of our incredible animal care staff and a celebration of wildlife diversity from around the world."
Morrow noted the zoo celebrates all new births; but, some are even more meaningful to securing a future for wildlife due to their conservation status in the wild.
In recent months, the zoo has welcomed crested couas, scaly-breasted lorikeets, curl-crested aracaris, fairy bluebirds, Eastern Pilbarra spiny-tailed skinks, Yunnan mountain rat snakes, West African crowned cranes (vulnerable), Malaysian giant pond turtles (critically endangered), lemur leaf frogs (critically endangered), pinstripe damba cichlids (critically endangered), San Marcos redtail splitfins (critically endangered), Green Mantella tadpoles (endangered), and the popular psychedelic rock geckos (endangered).
Psychedelic rock geckos are an endangered species found only on two tiny islands off the most southern tip of Vietnam. San Antonio Zoo is the first known Association of Zoos and Aquariums (AZA) institution to reproduce this species after receiving them from the U.S. Fish and Wildlife Service. 
Alamo Heights Little League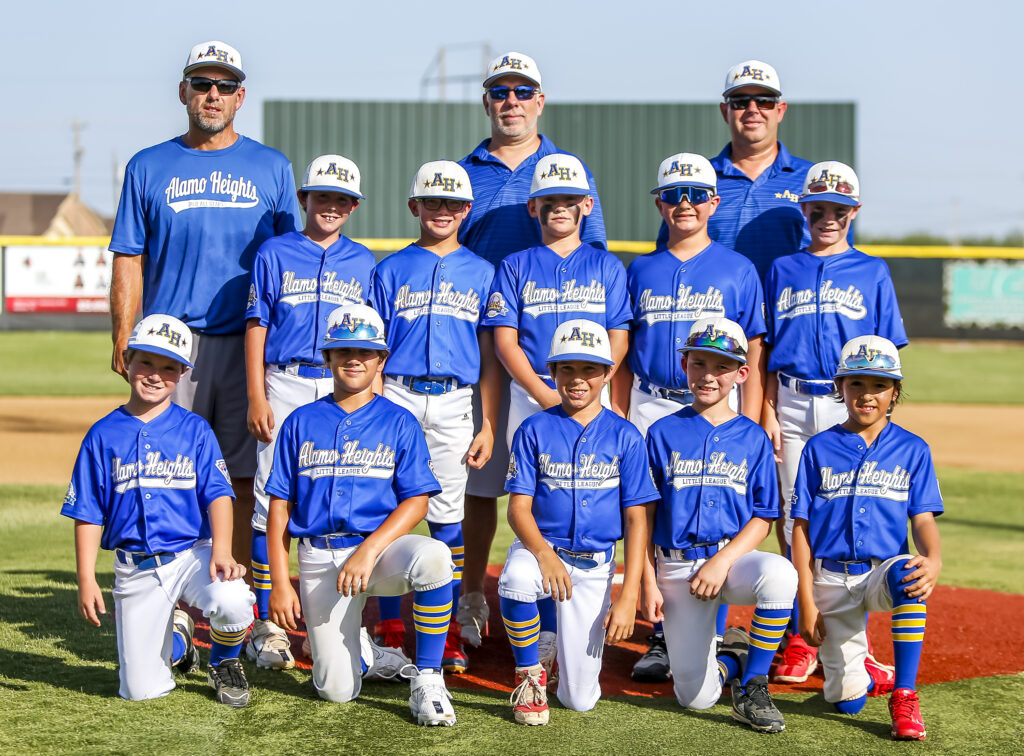 Congratulations to the Alamo Heights Little League 8-10 Year Old Baseball All Star team on their very successful post season run. Undefeated through both the District Tournament at McAllister Park and Sectional Tournament in Jordanton, the boys advanced to the Texas West State Tournament in Abilene July. This was the first time a baseball team from the 'little league division' advanced to the State Tournament. A tremendous effort was put forth by the coaching staff and the families in support of the young men, celebrated by a drive through parade held at the Alamo Heights Little League fields on the evening of July 13th prior to the team heading to Abilene. The boys capped their summer with a Quarter-Final finish in the tournament.
"Little League is full of unique experiences that create lasting memories and life long friendships. This is an amazing accomplishment for these boys and their coaches. This group of players and their families, embraced their summer of baseball that started in late May. Taking full advantage of the opportunity and providing our community with exciting evenings of games, a parade ,and a spectacular run to the State Tournament. The impacts of their efforts are already being seen in increased interest in our fall ball and players already talking about the 2023 season." Said Todd Allison, President of Alamo Heights Little League.
Alamo Heights Little League, founded in 1949, serves over 1000 kids in our Spring Little League season between our TBall, Softball, Baseball and Challenger Leagues. Our Fall Ball program held mid-September through November, has several hundred participants, with the purpose to help develop skills and further knowledge of the game.
For more information on our programs, to register for the upcoming season, or sponsorship opportunities please visit www.AHLL.org
AMP Studios Texas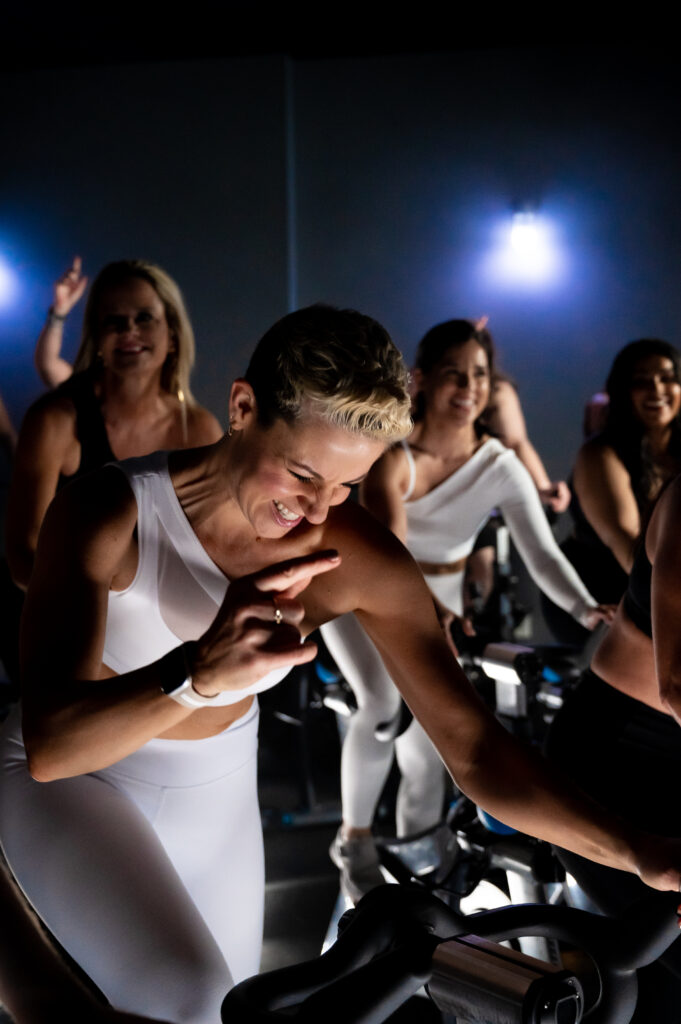 Getting back into a fall routine is easy at amp studio, celebrating eight years bringing intensity, sweat and fun to San Antonio this month! "Our mission is to create the highest quality, beat-driven, high-intensity, low-impact, community-based cycle and strength workouts that are for all people regardless of age, fitness level, gender,etc., and that are taught by the most knowledgeable instructors in the industry," explains owner Becky Cerroni. Find energy, intensity, and "fun" in functional fitness at amp studios through both cycling and cycle +strength classes led by a team of highly qualified, energetic, and nationally accredited instructors. They use their knowledge and expertise to guide members through powerful workouts designed to maximize efficiency and deliver results, safely and effectively. Beyond building strong bodies, the amp studios' experience is designed to build strong communities. Here you will find "all your people," from the teens who want to establish good habits, to the athletes who want to amplify performance, to the clients who want to retain or improve mobility, flexibility, and strength as they move through life. The locally-owned fitness studio is celebrating eight years in San Antonio with eight days of giveaways starting September 6. For more details follow them on Instagram@ampstudiotexasorwww.amp-studio.com.