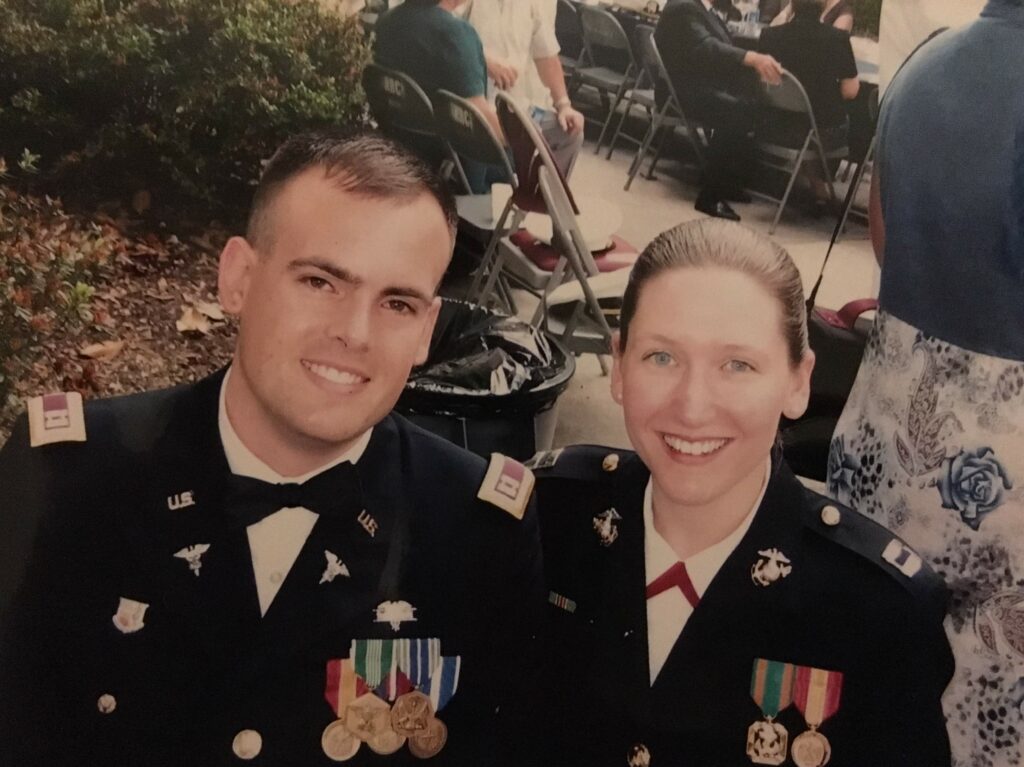 Amazing '09 Couple Share Military Background
By Ron Aaron Eisenberg
Sarah and Brad Tragord met in high school in Cedar Falls, Iowa. He's a retired Army Lieutenant Colonel. And she's a retired Marine Corps Captain. The high school sweethearts were married in 1999. They live in 78209.
Their military service launched them on two very different careers. Brad, 45, earned two doctorates in physical therapy. He teaches orthopedic physical therapy at UT Health San Antonio. While Sarah, 46, is undoubtedly one of the few retired Marine Corps officers who left the service to teach kindergarten.
Sarah describes herself as "A corporate brat who lived in seven different states before settling in Iowa." Her dad was a Marine Corps colonel in the reserves. Both of her brothers are retired Marine Corps officers.
Unlike Sarah, who moved around the country as a child, Brad grew up in the same house and in the same bedroom in Cedar Falls, Iowa.
Following high school, they both went off to college and enrolled in ROTC programs (the Reserve Officers' Training Corps, a college program offered at more than 1,700 colleges and universities across the United States that prepares young adults to become officers in the U.S. Military).
Sarah graduated from the University of South Carolina ROTC program, and then it was off to basic training and Marine Corps Officer Candidates School. Brad completed a four-year Army ROTC program at Missouri State University, where he played division one tennis. Following graduation, he was commissioned in the U.S. Army.
In her last assignment in the Marine Corps, Captain Tragord served as a recruiting officer. After ten years in uniform, she resigned her commission to start a family. The Tragords have two boys, Brandon, 14, and Sean, 11.
The new mom developed a desire to teach young people. She returned to college, earned a Master's of Arts degree in teaching from Liberty University, and started serving as a substitute teacher in the Alamo Heights Independent School District (AHISD). She was soon hired as a full-time kindergarten teacher at Howard Early Childhood Center (HECC). She says, "I see public school and education as continuing my service to my community."
AHISD Superintendent Dr. Dana Bashara told me, "Although Sarah has not been with us a long time, she's quickly made a lasting impact on the students at HECC! Her creativity, her passion for early childhood education, and her heart for her students make all the difference."
Prior to coming to UT Health San Antonio, Dr. Tragord completed over 22 years of clinical care, teaching, and research as an active duty Army physical therapist and healthcare executive. He received the Army Medical Department's Order of Military Medical Merit.
For fun, the family says they love to visit national parks and go hiking and camping. "We're always thinking of the next national park we can visit."