Alamo Heights Pool
Swimming Through the Generations
By Meredith Kay
Photography by David Teran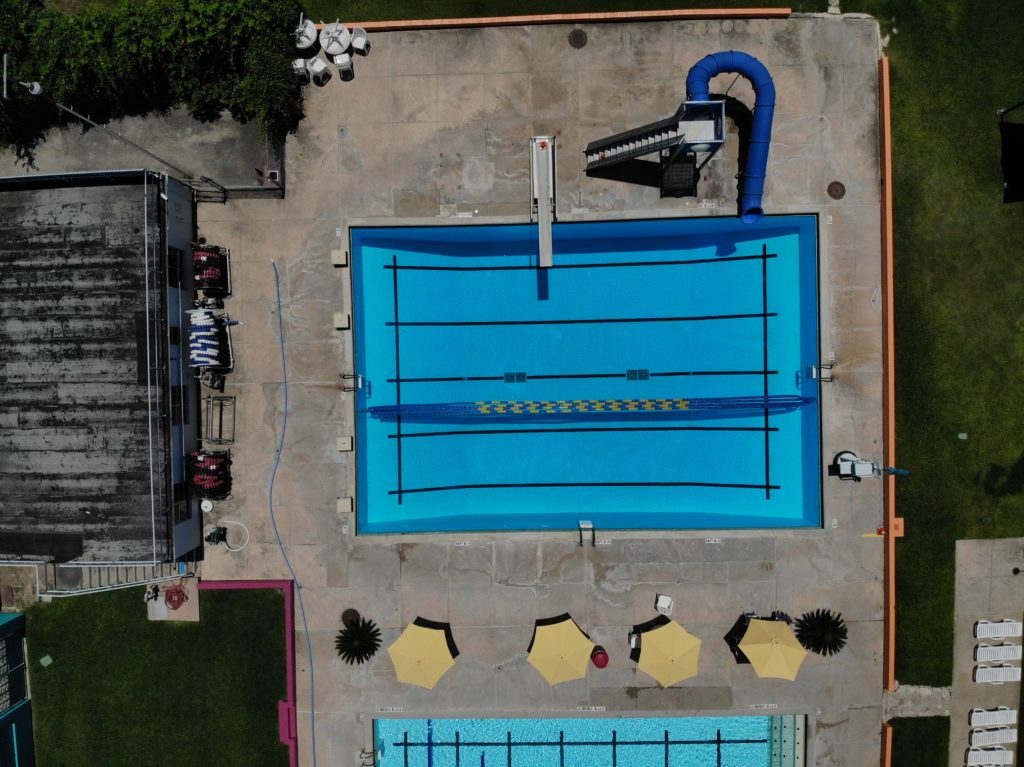 We all have memories from childhood of those special places where we congregated with family and friends. For some, it might be a local park or that one house on the block that everyone seemed to gravitate toward. However, for generations of Alamo Heights residents, the Alamo Heights swimming pool has served as the background for recreational and social memories throughout the years.
Built in 1947, the Heights Pool, as it is lovingly referred to, hosted area families and aquatic fitness enthusiasts for over 40 years before maintenance costs and neglect threatened to close it for good. Initially operated by the city of Alamo Heights, city leaders could no longer afford to keep it open without significant repairs and upgrades. It was slated to be filled in and repurposed when Rick Shaw, who grew up swimming at the Heights Pool, dropped his kids off to swim for the day and learned of the plight of his beloved community icon.
Rick says, "I was in real estate in the '80s, and this interesting opportunity presented itself. I worked with the city of Alamo Heights to lease the property to me, and I decided to undertake a complete remodel of the facilities, the pool, and mechanical equipment. I wanted to invest in something that meant a lot to me personally and to the residents in the area who grew up making memories there."
Shaw has been running the Heights Pool with a dedicated team of employees for 32 years, and he shows no signs of slowing down. He is grateful for the loyalty of the employees who have helped him maintain this iconic community pool and credits people like Mike Padulo, who has been with him from the start taking care of everything on the engineering side to keep the systems running smoothly. He is very humble as he describes how he gave the property, and the facilities, a face lift, revitalizing the area with new landscaping, brighter colors, and updated amenities. The pool has always had a great family vibe, and it was his goal to preserve the character of the "little oasis in '09" while creating a modern facility that would continue to make memories for generations to come.
Many residents in the area grew up spending hot summer days at the Heights Pool, and this tradition continues as those neighbors now bring their children to the pool for swim lessons and to get together with friends and family. In fact, Ann Haworth has been teaching swim lessons to young '09ers for over 25 years, and she now manages a team of instructors that will help carry on her legacy. The Heights Pool is also home to the Pool Sharks swim team that competes with other area swim teams throughout the season.
Admission to the Heights Pool is membership-based, and passes are available online or at the pool office beginning in late April. Those interested in taking swim lessons only, however, do not need to purchase a membership. The pool season begins the first weekend in May and runs through Labor Day weekend.
When Shaw reflects on his tenure as the owner of the Heights Pool, he recalls, "I have seen many families move in and out of the Alamo Heights area over the years. We have people who used to work here as lifeguards when they were teenagers who now bring their own families to swim and enjoy the pool, and that really makes it all worth it."
Alamo Heights Pool
250 Viesca Street
(210) 824-2595