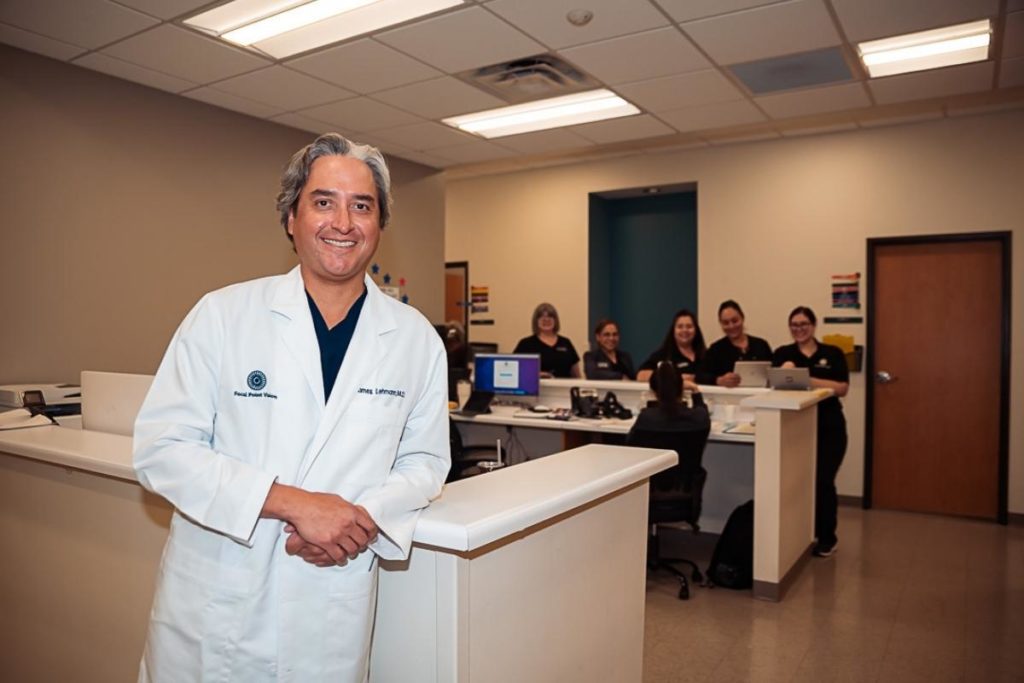 Business Profile: Focal Point Vision
By Alexis James
Photography By Torry Sledge
Dr. Maverick & Dr. Lehmann first met at Focal Point Vision as co-workers and took ownership of the practice in 2008. They opened the Alamo Heights location off Sunset Road five years ago and continue to enjoy serving the Alamo Heights Community.
Focal Point Vision offers the latest ophthalmic technology with a personal touch. They serve patients with complex medical issues and those who need eye surgery. They also provide routine checkups for their patients. Dr. Lehmann advises that "As you age, it's important to get routine checkups for diabetes and glaucoma."
"Our patients can expect to be treated like family; we treat people how we want to be treated," says Dr. Lehmann. "We offer exceptional medical care and empathetic customer care," adds Dr. Maverick.
They have an overall team approach when it comes to helping their patients. Thorough communication with patients starts early to ensure they get the attention they deserve and know what to expect during procedures and appointments.
Dr. Maverick and Dr. Lehmann praise their team for maintaining a healthy, family work environment. "We owe a lot of this work environment to Jesse Alvarado, our administrator, and Trish Hennessey, both fellow 09ers." "The biggest service we offer is to our nearly 100 employees. We strive to make their lives and families better through training, advancement, and a positive work environment," states Dr. Maverick.
Focal Point Vision is more than a local business in the community. Dr. Maverick and Dr. Lehmann have a deep history and love for the Alamo Heights Community.
Dr. Maverick went through Cambridge, AHJS, and AHHS. He enjoys getting to serve the community he grew up in. "The most gratifying part of my job is earning the trust of former teachers, coaches, friends, and friends' parents."
Dr. Lehmann has lived in Alamo Heights for 15 years, and his kids have all attended the Alamo Heights School District.
They are passionate about giving back and serving the local community.
Dr. Maverick has served as volunteer medical director of the San Antonio Eye Bank for over ten years. He has overseen thousands of corneal transplants that have restored vision to individuals who would otherwise be blind from cornea disease. He also serves on the St. Luke's Episcopal School board, UIW board, and the Briscoe Western Art Museum Board.
Dr. Lehmann works with the eye care clinic at Haven for Hope and performs free surgeries for individuals at their clinic. "Serving others is important because it's essential to be an example to your children and others in the community. We're here to help people with their vision problems, including helping individuals who can't afford eye care."
Both Dr. Lehmann and Doctor Maverick agree that the best thing about Alamo Heights is the incredible community.
Dr. Lehmann is thankful for the relationships he has made in Alamo Heights Community. "There's nothing better than having a small-town community inside a big city. I feel very privileged to live here. Recently my father passed away, and the amount of support that I felt from neighbors, friends, and the Alamo Heights Community was amazing. Living in Alamo Heights, I'm a part of a strong community, and I wouldn't change it for the world."
Focal Point Vision wants you to know that they offer world-class eye care at a local and personal level.
" We're on Sunset Road, and we are here to help."
Fun Fact: Dr. Maverick developed a distillery, Maverick Whiskey, just down Broadway to "serve" in a different way. Stop in and say Hi!