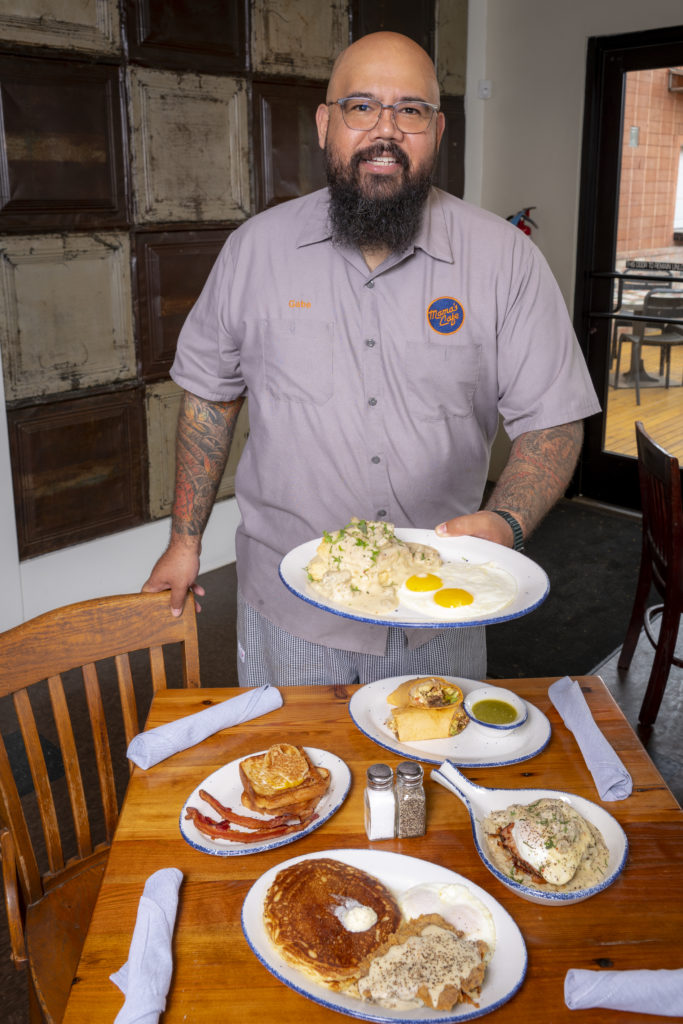 Mama's Cafe
Come Home to Mama's
By Meredith Kay
Photography by Al Rendon
Sometimes we all need some good old-fashioned comfort food, something hearty and familiar that fills us up and makes us happy. Luckily, one local, beloved restaurant is back in business after a complete renovation of the building and the menu. 
Mama's Café, on Nacogdoches, reopened last May under new ownership, and the entire building underwent a complete remodel, but the original Americana charm of Mama's remains. Cappy Lawton was the original owner of Mama's Café when it opened in 1981 but sold his interest in the restaurant in 1987, although he continued to own the building. When Mama's closed its doors in 2019, he decided to refurbish the building with a vision of bringing the restaurant back to life while maintaining all of the charms that customers have loved throughout the years.
Lawton says, "The building was very worn out, so everything had to be redone, but we wanted to redesign it to keep that old-fashioned look while incorporating our Texas theme throughout the restaurant."
During the remodel, Lawton and his team doubled the size of the kitchen, installing state-of-the-art appliances and building a 1,000 square foot beer garden patio to add outdoor seating.
"I like that people walk in and say that it hasn't changed," Lawton states. He's very proud of the unique design features and decorations that make the café unique. One wall features implement seats from the 1800s, and some of the tractor seats were sourced from out-of-state collectors. The cowboy room is also an exciting space featuring actual branding irons from area ranchers, along with cowboy boots and hats.  
The menu at Mama's Café underwent some changes but stays true to the South Texas comfort food that made it a local favorite. Breakfast and lunch are served every day, and dinner is served Tuesdays through Sundays. 
Breakfast features some homestyle favorites and a few dishes that put Mama's special spin on the classics. Executive Chef, Gabe Ibarra, has been serving up great food for the Lawton Restaurant Group for over 18 years and turns out delicious creations like the Huevos Hofbrau, which is essentially migas with hash browns, refried beans, and queso. For the adventurous breakfast connoisseur, Papa's Breakfast checks all breakfast boxes with chicken fried steak, pancakes, eggs over easy, and hash browns. It's a hearty way to start the day, and Cappy claims to have the best pancakes and waffles in town.
The cafe is also open for lunch and dinner, and you'll find something for everyone. Mama's is committed to ensuring that every guest can experience their delicious homestyle Texas comfort food, and most of the dishes can be made gluten-free.
Mama's Café feels like a small-town café before highways changed the landscape. Lawton says, "Mama's pays homage to the small-town community." There is a lot of nostalgia in the restaurant. Still, the quality of the food speaks volumes about Lawton's dedication to keeping the Mama's tradition alive while striving to consistently turn out great food that keeps customers coming home to Mama's.
Mama's Café
2442 Nacogdoches Rd.
(210) 826-8303