Saint Mary's Hall Student Selected as Teen of Impact by Go Red for Women Campaign
In April 2021, the American Heart Association announced their Teen of Impact nominee, Ferzine Sanjana '23, for their yearly fundraising opportunity: Go Red for Women. This cause is something Ferzine is deeply passionate about, as heart disease is the #1 killer of women in America. Many women prioritize their family needs and ignore their own health issues, making it vital to create awareness of women's heart risks. 
"Starting February 4th, 2022, for nine weeks, I competed against five other teens from different schools in San Antonio to raise the maximum funds for the Go Red for Women campaign and spread awareness in our community about cardiovascular diseases and preventative measures. 
My team included F11 students Anna Albrecht, Luz Elena Chapa, Helena Hanor, Sofia El Hajj Moussa, Maria Medina Grace Phillips, and Hannah Storrie.We held several fundraising events for the campaign, including silent auctions, Walk for a Healthy Heart at Saint Mary's Hall with our students, parents, and faculty, collaborations with Kendra Scott and KWJ Jewelers, and organizing a dance class. All the proceeds went towards this cause, and after nine weeks of hard work and perseverance, my team and I won the campaign raising a grand total of $51,166! It was an absolute pleasure to run the campaign, bring awareness to heart health, and give others the opportunity to take charge of their health through education and a healthy lifestyle. It has also helped me reach out and participate more in my community, realizing the people's generosity and benevolence towards such a pivotal cause."
Senior Spotlight: MacArthur High School's Luis Lozano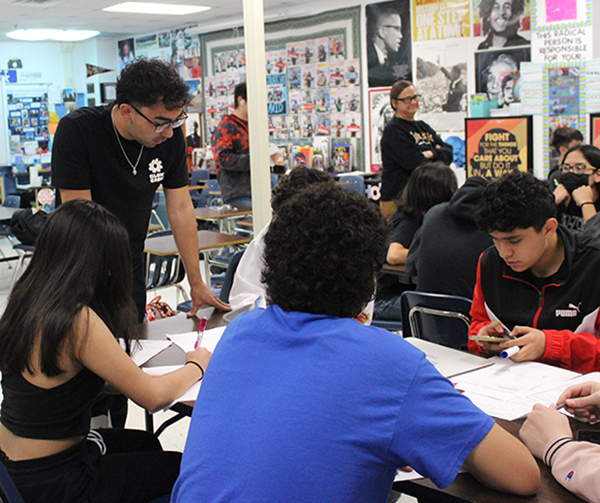 Luis Lozano is a busy guy. When he's not working on assignments for his classes at MacArthur High School, he is the captain of the boys' varsity soccer team, participates in the AVID program, tutors fellow students, and works part-time at H-E-B.
He admits he has a lot on his plate but credits these experiences over the past four years for getting him where he is today.
After applying to five colleges, receiving five acceptances, and being offered more than $250,000 in scholarships, Luis will attend the University of Texas at San Antonio in the fall on a full scholarship.
"I think being a student-athlete over the years helped me work on discipline and communication skills," said Lozano. "And being a part of the AVID program has been very helpful because it helps you work on skills like note-taking and public speaking. That has helped me a lot because I went from someone who is very shy to someone who is really vocal."
AVID, which stands for Advancement Via Individual Determination, was introduced to him in middle school. It's a college readiness program that checked all the boxes for Luis. Its three focuses are academic instruction, tutorial support, and college readiness.
Not only did Luis get the support he needed, but he's also now giving that support to other students as a tutor throughout the week.
"I specifically help the freshman AVID class in their core classes. I help them in science and biology. I also help them with their English and math. "
His experience as a tutor has even piqued his interest in a career in education. But regardless of the path he ultimately chooses, he's grateful for what North East ISD has provided him.
"The opportunities that NEISD gives you really help when you take advantage of them. Because in the long run, it helps you become a better person, not just a better student. You can be a better son, a better big brother. NEISD did that for me."
Congratulations Luis! Good luck to you and the rest of the class of 2022.
Good news brings happy tears #theNEISDway

Montserrat Rodriguez and Melanie Sandoval received life-changing news today. Both MacArthur High School seniors were surprised by the news that they had earned the Impact Scholarship from the University of Texas in Austin worth $48,000.
They celebrated with their families and MacArthur staff with happy tears and hugs of joy. Montserrat is also a Minnie Stevens Piper Scholarship winner. This four-year grant essentially covers any additional educational expenses not covered by financial aid.
"I can't believe this," said Montserrat. "It doesn't feel real. I guess once I'm there, it'll hit me. I was pretty worried about how I was going to pay for school, so this has changed my life."
Melanie is soon to be a first-generation college student. She and her family were overcome with emotion when they learned the news.
"I wasn't sure I would make it this far," said Melanie. "Now, I can go to school and study, and I don't have to worry about money so much. It's like everything I've been working so hard for is starting to pay off. It's really emotional."
As much as this means to Melanie and Montserrat, it means even more to their parents.
"I was ready to get another job to help her go to college, so this helps so much," said Melanie's mother, Lorena Perez. "She's the first one in my whole family to get a scholarship for a university. She's a hard-working girl. We are so happy for her."
Melanie and Montserrat are both one step closer to their dream of going to college. Montserrat wants to study International Relations and Global Studies. Melanie plans to study Social Work so she can one day work in rehabilitation centers.
Congratulations, Melanie and Montserrat!