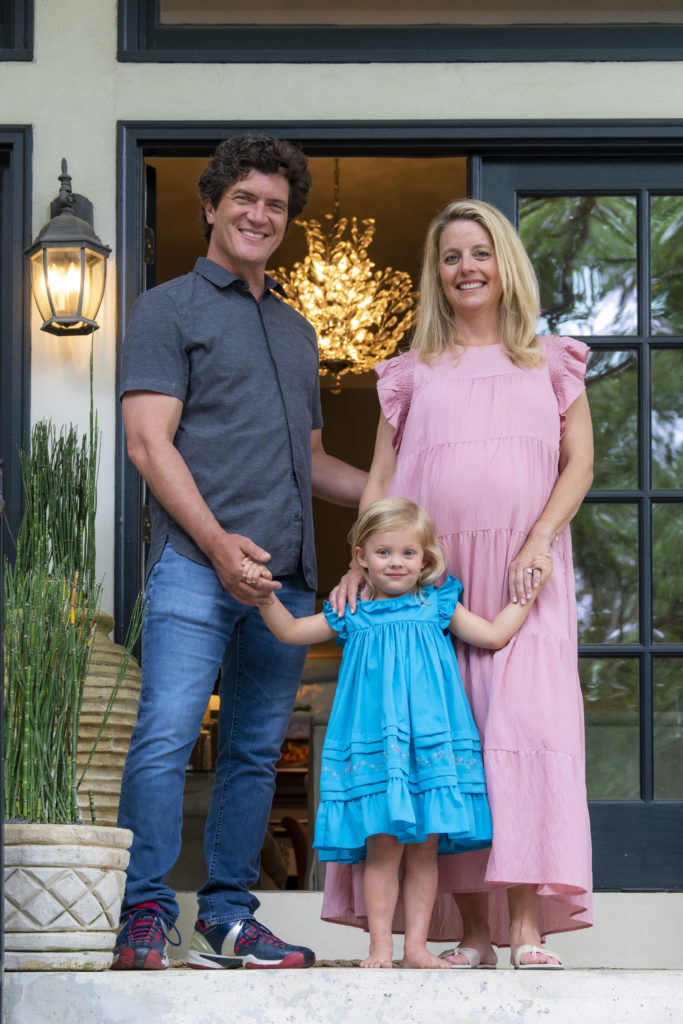 The Art of Raising a Family in '09
By Meredith Kay
Photography by Al Rendon
Oscar Wilde once wrote that "life imitates art far more than art imitates life," There has been debate throughout the years as to exactly what he meant by this famous line. Each of us has a unique story, and often the events that shape our lives will guide our views of the world around us.
We all strive to create spaces for ourselves that reflect our character and make us feel comfortable and peaceful. Robby and Amory Felder's desire to create a unique space to match their personalities has helped them create a modern yet natural oasis within their home and into the backyard.
Both Robby and Amory are native San Antonians who knew each other in high school at Alamo Heights. After they both graduated from college and moved around, their paths crossed, and they started dating.
Robby studied at The Art Institute in Houston before moving to Southern California. When his parents retired, he moved to South Texas to take over their art gallery in Rockport. After successfully running The Felder Gallery for eight years, and still exudes a laid-back, friendly, beachy vibe.
Amory studied marketing at Texas Tech and spent time in Denver and Austin. In 2012, Amory moved back to San Antonio. Closer to the beach again, Amory and her friends loved to take trips to the coast. While in town, Amory often spent time with Robby. It was then that their friendship blossomed into a romantic relationship. Robby and Amory commuted back and forth to see one another. Eventually, Amory convinced Robby to move the gallery to San Antonio in 2017 so that they could be together and start a family near Amory's family.
The Felder Gallery is located on North Main Street, near Woodlawn, and features many different artists and mediums. The couple lives in Alamo Heights on Lamont Avenue in a beautiful home filled with art, and they've spent the past several years creating a home that reflects their interests and unique character.
Their home has recently seen a remodel of the outdoor living space and features the only "green" roof in Alamo Heights. Robby's vision was to create a modern and natural setting for their outdoor space. Robby did the research needed to design a living rooftop on their detached garage.
The family spends a lot of time together in the garden, where their cherubic three-year-old daughter, Tillie, loves to twirl and play with her toys on the artificial turf lawn surrounded by exquisitely designed xeriscape landscaping.
The Felders love living in Alamo Heights, and when asked what they love about the neighborhood, Robby says, "We love walking the dog along the greenbelt on La Jara Boulevard, where we can hear the crowds cheering at the baseball games in Olmos Basin Park."
Robby and Amory are expecting their second child in June. Soon, Tillie will have a little brother named Forbes to play with in her backyard oasis.