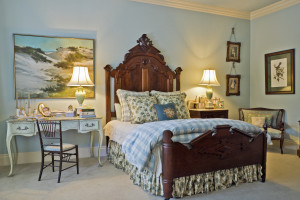 Avid hunters and conservationists Rita and Skip Schimpff's home in Terrell Hills holds a cache of family heirlooms and mementoes of the hunt that span five generations. The couple have a true respect for nature, being taught to hunt at an early age. With a profound sense of pride, they have instilled the lessons of stewardship for the land and its inhabitants in the lives of their now grown children, Carter and Carrie. With a Boykin spaniel and numerous adopted rescues, the family is very much involved in all aspects of hunting. This is the second dwelling that Skip, a homebuilder by profession, has built for his family, with considerable input from his designing wife.
Growing up in the neighborhood, Skip still has the same phone number that he was born with in 1950. When he graduated from Alamo Heights, he went away to Trinity University. "I didn't know how to leave," he quips. With Rita's penchant for perfection, the prolific artist used the thrill of the hunt to spawn a business. Looking for a special mount for one of her prized trophies, she began to research the art of hand-carved wooden mounts used in Europe for centuries. She had a passion for the intricately carved Black Forest style of hunting mounts called Brienzerware for the area of Switzerland where artisans began to carve in this style. Rita acquired the services of trained artisans to create her custom designs that she offers through Heritage Game Mounts.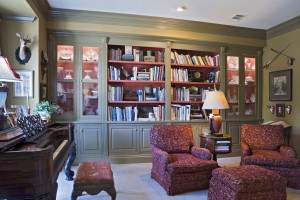 Throughout their home, her beautifully carved mounts and original artwork accent every room, creating an Old World ambiance with a distinctly San Antonio pedigree. In the vaulted family room, a pair of bear hounds keep watch from an antique oak frame above the mantel. Vintage advertising art for Winchester Repeating Arms, dated 1907, is an illustration that hung in the former Sommers Beer Garden and Saloon. The saloon was Rita's great-great-grandfather's establishment on 10th Street, near downtown. Resting on the mantel is a set of copper siphons used in the saloon to transfer whiskey from barrels to glass bottles for serving. The mantel was found in a secondhand shop and has been incorporated into the design of all three of their homes.
"I don't throw anything away," says Rita. Skip replies, "She's kept me so far."
On a recent summer trip to Trinchera Ranch in southern Colorado, the adventurous duo went after trout on the fly. Four species of wild trout inhabit the pristine streams that flow from the Sangre de Cristo Mountains. Wanting to catch all four in one day, Rita set out to accomplish the task.
"Skip gave up a lot of stream time for me," she fondly recalls.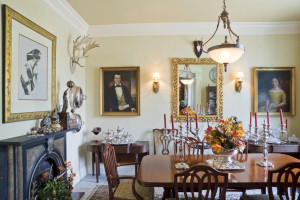 The adept angler caught all four species in a single day on a dry fly, earning her the coveted IGFA Super Grand Slam. With rooms abundantly filled with family life and the reverence given to the lives of family members that carved a niche in South Texas, the Schimpff homestead is a living testament to a life worth living – and to living that life in the great outdoors.
BY JOHN BLOODSWORTH
PHOTOGRAPHY BY AL RENDON