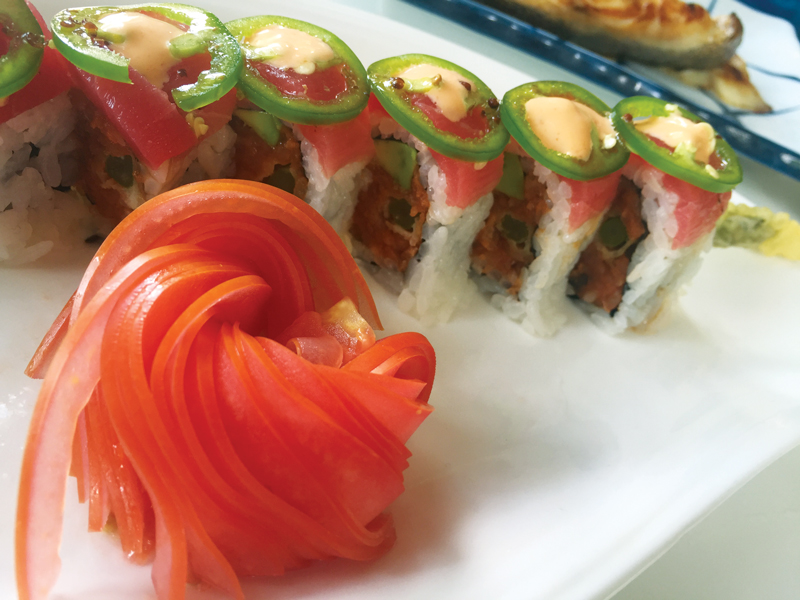 An '09 Favorite for Sushi Lovers for Nearly 25 Years
In a relatively short period of time, the Witte Museum expansion project will conclude, and the once hidden restaurant Koi Kawa will be unveiled in a new light, almost like a lady in waiting — for nearly 25 years, that is. Part of its secluded charm is in the serene surroundings along the San Antonio River. Nestled in the far corner of the Boardwalk on Broadway shopping center, adjacent to the Witte, Koi Kawa's charm will not change, but its view and access to the new Witte expansion will — a convenient bonus for all.
For new visitors like me, the Koi Kawa menu can be overwhelming. I stopped counting items after reaching 150 and still had the last menu page remaining. After several dining encounters, along with informal interviews with friends who are self-proclaimed members of "Cult Kawa," I was able to navigate through their vast menu and discover some extraordinary dishes. Authentic Asian food endures in San Antonio, especially in Alamo Heights.
Indeed, authentic dishes abound at Koi Kawa. I gravitate more to stir-fry dishes than broth-based dishes, so I targeted the yakisoba noodles and slurped them up. My thin but dense buckwheat noodles were stir-fried with vegetables and beef (or choice of chicken or shrimp) and Koi Kawa's flavorful sauce. This is my version of Japanese comfort-food. Another dish I would recommend is their prized gindara that is grilled miso marinated black cod. Theirs delivered the expected blend of buttery, salty, sweet, acidic and bitter magic I first experienced over 15 years ago when I first tried this style of cod preparation at prominent Hawaiian chef Roy Yamaguchi's growing restaurant empire featuring Pacific Rim cuisine. On his menu, he more descriptively names his version, "Misoyaki Butterfish." Fans have been going wild ever since. Lucky for us, we do not have to travel to one of Roy's restaurants to experience this exquisite preparation.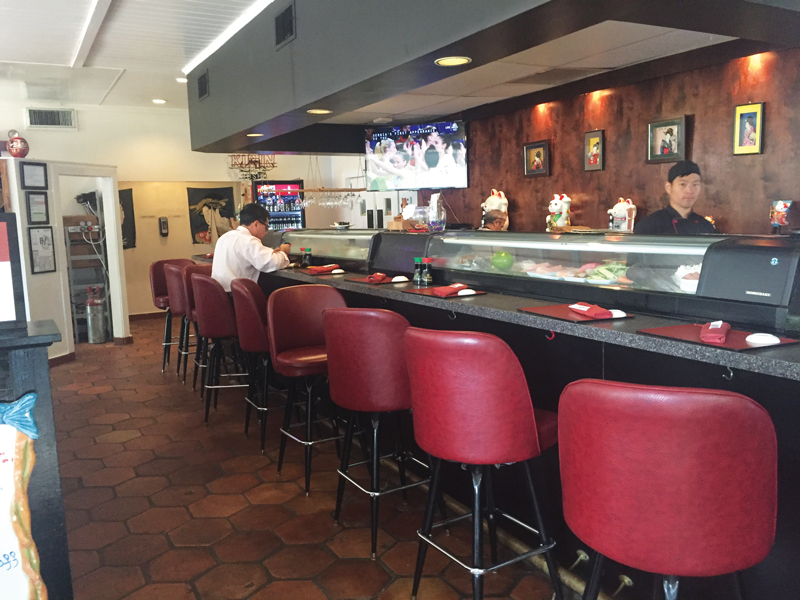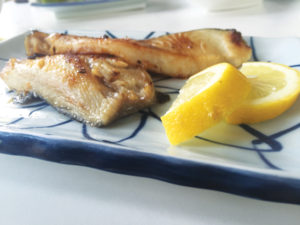 As for sushi, reading and interpreting the menu has always been intimidating to me, not because I don't appreciate Japanese cuisine, but because I don't typically have a translator friend or family member in my dining company. Italian and French cuisine? No problem. Terms flow easily between English. Of course I know what penne, prosciutto and a souffle are, for example, but smelt egg, scallo and chasu? Not exactly. I am familiar, but my confidence has waned over the years thanks to many unfortunate ordering experiences. Can anyone else relate?
Thankfully, pictures and vivid menu descriptions at Koi Kowa can help guide the process of demystifying some of the more foreign ingredients and terminology. Even better, however, is discovering the secret to reaching sushi satisfaction at Koi Kawa: Request chef Danny Lee's most popular dishes. Why step out in blind faith when a novice like me can follow the path of the well-worn sushi sojourners? This approach has reaped great rewards for me, and I implore the sushi-timid to do the same.
The Hot Lady Roll and the Koi Kawa Roll are now two of my favorites — both big sellers. The Hot Lady Roll has many layers of delicate kick. Spicy tuna is rolled up with a crunchy spear of asparagus, creamy avocado, fresh jalapéno and a light drizzle of spicy sauces. The extremely fresh tuna is lovely and mild. The heat is gently restrained so that flavors do not overpower one another. Add a bite of their sweet and spicy pickled ginger to your mouthful, and the harmony expands even further. (Note: Koi Kawa pickled ginger is actually the real color of fresh ginger —yellow-beige. Bright pink is the artificially colored imposter. Just say, "No!")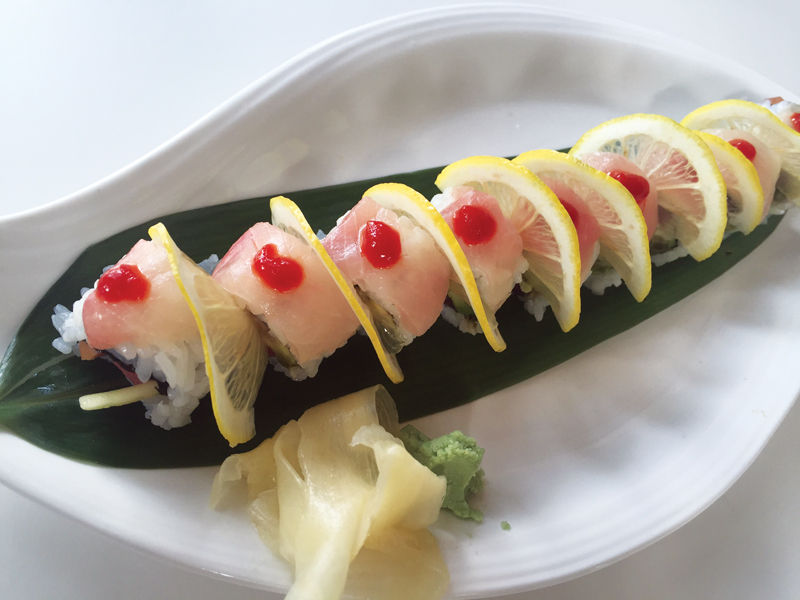 The Koi Kawa Roll is a magnificent combination, especially tasty during the warmer months of the year. It is light and bright in more ways than one. Beginning with color, there's a rainbow connection between the orange-colored salmon, the chartreuse avocado, the flesh-colored hamachi, the emerald green cucumber, the sunny yellow lemon slices… perhaps interpreted as a snapshot of someone in the distance, admiring the rain parting as a late summer sun sets over a green meadow? For texture, the crisp cucumber against the other soft components throughout the roll provides an interesting dimension of crunch. For acidity, the ponzu sauce and lemon slices brighten the roll in a refreshing way, like no other sushi I know. Finally, the dots of chili put a spring of life and breath into every bite. The Koi Kawa Roll is a must-try.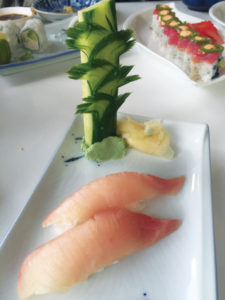 Other favorites surface as well, including the Heaven and Hell Roll for the hot at heart and the Louisiana Roll for fried oyster lovers. For such high-quality execution, fresh ingredients and authenticity, whether dining or taking out a meal, Koi Kawa yields great contentment on all sides because the fun is in the journey — even the price. Many menu items barely reach past single digits. A few specialty menu items like the sushi and sashimi platters reach the $20-30 range, but most menu items hover closer to $10. Any night or day of the week, with the exception of Mondays when Koi Kawa is closed, it is easy to dine very reasonably.
From now on, I can politely decline those sweet sushi ladies at the grocery store hawking samples as my shopping cart approaches. Sure, their sushi options are adequate in a pinch, but I would rather save my sushi space for the expertise and artistry of Koi Kawa's. Whether you are visiting for the first time, or consider yourself a regular, safe and delicious adventures await when you invite the masterful guidance of chef Danny Lee. "Douzo meshiagare," which means "enjoy your meal!"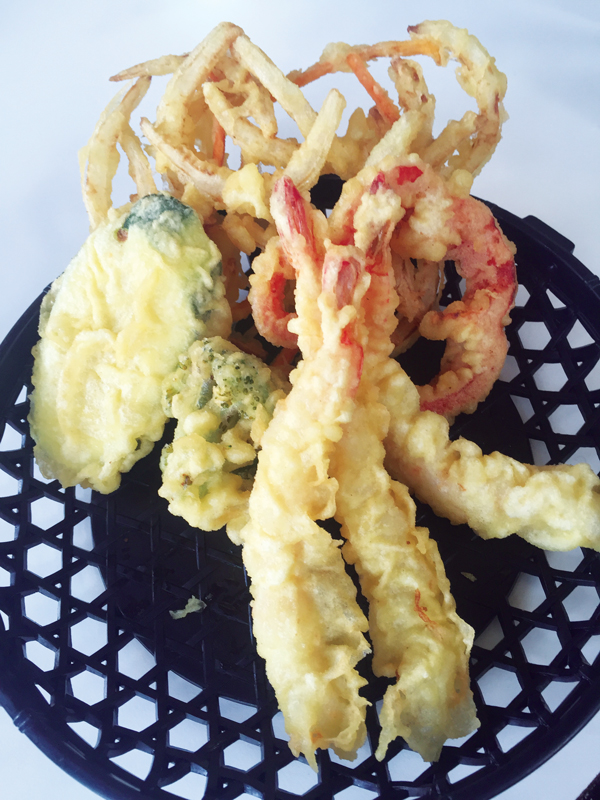 BY LAUREN BROWNING