09's Popular Chinese Restaurant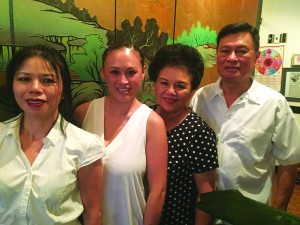 It's early in the lunch rush on a Monday after a major holiday weekend, and there's no slowdown in business for the staff at Hsiu Yu Chinese Restaurant. The red brick building, with its ornately decorated front entrance, is an '09 neighborhood staple on Broadway between Loop 410 and Alamo Heights. Hsiu Yu has been serving Hunan- and Szechwan-style Chinese cuisine for 32 years. The restaurant may not look very large on the outside but there's plenty of seating in the interior with more than 40 tables in the main dining room. There's also a private dining room.
Some people may see Hsiu Yu as a no-frills eatery, but diners are assured of family-friendly, quick service and affordable traditional Chinese cuisine. On this particular visit, despite tables filling up fast with hungry diners, a hostess immediately directed me to the nearest available table. One employee quickly asked me for my preferred beverage, followed right up by another employee jotting down my order. In less than two minutes, my order for chow mein was already headed for the kitchen. I also ordered a wonton soup. While waiting for lunch to arrive, feel free to peruse the surroundings. Blinds on the slender vertical windows, combined with the interior lighting, give off a soft glow in the main dining room. Chinese paintings and decorated light fixtures are all around the room. The ambiance is not overwhelming, but has its own bit of charm.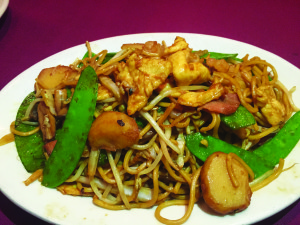 While the portion size could be bigger, wonton soup came tasting light and fresh. My plate of chow mein arrived piping hot. It was a full plate. The fried rice and chow mein were more than satisfactory, accompanied by an egg roll. The wait staff is attentive even in the busiest of times; employees kept my glass of tea filled and checked whether everything was fine. There is a variety of chef's specialties, including Tzau Lhiou fish, Tzau Lhiou shrimp, Moo Shee beef, Chao-Shan-Shin, Mao-Po To-Fu, San Shien Lo Mein and Egg Foo Young. Hsiu Yu offers these half and whole duck dishes: crispy, roasted and whole Peking duck. There's a family dinner offering, beginning with a diner's choice of egg drop soup, wonton soup or hot and sour soup.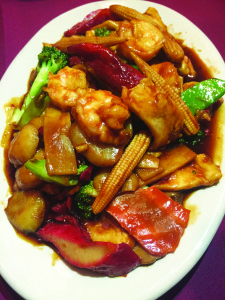 The appetizers for each dinner include egg roll, shrimp toast and fried wonton. Most entrées are available for the family dinner, and they come with steamed or fried rice and fortune cookies.
Hsiu Yu is open daily. Lunch is provided 11 a.m. to 2:30 p.m. weekdays, while dinner is offered every day from 5 to 9:30 p.m. Lunch specials include more than 20 entrees, such as the popular chow mein, along with spicy shredded chicken, Kung Pao chicken, shrimp with vegetables, shrimp with lobster sauce and lemon chicken. There's also almond chicken, a vegetable plate and sweet and sour pork, among others. Lunch specials are all served with an egg roll and fried rice.
Hsiu Yu also has Sunday brunch from 11:30 a.m. to 2:30 p.m. A diner may have his or her choice of one entrée from a list of more than 20 entrees. The entree comes with an egg roll, shrimp toast and two fried wontons. It's diner's choice of wonton, egg drop or hot and sour soup and fried rice. There's plenty of history behind Hsiu Yu. Owners John and Hsiu Yu have known each other since the late 1970s. They both hail from Taiwan, and they each started a culinary career at an early age, developing skills and fine-tuning their tastes. Since its launch in 1983, Hsiu Yu and its owners have received several awards and honors from various local and state media outlets, including SAN ANTONIO WOMAN. The family's culinary impact has been felt by generations of diners in the Alamo Heights area. It's something that likely will continue for years to come.
BY EDMOND ORTIZ