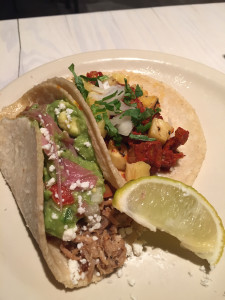 A delicious combustion of Mexican flavors, culinary passion and high-level execution has resulted in a new restaurant called Flair, located in Sunset Ridge Shopping Center. With a casual but cool vibe, chef and owner Rolando Aguirre features a menu of Mexican street food infused with personality, craftsmanship and integrity. Inviting smells, creative flavor combinations, a stunning bar and a newly carved-out patio space for dining outdoors entice patrons to this Alamo Heights eatery to take note. There is much to discover in Flair's versatility. Whether with children, out on a date, entertaining out-of-town family or meeting with a colleague, you will quickly discern Flair as a satisfying and affordable option for lunch, dinner and even Sunday brunch. Unlike most Mexican restaurants in the area, Flair is chef-driven.
This means there are no shortcuts on quality. From seeking locally sourced ingredients to importing an expert "tortilla senora" to hand-make and roll each corn tortilla with love, this is a restaurant dedicated to those who appreciate real food, made fresh, from scratch. Chef Aguirre has an energetic and affable disposition; it is clear why he has been able to attract such an eager and talented staff. From an early age, Aguirre grew up in the restaurant business by way of his uncles. He worked with them at times, but never considered it seriously as a career. However, after graduating from college and armed with a business degree, he began to connect the dots. He loved people, loved good food, but it took prayers and a visit to Las Vegas before his epiphany. After culinary school, Aguirre eventually made his way back to San Antonio, working more recently as a chef at Stella Public House and Halcyon before opening Flair. Open for several months now, Flair and chef Aguirre have already earned local acclaim for the masa fries. It is Aguirre's Mexican riff on Canada's poutine.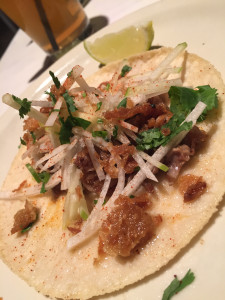 Instead of potatoes, he deep-fries masa that has been shaped into sticks, drowns every last fry with homemade queso blanco, then tops the mountain of cheesy masa bliss with a hefty portion of green chile pork. It is sublime — definitely an appetizer to share. Next on the must-try list is Brown Butter Guac. It sounds odd to add more fat to avocado, but classically trained chefs like Aguirre know the power of brown butter. It enhances almost everything by imparting a special nuttiness. When combined with elegant crabmeat, roasted garlic, sautéed shiitake mushrooms and green onions and a zing of heat from chile arbol, it's a creamy sensation worth loading onto a tortilla chip.
Upon quizzing the chef about this unusual but delectable creation, he quipped, "What can I say? I am just a fat kid at heart who knows what tastes good!"
Another menu favorite I strongly suggest is tacos – any of them. There are some exciting, off-the-rails choices like pato taco, which contains duck confit, duck skin chicharrones and a brilliant addition of apple and jicama slaw. There are traditional offerings as well, such as puerco al pastor, made to perfection. The key to chef Aguirre's taco success comes from a team approach: Senora Bentura Sanchez cranks out her all-star corn tortillas while the rest of the cooks make the mouth-watering fillings. Chef Aguirre commented on how he vacillated between naming the restaurant "Flair" or "Flare." It was a tough competition, but "Flair" won out. After visiting three times, I can attest that every menu item does have an element of flair, even down to the sweet potato chips served alongside the cast of tempting tortas. I might even rename them Sweet Potato Feathers. Addictive.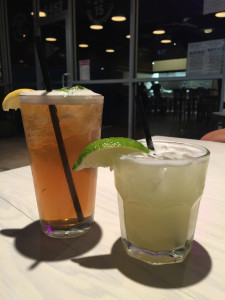 Even the days of the week have flair at the restaurant. On Wednesdays, chef Aguirre started Foodie Wednesdays. It is his chance to venture out of his street food box and dazzle his patrons with flavors from around the country and the globe. My most recent visit fell on a Wednesday night, and the theme was Southern Comfort. In no time, I devoured the fried chicken, the upscale macaroni and cheese and the BBQ pork and slaw slider.
According to chef Aguirre, more ideas are coming, such as Tailgate Fridays, for AHHS fans looking for a quick pre- or mid-game dinner. Reverse Happy Hour takes its place following the game — the mixology is extraordinary. Besides the Jalapeno Margarita, I have my eye on the cocktail Juan Daily, which consists of Deep Eddy Sweet Tea and Lemon, simple syrup and fresh mint. A carefully constructed list of fine wines and micro brews is also available. Finally, don't miss the desserts.
The tres leches bread pudding and the Nutella crepes with fresh strawberries, bananas and leche quemada are outstanding. Still swooning. Beyond the praiseworthy food and drinks, Flair patrons will likely enjoy sinking their teeth into how affordable and approachable it is, making it an excellent choice for any occasion.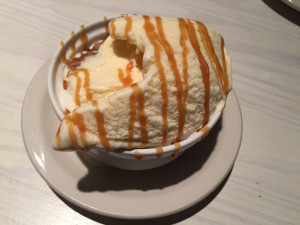 Located at 6462 N. New Braunfels Ave. in the Sunset Ridge Shopping Center, Flair is open Tuesday through Sunday. Tuesday-Thursday, 11am-10pm; Friday, 11am-11pm; Saturday, 12pm-11pm; and Sunday, 10:30am-3pm. For reservations or questions, call 210-977-0193.
BY LAUREN BROWNING
PHOTOGRAPHY BY ELI GREENBERG