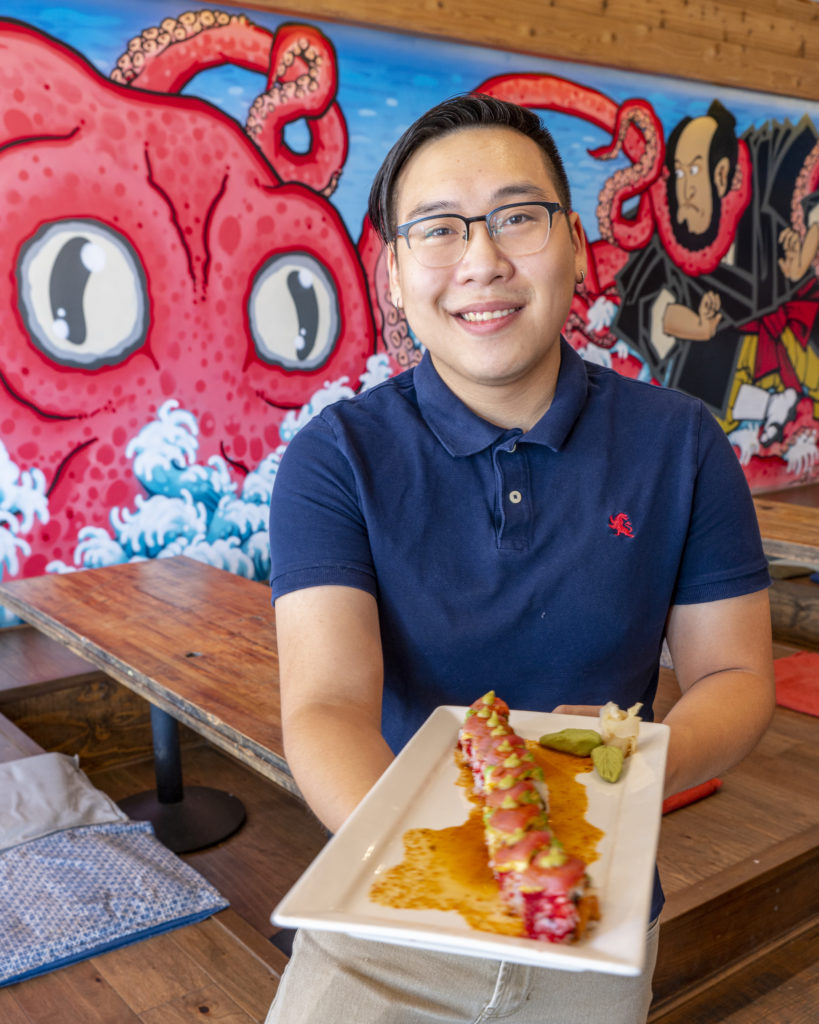 Piranha Izakaya
Where Japan Meets Texas
by Meredith Kay
A giant red octopus greets you as you walk though the door at Piranha Izakaya, and you can't help but root for the Japanese warrior trying to slay the enormous beast . The mural encompasses the entire wall and sets the stage for the wonderful Japanese fare that has made Piranha Izakaya an Alamo Heights favorite for nearly 10 years now.
The décor is chic and minimalistic, with beautiful wooden tables and accents throughout the airy dining room. This allows for the food to take center stage. The menu offers several small plates to get you started, featuring traditional Japanese appetizers like gyoza, crispy pork and vegetable dumplings, as well as edamame and stir-fried Ginger Beef. However, their standout small plate nods back to the eight-legged monster on the wall. Takoyaki are delicious octopus fritter balls rooted in sweet soy and drizzled with a ginger cream sauce, and topped with green onion and bonito flakes. They are dense and flavorful, but they are also filling, so make sure to share them so you can sample several different items from the menu.
Japanese food is one of the most diverse cuisines in the world. There is so much more to it than just sushi, and Piranha Izakaya showcases this diversity with their ramen noodle bowl options. There are several flavor profiles to choose from and you can add just about anything you like to the ramen based on what you are craving. The Spicy Miso ramen is served steaming hot, but it's the heat in the broth that will have you ordering another Sapporo. It features chewy bamboo slices, minced pork, scallions, a poached egg, and rayu, a Japanese chili oil that will assault your taste buds and satisfy even the most hardcore spicy food lovers.
Once your palate begins to experience the myriad of flavors coming at you, you'll want to order one of Piranha Izakaya's specialty house-infused cocktails. Just above the bar on a high shelf, you'll see several large glass jars slowly seeping fruit flavors into name brand liquors. Try the refreshing Cucumber Cooler with cucumber infused vodka, fresh lime juice, mint, and bitters. The restaurant offers a great selection of sake, as well as Japanese and craft beer and wine. They also feature Happy Hour every day from 3:00 p.m. to 5:00 p.m. with reduced prices at the bar and on their most popular appetizers.
The sushi and sashimi menu features many classic sushi rolls, as well as some delicious and very creative original rolls. Guests will find it hard to decide between the inventive Ribeye Roll, which actually features cold slices of ribeye steak, cucumber, avocado, scallions, tempura fried sweet potato and spicy mustard vinaigrette, and the signature Piranha Roll with spicy salmon, cucumber, avocado, tuna, spicy ponzu sauce and kizami, a lighter version of wasabi with green onion and citrus. So, whether you are a traditionalist, or your palate is a bit more adventurous, there is always something new to discover at Piranha Izakaya.
There are five Piranha Izakaya locations throughout Texas, and the restaurant recently underwent a remodel in 2019 bringing in modern, hand carved furniture and installing a beautiful and very intricate infinity design piece in the center of the ceiling. The architect was inspired by the meticulous woodwork he saw in Japan and wanted to create a modern focal point for the dining room. The restaurant staff is very attentive and friendly, and the General Manager, Hieu Pham, speaks earnestly when he states, "What sets our restaurant staff apart is our teamwork. The customer comes first, and we work together to make sure that our customers leave happy." Even during this pandemic, when restaurants are having such a hard time hiring and retaining employees, Piranha Izakaya has experienced very little turnover. 
There is something to satisfy everyone at Piranha Izakaya, and there are plans in the near future to bring back the yakitori grill as well. The restaurant is open for lunch with bento box specials, and they are open for dinner and takeout orders. If you are looking for something a little different, and you are willing to be a little adventurous, then Piranha Izakaya is the perfect place to take a culinary walk on the wild side.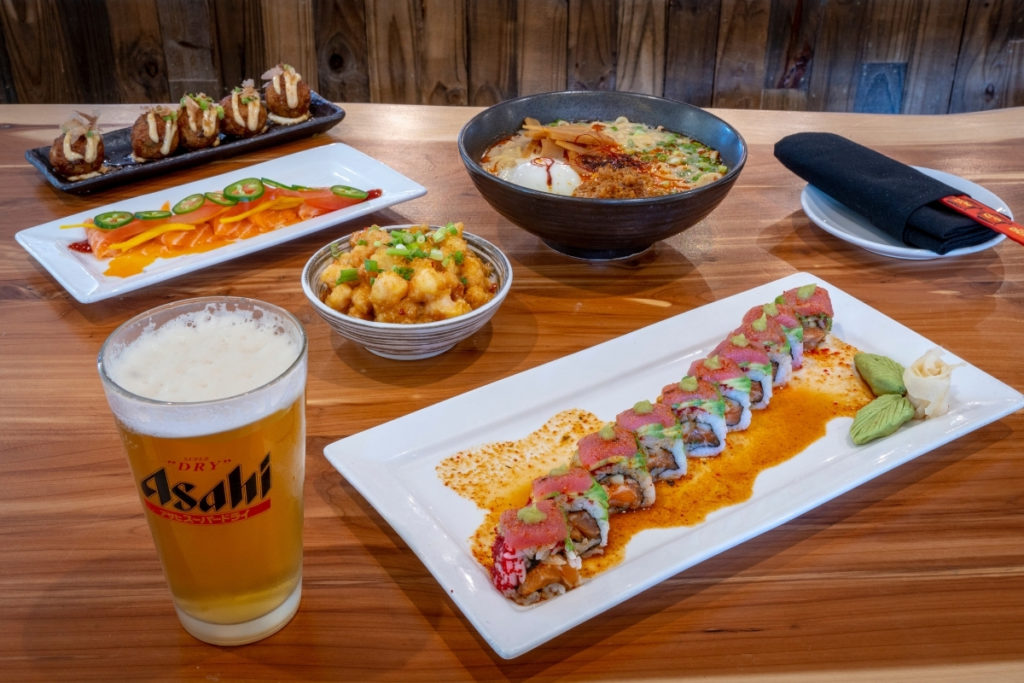 Piranha Izakaya
280 East Basse Road @ Quarry Village
(210) 822-1088
piranhaizakaya.com
Hours:
Monday to Sunday 11:00A – 9:00P
Happy Hour Everyday 3:00 – 5:00P