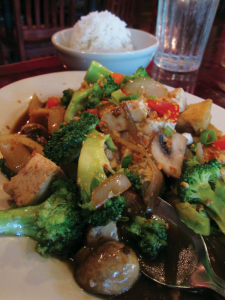 Full disclosure: Mon Thai Bistro and Sushi Bar has been a longtime favorite not just for couple's night out but also for family dining. Tucked into a corner on the bottom floor of 4901 Broadway, this popular eatery with attentive, happy staff is a surefire bet for lunch or dinner out. With its tomato-red walls and red glass lights casting a soft, warm glow, there's a cozy atmosphere. The exotic 3-D carved stone murals, Saltillo tile floors and the exterior bamboo fountain all add to the total effect. Encased in glass walls, the restaurant offers a beautiful view of the patio with umbrella tables for alfresco dining. There's a small bar menu offering flavored sakes (they provide sample sips to help you make a choice if you'd like), beer and wine. Bubble teas and other nonalcoholic beverages are also available to order.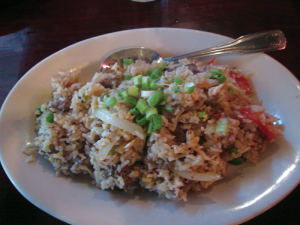 The Pad See Yew is my go-to comfort food at Mon Thai, and it never disappoints. The Thai dish is full of soft pan-fried noodles with your choice of protein (beef, chicken, tofu or pork), Chinese broccoli, egg, soy sauce, a touch of chili garlic sauce, a bit of sugar and a topping of finely chopped peanuts, the combination of earthy sweetness. Among the sushi offerings are numerous eight-piece rolls, including the neighborhood '09er roll of spicy tuna, julienne carrot and avocado topped with salmon and avocado and the Fiesta roll with salmon, white tuna, cream cheese, fresh jalapeños and cucumber topped with tuna and avocado and served with miso wasabi and siracha.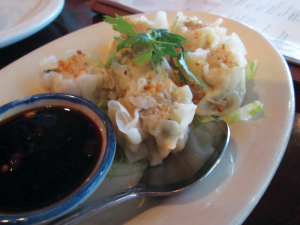 On this visit, we tried the petite steamed dumplings with a side of sweet ginger sauce, just the right size for two to share as an appetizer. Other first course choices include crispy, fresh or Vietnamese spring rolls. The Khao Pad, Thai Fried Rice, with stir-fried eggs, onions, tomatoes, celery and peas with soy sauce, was cooked to perfection, and one order is an ample meal. Satisfying Pad Grathiem combined stir-fried noodles with roasted garlic, broccoli, tomatoes, mushrooms and onions in a velvety brown sauce and served with steamed white rice. Other specialties of the house include grilled, seasoned rib-eye steak served with sautéed vegetables in a chili sauce and steamed green Koi Samui Mussels served on the half-shell in a clay pot.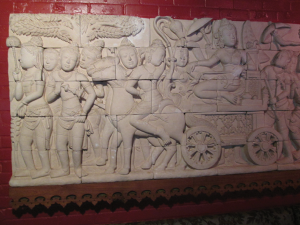 Mon Thai offers several kid's meals, and nightly chalkboard specials can include varieties such as Steamed Curry, Spicy Combo with Crispy Basil and Salmon Teriyaki.
End your meal with the sticky rice and sliced fresh mango, the perfect sweet note to another delicious meal at Mon Thai.
BY CHERYL VAN TUYL JIVIDEN