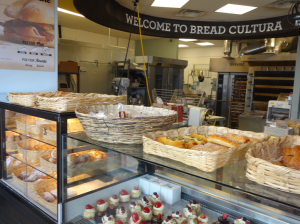 Authentic Mexican Bread in San Antonio
As children living in Mexico City, José and David Cáceres would walk through the streets of their neighborhood selling the freshly baked breads of their mother. As José states, "The bread of our Mexican childhood was hypnotically delicious. The aromas of fresh bread floated out of every corner bakery throughout the city of Mexico." The Cáceres brothers have held true to that memory, and in honor of their mother, a master baker and true marketing maven, they now bake their family recipes here in San Antonio at La Panadería, on Broadway, just inside Loop 410. La Panadería is an inviting space filled with intoxicating aromas of fresh bread, pastries and Mexican sweet breads. The brothers use the traditional baking techniques taught by their mother and are striving to create a new pan cultura here in Texas. Their dough is cultured for 48 hours, and they never add any artificial yeast to speed up the production. Most industrialized bakeries use artificial yeast to speedily ferment the dough in about 45 minutes, which some have suggested has led to our gluten intolerance. Only the highest-quality ancient grains and natural wheat are used at La Panadería, and you can taste the incredible difference in the bread with just one bite. In addition to the fresh bread and pastries, the bakery also serves delicious sandwiches for breakfast, lunch and dinner.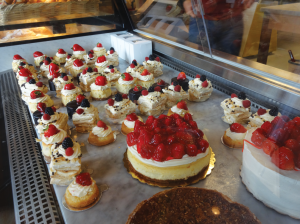 You'll start by selecting your sandwich bread, which isn't as easy as it sounds. On a recent visit to the bakery for lunch, I ordered the Cubana on the birote roll, and it was outstanding. The ham and sausage were incredibly fresh, and the salty bacon paired perfectly with the tanginess of their house-made cilantro mayo and chipotle mustard. We also ordered the Chicken Milanesa sandwich, but opted for the telera bread. A flat and wide roll, the telera had the consistency of an Italian ciabatta, and the breaded chicken cutlet was tender with a flavorful avocado lime dressing. Lonche is also served with your choice of soup. The black bean soup was satisfying and delicious, but the fideo could have used more depth and a touch of salt. The atmosphere at La Panadería was friendly and warm, and José greeted his guests personally as he introduced himself and told the story of how he and his family had once had a thriving bakery business in Mexico, employing over 2,000 people at one time. "Unfortunately, the bread that we were making lacked cultura. It had the ingredients, but it didn't have the soul necessary to be great bread. We sold our business and came to the United States to reclaim pan artesano, to start again and to create a new Panadería experience," he says. The Cáceres brothers have definitely succeeded with La Pandería, and with plans to open several locations in San Antonio and around Texas, they've got a success story on their hands, any way you slice it.
BY MEREDITH KAY