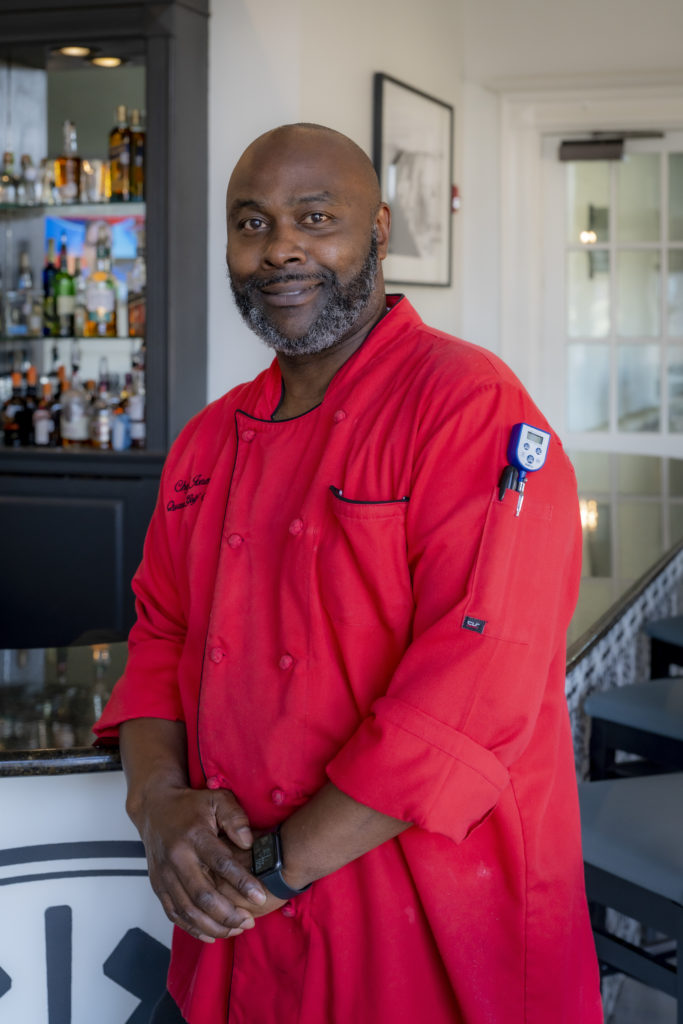 Cementville Grille At The Quarry Golf Course
Great Food Is Set In Stone
By Meredith Kay
Photography by Al Rendon
Everything tastes better when dining with a great view, and one local restaurant is taking that sentiment to a new level. Cementville Grille at The Quarry Golf Course has been serving delicious American fare since the golf course opened in 1993.

The restaurant overlooks the back nine and features a beautiful outdoor, covered patio for those gorgeous San Antonio mornings and afternoons. Cementville Grille serves breakfast and lunch seven days a week and hosts a wildly popular Happy Hour with live music from March through November every Thursday evening. This weekly event welcomes golfers as they complete playing what the Quarry calls, The Blast. It is a two-person team tournament that starts on Thursdays at 5:30 p.m. The $38 entry fee includes the green fee, a golf cart, and balls, along with one free beer and a basket of wings once you've completed your game. It is very popular, and reservations are required through the pro shop.

Head Chef, Fred Jones, leads the team in the kitchen, and together they consistently turn out fresh and house-made food for hungry golfers and locals alike. Jones is a San Antonio native and attended Brackenridge High School. He has been with Cementville Grille since it opened nearly 30 years ago, starting as a dishwasher and working his way up through the kitchen mentored by Chef Richard Briscoe while learning the culinary ropes and what it takes to keep diners coming back year after year.

The breakfast menu at Cementville Grille consists of hearty breakfast tacos, sandwiches, omelets, and benedicts that fill up hungry golfers before they tackle one of the most beautiful golf courses in Texas. The lunch menu has something for everyone, including house-made soups, fresh salads, paninis, and street tacos, along with specialty sandwiches and burgers. One of the most popular items on the menu is the Chef Signature Burger, featuring 44 Farms beef, local-made jalapeño pimento cheese, a fried onion cloud, and served on the softest potato bun. It's a great way to celebrate after a successful golf game.

Another fan favorite is the Cementville Fish & Chips plate. Beer battered with Shiner Bock, this special is served with jalapeño hush puppies and fresh Coleslaw. A new seasonal menu item has also become very popular with the carnivores. The Philly Cheese Steak serves up a heaping pile of shaved steak mixed with caramelized onions, grilled peppers, and jalapeño ranch aioli on thick, toasted sourdough bread. All of the lunch entrées come with your choice of fries, kettle chips, a small Caesar salad, or fresh fruit for an additional charge.

The restaurant also features a beautiful event space that can be rented out for private and corporate events. Chef Jones and his team will work with guests to develop the perfect menu for groups of up to 140 people. Cementville Grille at the Quarry Golf Course offers a welcome change when your group is looking for a unique place to dine, or just unwind, so pull up a chair on the patio, order a specialty cocktail or cold beer from the bar, and enjoy the scenery at one of the area's best restaurants.
Cementville Grille at The Quarry Golf Course
444 E. Basse Road| (210) 824-4500| www.quarrygolf.com
Hours: Monday – Sunday 6:30 a.m. to 6:30 p.m.