Beto's remains stuck in a crazily colored time warp, cheerful service and all — and this is a good thing. The popular restaurant's if-it-ain't-broke attitude has allowed the kitchen to focus on perfecting, for example, the beef and red chile empanada with its delicate wrapper and lusty filling. La Judy with black beans, rice and sausage and calabacita con puerco are other options; with any and all you could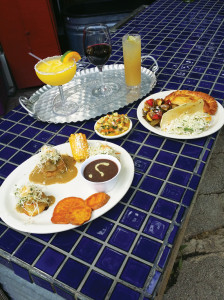 gild the lily with some of Beto's roasty-toasty salsa, but it's not really necessary.
Inventive tacos such as the roasted veggie with mushrooms, sweet potato, squash and corn are another menu mainstay, but it's the fish taco that originally brought Beto's to our attention. There is the option here of fried fish nuggets, but grilled is the way to go — even if the expertly cooked pescado is likely to be the all-too-popular tilapia; it's the total package we're looking at, in any case, and if we admit to removing some of the cabbage-cilantro slaw for structural reasons, the "famous poblano sauce" and tender corn tortilla help pull everything together.
If much of the menu hasn't changed in years (a good thing, remember), there are some items new at least to me, among them the excellent Peruvian-style ceviche. We get tilapia once again, but it's citrus-marinated and additionally enlivened with Peru's classic aji amarillo (yellow chile). And whereas in Chile the ceviche might be blended with chunks of boiled sweet potato and served with corn nuts, Beto's offers slices of fried sweet potato dusted with chile and pieces of roasted corn on the cob slathered in spicy mayo and dusted with cotija cheese. A mound of tortilla chips accompanies the ceviche — useful in theory but less so in practice because of their being so broken and twisted. Solution? Break them further and scatter over the top of the fish.
Tilapia may be everywhere these days, but so is Diners, Drive-Ins and Dives' Guy Fieri. Regardless, we are tempted to try "Guy's Favorite" Chalupa Cabra on our next visit. Who, after all, could resist the combination of a curried goat stew served over guava and cream cheese roll empanadas topped with some of that extra cabbage slaw and served with toasted coconut and roasted corn? Yes, at $17.99 it's by far the most expensive item on the menu, but maybe if you split it with someone having Beto's riff on the bean burger and a side of yucca fries… Those empanadas can, of course, be had in their original dessert form; we also remember with fondness the banana with leche quemada and pecan.