Holiday Eating…Family Friendly…Great Steaks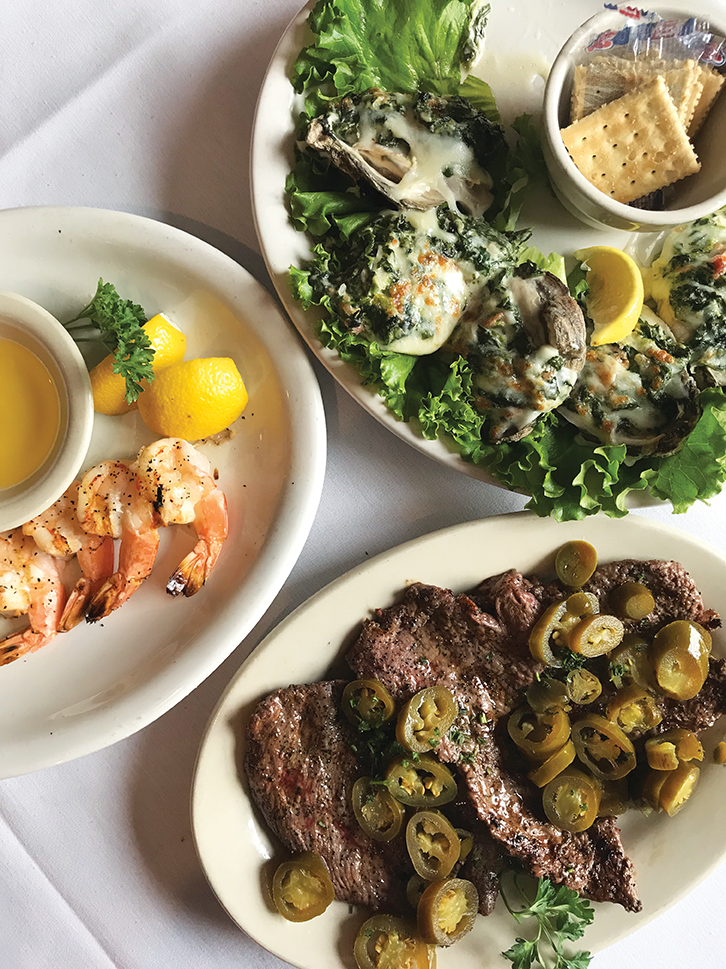 Dry aged beef, history, and hospitality. You might say, "You had me at dry aged" — that's fair enough — but when you combine the three, you have an ' 09 treasure of a restaurant that's been serving steaks cut from the finest beef since 1963.
There are a lot of good steaks in San Antonio, but their price per ounce and their pretense make eating steak a special occasion meal. What I most enjoyed about my meal at The Barn Door was the relaxed atmosphere where my kids weren't a nuisance, and steak prices that didn't make me order the chicken. Even though the prices are reasoable, there's no compromise on quality, especially with the beef. The Barn Door dry ages their meat to add flavor and then naturally broils the steaks over a mesquite charcoal fire. If you handle steaks right — salt and pepper only, please — then all it takes is that flame kiss to turn out a delicious cut of meat.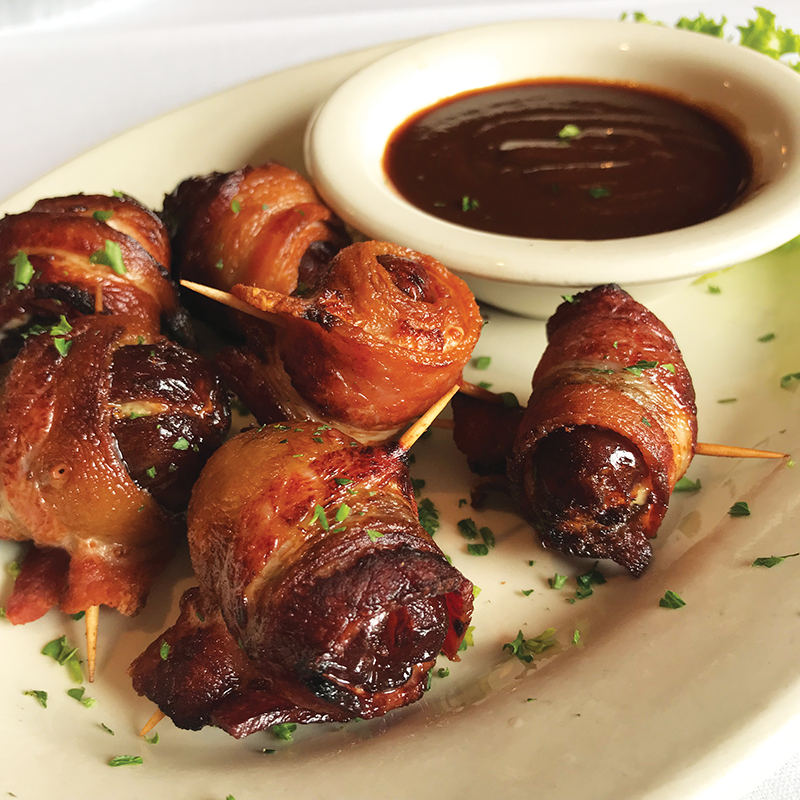 The Barn Door takes reservations by calling ahead, and it is a wise move on the weekends or this time of year. For those who forget to call ahead, there is live music in the bar Thursday-Saturday. Order a drink and enjoy the music while they prepare a special table. If it's not too crowded, ask a server for the room with a view. (Sorry, just to clarify, a view of the grill, it's impressive!) The grill room gives a front row seat to what makes The Barn Door special, a giant wood/charcoal fired grill that's rolling with flames.
On the way to the grill room, check out the owner's wine offerings. Randy Stokes, who purchased The Barn Door in 2011 from its founder, hand-picks a series of wines that are not featured on the menu. But if you are more into beer or cocktails, they offer both from their full bar.
Get a drink and order some appetizers. Hopefully, you are picking up on one of my key themes: ALWAYS order a drink and a couple of appetizer bites before you order your meal. Take time to savor the food, the drinks and the company. Trust me. The world will wait. Maximize the experience and relish the moment. Sorry for the rant. For appetizers I recommend The Barn Door's stuffed dates wrapped in bacon. The contrast between the cheese stuffing, sweet dates and crispy bacon is delicious. Also, grab an order of the skinny onion rings and the oysters Rockefeller fresh from the grill made with their own creamed spinach. Honestly, order anything that touches that grill!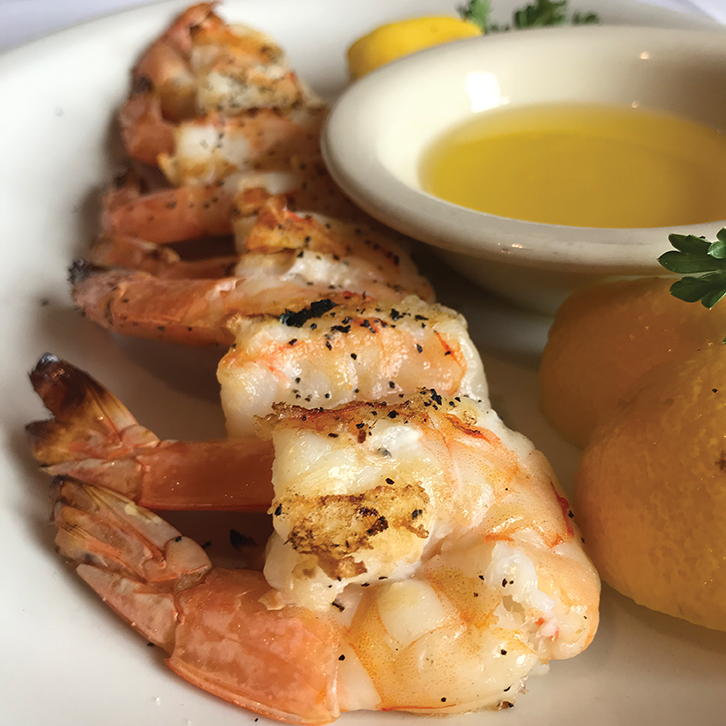 For the main course, The Barn Door offers a variety of solid salad and seafood options like the fried Gulf oysters or the mesquite grilled jumbo shrimp, but come on, you know you want a steak! All steaks include: a crisp garden- fresh salad, a choice of baked, fried, mashed or hash brown potatoes and homemade hot rolls. The butcher shop steaks are cut from the most excellent beef. And they will prepare any steak: blackened, rolled in black peppercorns or smothered in jalapeños. If that isn't enough, they will cut any steak larger for your dining pleasure. It's hard to pass up a rib-eye, especially when it's cooked over an open flame, but a strong second option is a bacon-wrapped filet. Pro-tip: You aren't supposed to eat the bacon, it's just there to add flavor, and, man, does it ever add flavor.
The steaks are finished with a little garlic butter, which is about the best possible way I can imagine to finish off a steak. All the sides are solid, but the "JP" twice-baked potato with the optional baked-in jalapeños is a real standout. The potato stuffed with bacon bits, sour cream, butter and the optimal jalapeño is a fantastic side to steak and wine.
Couple of final thoughts for you. Trisha, the manager, is fantastic. Ask her to tell you a little of the history behind The Barn Door: You will be impressed with her and the history. She's been on staff for 21 years. I have been writing these reviews for some time now, and she is by far the kindest host I have had. You can tell she's very proud of The Barn Door. She should be proud. The kitchen, which she walked me through, is spotless; the pies are made fresh in house, and they are decadent: and the hospitality is second to none.
The Barn Door is open for lunch Tuesday through Thursday and dinner Tuesday through Sunday. They have five unique party rooms perfect for any event. Stop in today and tell Trisha that Scott said Hi.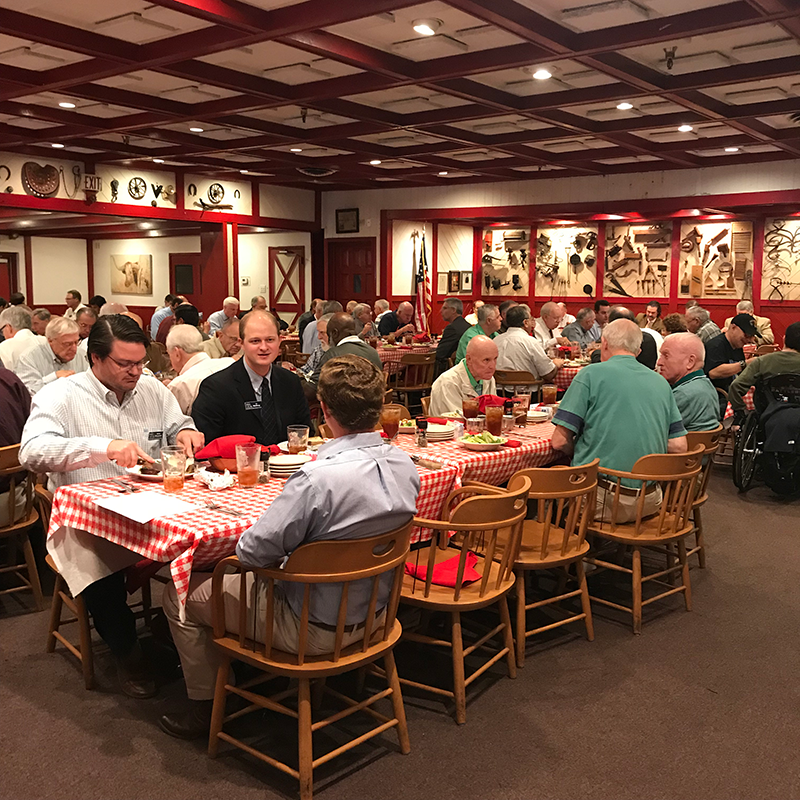 By Scott Austin
Photography by Raleigh Hart