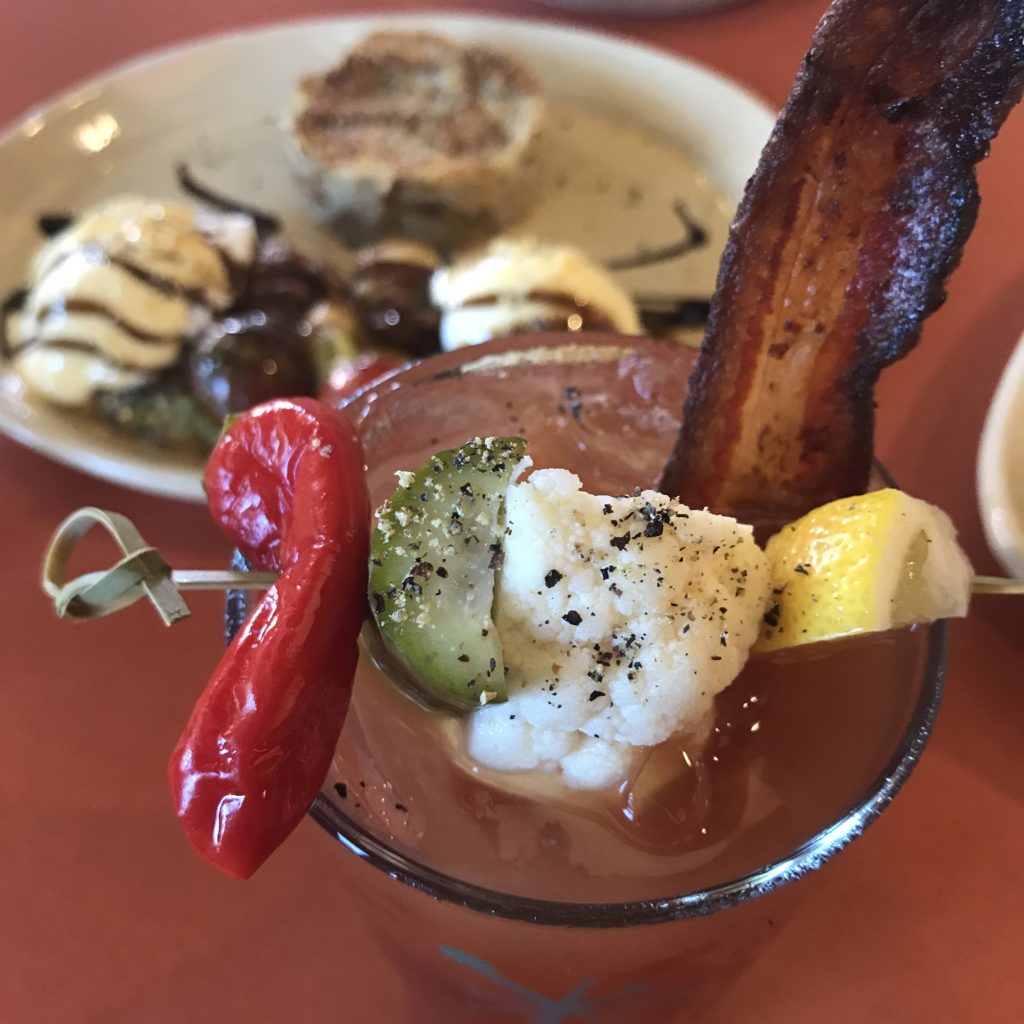 Snooze, an "A.M. eatery," opened its doors to the Alamo City on March 1, 2017. I am going to fill you in on the details, although I should be able to drop the mic after just three things: locally sourced, intense flavor and brunch seven days a week. Snooze, a fast-growing chain based in Denver, takes breakfast and brunch to 11. Honestly, it's more like a 15.
Christopher Edwards relocated to San Antonio from Fort Worth after discovering Snooze was opening a new location. Edwards is passionate about bringing friends and family together over brunch, and, of course, he's also passionate about hollandaise sauce. It's a good thing because I too am passionate about family, friends and hollandaise.
Plan your trip ahead and be prepared to wait. Snooze is packing people into their Alamo Quarry Market location, 255 East Basse Road, Suite 160, from 6:30 a.m. to 2:30 p.m. seven days a week. The wait is easy, providing free coffee, open bar with an impressive bloody mary menu, other brunch cocktails (why don't people use those two words together more often?) and games you can play on the porch, including a foosball table tucked away in the back. While you wait, grab the menu; it's going to take some time to study. Better yet, look the menu up online at www.snoozeeatery.com.
Start off with a freshly squeezed juice, espresso, hot chocolate or a selection of loose-leaf teas. Once you get a little caffeine, you are going to want to go straight for the morning cocktail menu. They offer four variations on the bloody mary — try the Boss Hog bacon-infused Cyrus Noble bourbon with their house bloody mary mix. If "bloodys" aren't your thing, go with a standard mimosa made with house-squeezed juice or the "Palomimosa" — Snooze Sparkling, Espolón Blanco tequila, St. Germaine liqueur and grapefruit juice. But if you were sitting with me, it would be a round of "Bacon and Eggs" – bacon-infused nine-banded whiskey, house sour, frothed egg white, bitters and bacon. Holy brunch!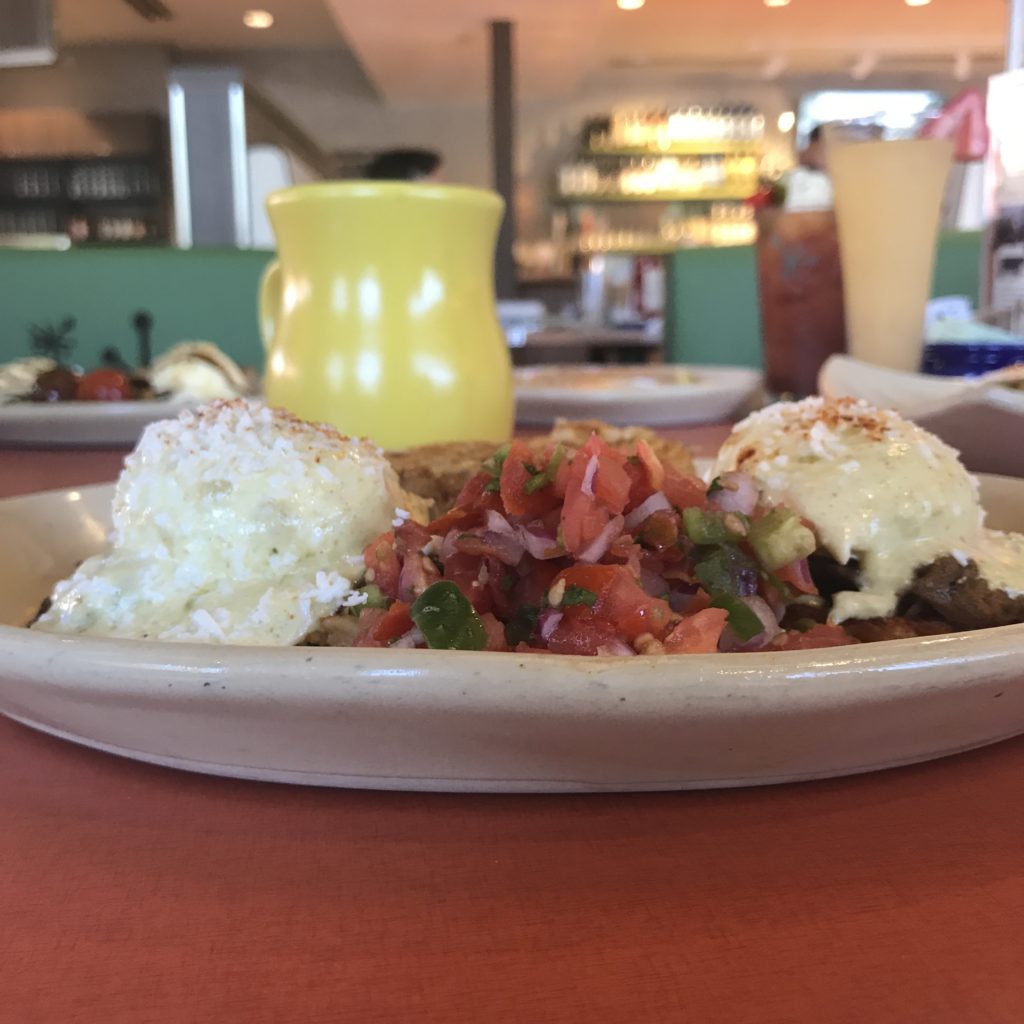 The menu's no joke; it takes a serious plan of attack. In my world, that means no one orders the same thing, so there's plenty to sample. Try the sweet potato hash for a variation on traditional corned beef hash, which they also serve. Order those eggs over easy. or excuse yourself from the Brunch Hall of Fame (which I just invented). When those eggs run down through the sweet potato and fennel chicken sausage hash fired up with honey, carrots, poblanos, leeks, jack cheese and baby kale, you will thank me!
There are plenty of standard breakfast items and plenty of opportunities to mix and match, but you'd be crazy to ignore the sauce, and by sauce I mean the godfather of all sauces, the hollandaise. Snooze offers six variations of hollandaise, all served with their shredded house hash browns. In its purest form, hollandaise is an emulsion of egg yolks, liquid butter, water and lemon juice (or another liquid like a white wine or vinegar reduction.) Snooze riffs off this traditional rich and creamy sauce and offers a summer harvest Benny — Chilaquiles Benedict, and the Bella! Bella! Benny, thin slices of prosciutto, Taleggio cheese and perfectly poached eggs on toasted ciabatta, topped with cream cheese hollandaise, balsamic glaze and arugula. Get another cocktail; you read that right: cream cheese hollandaise.
If you like breakfast on the sweeter side, try one of their several French toast or pancake variations like the Pineapple Upside Down Pancakes, buttermilk pancakes with caramelized pineapple chunks, house-made vanilla crème anglaise and cinnamon butter. If you can't choose, they offer a Benny Duo, allowing you to choose two half orders of the eggs Benedict or a flight of pancakes. Don't worry. If you are going in for a business breakfast and don't have time to fall asleep after your meal, they have multiple offerings they refer to as "light as a feather."
Snooze is a brilliant addition to the ever-growing San Antonio culinary landscape. Plan your trip today; tell them Scott sent you.
Follow me on Twitter or Instagram @FoodSceneSA for more curated dining experiences.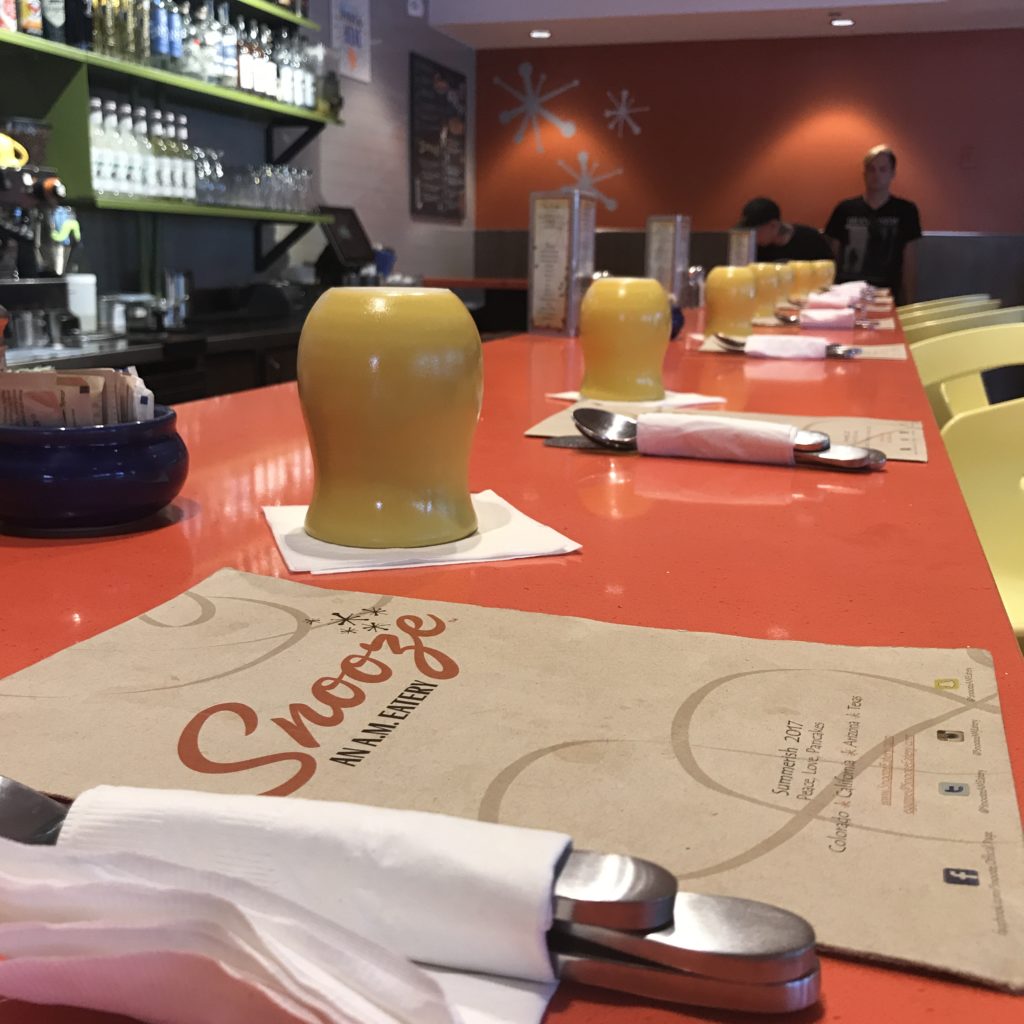 By Mitchell Scott Austin
Photography by Raleigh Hart