The Only Place To Pair Champagne and Fried Chicken
I will never forget my first visit to Max's Wine Dive when 10 years ago my wife and I were driving through the Heights in Houston and saw their slogan posted on a small billboard near the newly opened first location. Max's, you had me at Champagne and fried chicken!
You can imagine my excitement when the news began to spread that Max's Wine Dive was expanding to SA. Since 2010 the staff at Max's has been serving SA gourmet comfort food and fantastic wines from around the world. Gourmet and comfort are two words not paired together as often as they should be, especially in San Antonio. It's the perfect combination for a big city with a small town feel, where a guayabera counts as formal wear and homecoming queens wear boots.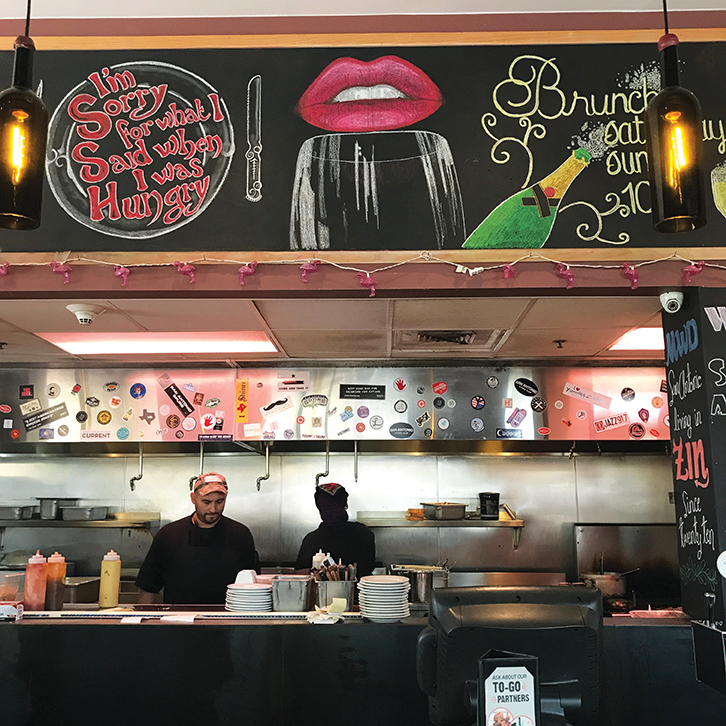 Max's deserves three, maybe four reviews — one for brunch, then lunch, another for dinner and their new late-night menu, which launches this month. Honestly, I could write a review rambling on about the wine, but I will be concise and just trust you will try all that Max's Wine Dive has to offer. Start your meal off with a glass of wine. They serve beer, but with the wide variety of wine options, it would be a shame not to try a little vino! If you like the wine by the glass, they offer retail prices on most of their wines so that you can take home a case for a reasonable price. The wine menu is diverse and features exceptional wines by the glass, and if you purchase at least two glasses, they will open any bottle on the menu.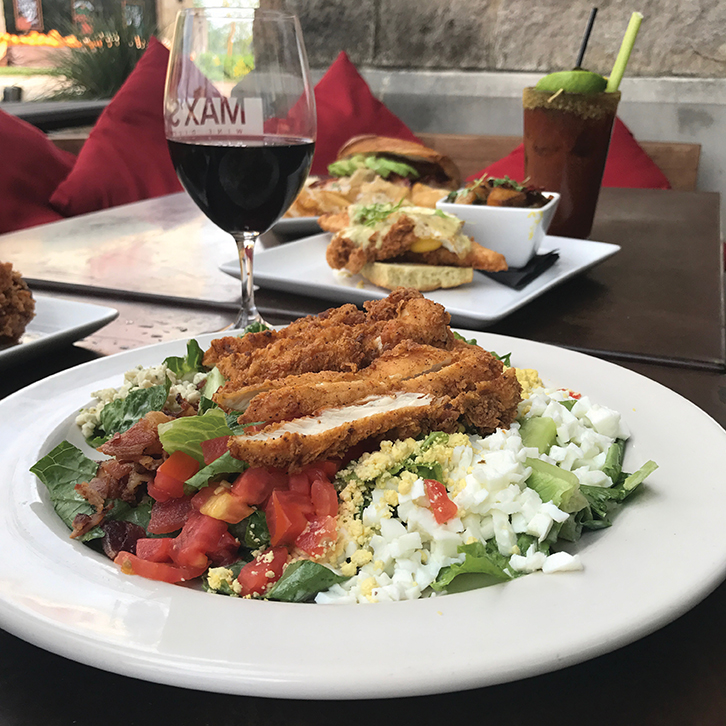 Max's serves brunch Saturday and Sunday from 10 a.m. to 4 p.m. Brunch standouts include a "build your own mimosa" menu, Max's Bloody Mary with rimmed jalapeño seasoning and the Honey-Butter Benedict — two Southern-style biscuits stacked with fried chicken and honey butter and topped with fried eggs, smothered with jalapeño-cream gravy, served with jalapeño-cheddar grits or home fries. The general manager of Max's suggests you stop in for lunch, "I think a lot of people forget we are here for lunch," she says. "We just rolled out a few new items in September, including a Pork Belly Bahn Mi and a Smoked Salmon Club."
Whether you are stopping in for brunch, lunch or dinner, Max's has a few specialties that rival the best food I've ever eaten. Two words come to mind: "FRIED and CHICKEN." Sorry, four words come to mind: "AWARD-WINNING FRIED CHICKEN!" Max's Wine Dive offers their famous Southern Fried Chicken in some form on all of their menus. Try jalapeño-buttermilk marinated chicken, mashed potatoes, collard greens, Texas toast served with chipotle honey. Also available is their "Badass Gluten-Friendly Fried Chicken." I am a pro-gluten guy, but my gluten-free compadres swear by this chicken.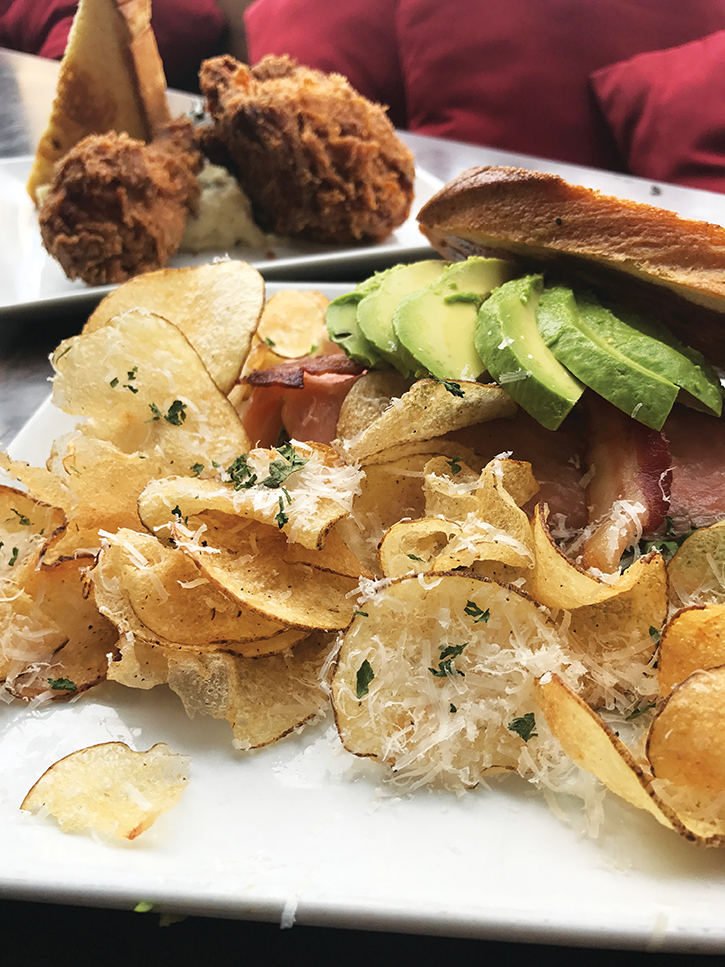 If the fried chicken is a little too much on the light side for you, then bust your gut with the Shrimp and Grits … applewood-smoked bacon, scallions, parsley and jalapeno-cheddar grits in a spicy fennel butter broth, topped with a poached egg. They can also make this one gluten free. They are not joking about pairing Champagne with chicken; in fact, Max's has some of the most fun wine pairings available in any restaurant. Try a merlot with the signature blend burger or a riesling with the diver scallops.
Max's Wine Dive features happy hour Monday-Friday from 11 a.m.-6 p.m. They host monthly wine/beer dinners, multi-coursed events that are always a ton of fun and a great way to meet new people while enjoying chef Halston's creative menus and wine pairings. And they are rolling out tailgating-catering packages available for football and Spurs seasons. Treat yourself to a long brunch or a quick glass of wine sometime soon at Max's Wine Dive in the Quarry, and tell them 78209 Magazine sent you.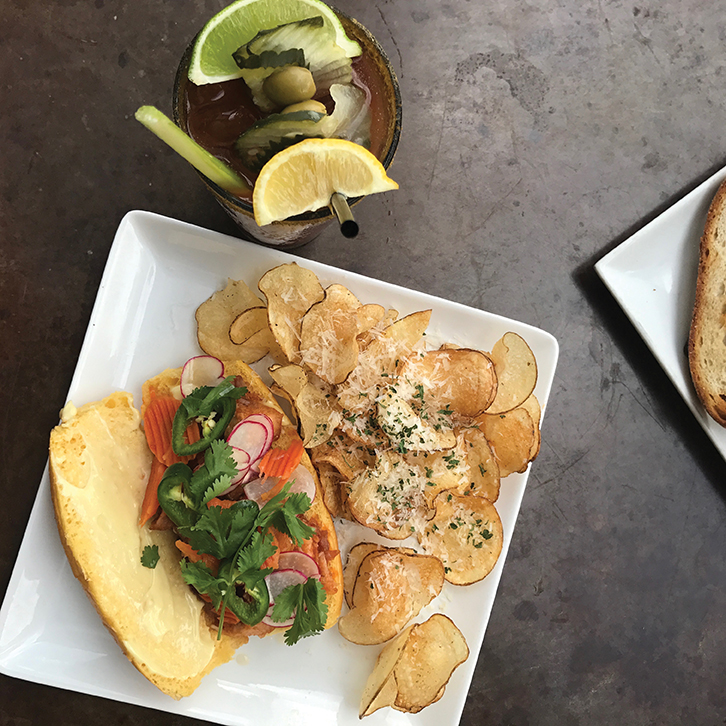 By Mitchell Scott Austin
Photography by Raleigh Hart