Much More than Relaxation
In the past, it was a luxury. Relaxing on the comfortable massage table for any amount of time and experiencing total relaxation was seen as a special treat during a vacation or trip to the spa. However, in a new world more focused on wellness and health, therapeutic massage is a reality assisting many to maintain good health and overcome physical challenges. Andthe options in 78209 are growing. I spoke with '09 executives in the business of massage to get their take on the therapy's trends.
According to the American Massage Therapy Association, 92 percent of adults give massage consideration as part of a good health routine to effectively reduce pain, and 91 percent believe massage can be overall beneficial to health and wellness. David Jaramillo, licensed massage therapist and director of industry relations and development for Massage Heights, said, "Since our inception in 2004, we have managed to grow to nine locations in the San Antonio market, thanks to recognition of therapeutic massage and the support of San Antonio."
"Massage therapy is a powerful ally," states Kim Stevens of the Woodhouse Hospitality Group and owner of Woodhouse Day Spa at The Quarry. "It can alleviate back pain and increase your range of motion, joint flexibility, reduce spasms and cramping and migraine pain as well as improve circulation, manage stress and alleviate depression and anxiety. Massage can also enhance sleep quality."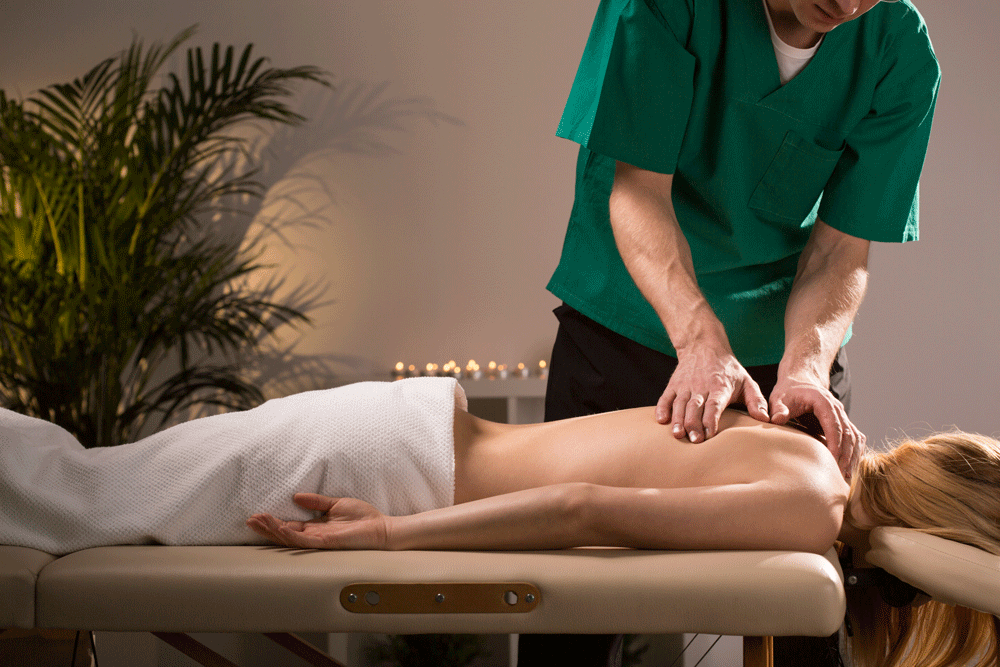 Jeni Spring, LMT, LMP, MTI of Heeling Sole Barefoot Massage & Yoga, spoke about the unique experience of barefoot massage her facility offers. "The popularity in Heeling Sole's unique Ashiatsu barefoot massages has definitely grown in the past 10 years. When I first opened in San Antonio in 2006, it was like pulling teeth trying to get my clients to try barefoot massage. New clients chose the more 'vanilla' and traditional massage service I offered with my hands (like Swedish massage and hot stone). By 2008, I took a chance with an effort to focus my practice on my specialty service; I stubbornly retired my hands and only offered massages with my feet. This could have been career suicide, but it worked," Spring tells us.
"The biggest growth for Heeling Sole has been here in Alamo Heights. Since 2014, when I opened up my studio in Carousel Court, we've expanded to a staff of seven massage therapists, added an entire yoga department, and recently remodeled the studio to accommodate a busy schedule of massages happening in every massage room during every hour that we are open seven days a week. We are now the only barefoot massage studio in the nation with multiple therapists that 'solely' provides these services — no 'hands on' massages at all — and we are a training center that teaches hundreds of massage therapists from around the country how to do Ashiatsu. It's amazing."
While Massage Heights' Jaramillo is excited about all successful therapy stories that come out of the programs at Massage Heights, he is currently thrilled at the turnaround of his young teenage patient injured three years ago in a car accident. "I have been working with him as his therapist for almost a year now. When he first came to me, he was in a wheelchair, and now he walks into his appointments on crutches. Doctors didn't think he would ever walk again," he said.
Assisting with limb injuries is just one of the many benefits of massage therapy. Among a long list, Jaramillo says the most common are stress reduction that has shut down the nervous system; cardiovascular health to increase circulation; reduction in inflammation and lactic acid build up; easing chronic pain; headaches and migraines; lower back pain; mental health; cancer patient treatments to reduce fatigue and anxiety; pain management; sleep quality; pregnancy to reduce anxiety, depression, and muscle aches; and to assist mental health by reduction of cortisol and increased serotonin levels and dopamine.
"We believe everyone can realize a transformative experience from frequent massage therapy. From businessmen and women, road warriors traveling all week, to teachers, construction workers, first responders, athletes, students, garbage collectors, moms and everyone in between will experience a huge transformation and see benefits in how healthy they can be and feel from frequent visits for massage therapy," said Kim Stevens.
Spring continues, "Our clients need a high -quality, deeper than deep tissue massage that won't waste their time, is catered to them, and can be counted on consistently. Our '09'ers are active, busy professionals — a mix of entrepreneurs and executives. The therapists hired at Heeling Sole are trained and mentored to ensure that their feet can massage better than their hands can, and that they understand the structural benefits to every single technique they perform. Although relaxation and stress reduction are benefits that are highly touted for massage therapy, those are honestly the side-dishes," shares Spring. "Heeling Sole's main dish is that we can give a painless, specific and educated bodywork session that is highly effective at treating chronic pain, while empowering our clients to become aware of the anatomy that they live in, and we do this daily."
The Texas Department of State Health Services, Massage Therapists Division does have regulations, which must be followed by practitioners, schools and establishments. In order to obtain a license, a massage therapist must take 500 hours of school, including anatomy, physiology and mechanics of movement of the human body. There are some insurance plans that will now cover massage therapy, and the industry continues to work toward achieving across-the-board coverage in all plans.
Jaramillo said the customer base has grown, much to the delight of the massage therapists who traditionally treated more females.
"This is becoming a much more balanced industry when it comes to male vs. female, and we believe it has to do with the understanding of massage therapy benefits. We used to have a typical profile of repeat massage clients, usually females in their mid-40s making a great income, but now we see customers at varying levels of age, income and gender," he said. Massage Heights offers multiple memberships on various levels to best match therapeutic and financial needs.
You have to go in with an attitude such as the one Jaramillo's young teen patient has. "His motto is if you believe you can, then you will," he said. He confirmed therapists enjoy seeing patients overcome difficulties,…no matter the level of treatment.
BY PAMELA LUTRELL